Former Lincoln Southeast OL Bando gives NU commit No. 10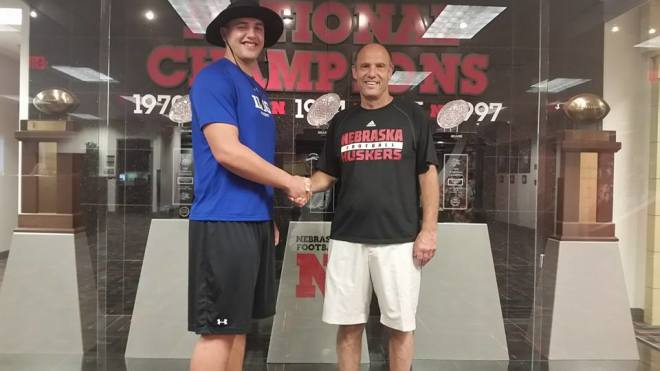 Former Lincoln Southeast offensive lineman Broc Bando's decision to attend IMG Academy in Florida paid in a big way.
Heading into his junior season Bando left the state of Nebraska to develop into a better football player.
After picking offers from Georgia, Louisville, Kansas State, Nebraska and Mississippi State, the 6-foot-4, 280 pound Bando officially announced on Friday he'll be committing to the Huskers.
"I wanted to be here to tell Nebraska face-to-face, that was big to me," Bando said. "Being here with family, that was a big one too. I also like the date.
"I was already planning on doing it, and I just came here to say it. The coaches said 'it's great to have you a part of the family and we can't wait to see you again.'"
Bando's pledge to Nebraska now gives the Huskers 10 verbal commitments in their class of 2017, including a total of three on the offensive line. He has the ability to play both tackle and guard at the next level.
Bando feels like he's become a much better football player over the last year during his time in Florida at IMG.
"I wanted to go to IMG to better myself as a player and a student," Bando said. "I wanted to be able to showcase what I could do and how I could do it. I wanted to prove that Nebraska kids can do what other kids can do.
"Just being away from family and the atmosphere IMG gives you really helped me. It's basically college there. The people you meet there are great. They make you work harder and get better."
Bando also said on Friday he plans to graduate in December and early enroll to Nebraska in January.
"It's amazing not having to worry about this stuff anymore," Bando said. "I only have to worry about IMG Football and Nebraska football now."