16 for '16: Nebraska 62, Florida 24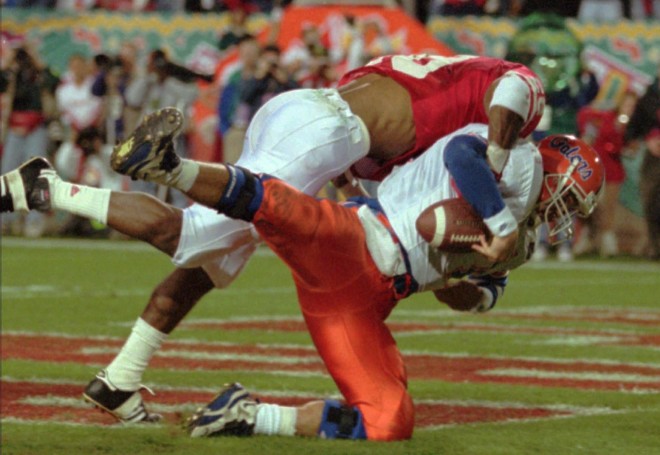 With the start of the 2016 season still more than two months away, we decided to take a look back at 16 of the best games in Nebraska football history.
We begin today by remembering the unforgettable 1996 National Championship game against Florida, as the No. 1-ranked Huskers capped off one of the greatest seasons ever in college football by decimating the No. 2 Gators 62-24 at the Fiesta Bowl.
How it went down
The team that is now regarded by many as the best of all time permanently shut up any remaining doubters by absolutely trouncing a Florida team that also came into the game undefeated and was picked by several national publications to win.
Nebraska simply dominated every aspect of the game from the opening kickoff to the final whistle. Led by star quarterback Tommie Frazier and running back Lawrence Phillips, the Huskers racked up 629 total yards of offense, 27 first downs and a staggering 524 yards on the ground.
The Blackshirts were as good as ever, holding the "Fun-N-Gun" Gators to just 269 yards and minus-28 rushing while throwing quarterback Danny Wuerffel down for seven sacks and intercepting him three times.
Despite actually trailing in the game 10-7 at the end of the first quarter, NU blew the doors off by out-scoring Florida 43-8 in the second and third quarters to make the final 15 minutes essentially one big sideline celebration.
The win gave Nebraska its fourth national title and its second in as many seasons. It also helped cement the Huskers as premier program of the 1990s.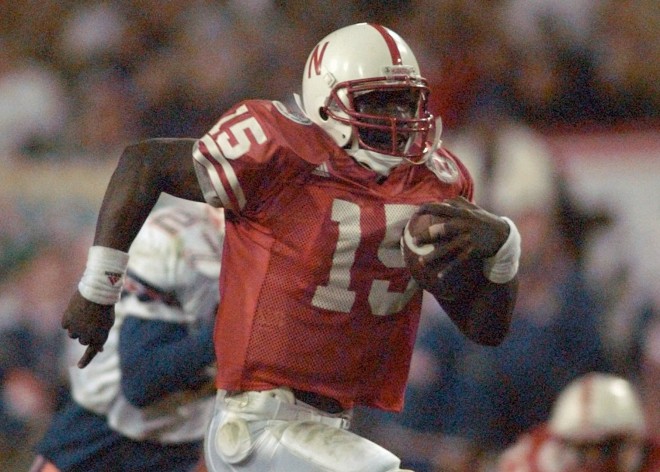 Star of the game: Tommie Frazier
For the third consecutive bowl game, Frazier was Nebraska's Most Valuable Player and pulled off one of the most memorable plays ever in a national championship.
The senior quarterback rushed 16 times for a career-high 199 yards and two touchdowns and also completed 6-of-14 passes for 105 yards and a score. His 304 total yards were just eight short of the best outing of his illustrious college career.
Frazier, who ended up coming in second in the 1995 Heisman Trophy voting behind Ohio State's Eddie George, also came up with the signature play of the entire season. With the Huskers leading comfortably 42-18, Frazier took an option keeper around the right side.
He was quickly met by Florida defenders, but just when it seemed the play was over Frazier broke loose from seven Gator tackles and sprinted down the sideline for a 75-yard touchdown.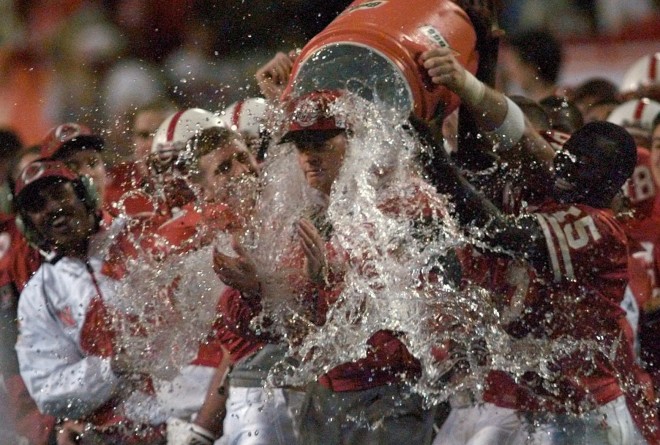 In their words
"Was it as easy as it looked? Yeah, it was. Not saying that their talent level wasn't one of the better teams that we played that year, but Florida definitely wasn't the toughest team that we played. We know that toughness and teamwork and determination can go a long way and overcome just straight athletic ability.
"That's what we were. We were such a cohesive team in 1995 that it didn't matter if it was Florida or whoever, we always felt going into the game that it wasn't a matter of if we were going to win, it was a matter of by how much.
"We approached that Florida game the same way. No one was giving us respect, and we had a little bit of a chip on our shoulder in the aspect that we wanted to go out and not only run the way that we know how, but just to put a little bit of extra onto it.
"I think you could see that out of everyone, whether it was the offense going down and completely dominating their defensive line and linebackers, or the defense going out there and just manhandling Wuerffel and that group. Even our special teams were out of this world.
"We were just clicking on cylinders, and we wanted to make the point that no one was giving us respect, so we're going to go out and prove to you that not only are we worthy of having that respect, we want you to say 'Damn, that's the best team I've ever seen play.'"
--Nebraska offensive lineman Aaron Taylor