Adjusting to a new practice style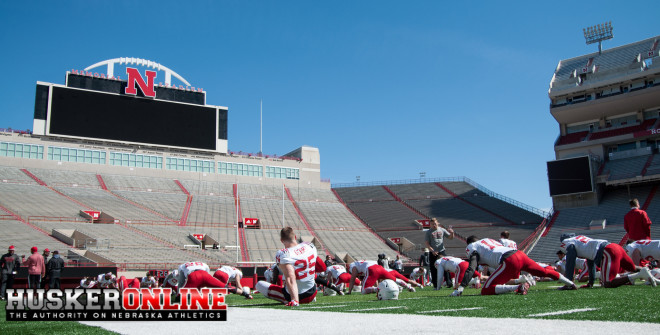 Until this past Saturday, nearly all of Nebraska's spring practices have been shorter and faster moving with little to no live contact.
It's a new approach head coach Mike Riley has taken on, one that 5 to 10 years ago probably wouldn't have even crossed his mind.
During most of the Tuesday and Thursday practices this spring, the top offensive and defensive players have left the field around 5:15 pm to get a quick lifting session in. Before, they would do their lifting on off-practice days. It's been a change, but the players have seemed to welcome it.
"I think football as a whole, there's an evolution to the game and we are starting to realize the toll it takes on your body," senior tight end Sam Cotton said. "I think as a whole all across the nation people are starting to realize you have to try and preserve your players and get them through an entire season, as opposed to beating them down every single day in practice. Yeah you have to work your ass off in practice to get better, but there's a certain point where there's smart work and hard work and I think what we are doing is smart work."
The lack of hitting until Saturday has built up some tension at times between the offense and defense.
When a guy from either unit does something that crosses the line, it's caused a fair share of practice scuffles.
"There starts to be a little bit more scuffles and things like that," Cotton said. "Guys are starting to get fired up. They want to compete to the fullest extent of the game. I think the coaches are just kind of hanging onto the leash and pretty soon they're going to take the leash off and let us get after it."
The key seems to be quality over quantity. Riley would rather see a healthy and fresh team execute its way through a shorter practice, rather than beating his team down over the course of the spring.
"They definitely made it a lot nicer on us," senior fullback Graham Nabity said. "It's allowed us to do a better job on the field. In comparison to last year we are way ahead of the game. The situations we had and what we had to get through last year, we are way ahead of the game in the offense. We don't have to learn anything new. We are just continuing on."
The other thing the players seem to like is getting a true off-day for their bodies.
"I think the biggest benefit is you are going to have a day in-between your physical activity where your body can really recover, as opposed to every single day you are doing something," Cotton said. "Personally I noticed that really helps out an old guy's knees. Really in whatever way you train, if all the guys buy in you are going to see a benefit from it."