Akinmoladun eager to get back to old form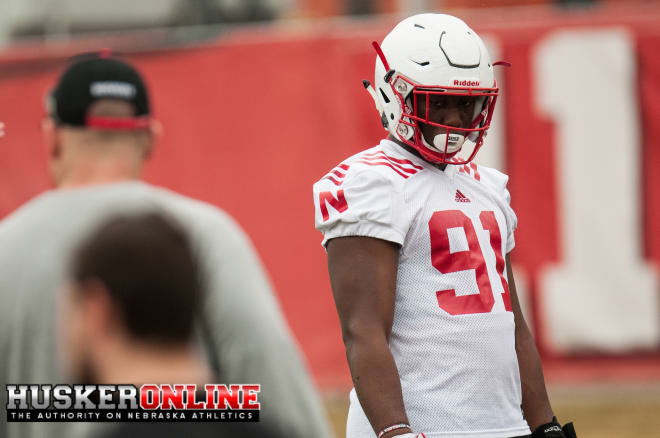 For the first five games of last season, a redshirt freshman who hadn't even been playing defensive end for a full calendar year had emerged as arguably Nebraska's most potent pass rusher.
Freedom Akinmoladun, who spent the majority of his redshirt year working at tight end before switching to defense late in 2014, instantly capitalized on the move across the line of scrimmage by racking up 4.5 sacks in the opening five contests of his Husker career.
His play not only earned him a starting job at right defensive end, he was also rewarded with a coveted Blackshirt after closing out conference play with four tackles and two sacks in a win over Southern Miss.
But after a knee injury he suffered during NU's loss to Illinois in the Big Ten opener, things were never quite the same for Akinmoladun the rest of the year.
The Grandview, Mo., native still managed to end the season as the team leader in sacks (4.5) and second with seven tackles for loss, along with 21 tackles and four quarterback hurries. None of those numbers, sans two tackles, came during the final seven games, however.
Now 100-percent healthy again for spring practice, the sophomore has bulked up to 6-foot-4, 255 pounds, and also feels much more at home at defensive end than he did at this point a year ago.
"It's starting to feel natural," Akinmoladun said. "Last year was a huge switch, but now I'm starting to get comfortable with it. It's starting to feel good… An injury will knock you back a lot, but this offseason I've been working to get back to where I was before."
One of three returning defensive ends with starting experience, big things are expected of Akinmoladun this season, especially considering senior Greg McMullen looks to be playing primarily inside at tackle in 2016.
Though there's still plenty of time before the season opener in September, defensive coordinator Mark Banker said he still needs to see more from the Big Ten All-Freshman Team selection in order to reach his lofty potential.
"The big thing to look for with him is consistency," Banker said. "We felt like when he came back toward the end of the season he kind of had regressed back to kind of painting by the numbers. We just want to see him be more intuitive to the position, be more fluid in his movement."
Banker admitted that things have been pretty basic for the defense through the first two weeks of spring ball, and there hasn't really been much of a chance for the front four to fully attack in the pass rush based on what the offense has been working on.
But Akinmoladun said his goal is to take each rep he sees, no matter the situation, and make the most of every opportunity he can to get better. He also credits new defensive line coach John Parrella with setting the bar higher than ever for him and the rest of the d-line this spring.
"It's really the mental approach you bring to the level of competition," Akinmoladun said. "That's probably the biggest difference. You always have to have an aggressive mindset and play every game like it's your last… Coach P, he always tells us, 'Don't be good, be great.' That's what we're all striving for, and that's what he expects from us."