Davis twins get humbled, but have grown from experience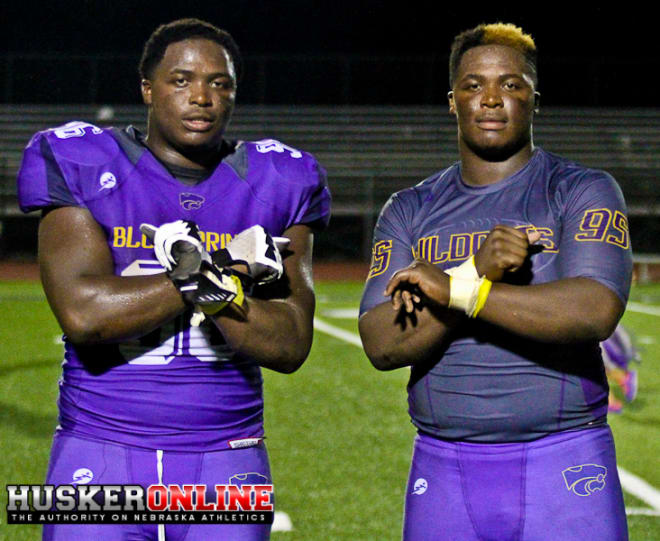 Before coming to Nebraska last summer, freshmen defensive tackles Carlos and Khalil Davis essentially walked on water in Kansas City.
They were considered two of the better defensive line recruits in the region, along with being ranked No. 1 and No. 2 nationally in the high school discus.
They were at a point where they could get away with maybe cutting a corner or two, but still come out on top. When they got to NU this fall, they found out cutting corners was no longer an option.
After being late or even missing a series of 6 am weight lifting sessions last fall, Husker strength coach Mark Philipp told the Davis boys he had enough. He suspended the talented duo from his weight room to teach them a lesson. Never before had anyone disciplined the Davis twins like that.
"I'm glad you brought that up, because we were on a pedestal in Missouri," Carlos Davis said. "Just coming here kind of humbles you for a little bit and puts everything in perspective. That humbled us a lot."
Some football players may not handle situations like that very well. It was totally new territory for the Davis twins to get called out like that.
"Coach Philipp and (assistant strength coach) Willie Jones spoke with us for a good hour and said 'we have to get it together.' That was the moment we knew we had to step up and become leaders," Khalil Davis said.
Whatever Philipp told Carlos and Khalil Davis it's apparently worked. Carlos came into NU at 265 pounds and now weighs 300 pounds. Khalil is up to 291 pounds after coming in at 260. All of it good weight.
Khalil Davis backed that up by winning the team wide performance index testing challenge before the start of spring practice. Carlos probably would've been right up there too, but sat out the challenge because of sickness.
"The first thing is you kind of have to lasso them in a little bit," defensive coordinator Mark Banker said of the Davis twins. "Just looking at them right now they have grins on their faces and they're supposed to be serious, but they are like that all the time. They've got great personalities. They've got big personalities, we've just got to keep them hemmed up a little bit and make sure they stay on the straight and narrow.
"We know they are athletic people. We are counting on them heavily and we knew that would be the case going into this season."
The Davis twins also continue to balance track with football. They participated in a limited role during the indoor season throwing the shotput.
They'll take on a bigger role this spring by throwing both the shot and disc. In fact, over spring break they will take part in the Big Ten vs. Pac-12 challenge in Tempe.
"One thing I learned, and it was this way in football as well, is I wasn't the big dog anymore," Khalil Davis said on participating in college track. "I had to start all over. I was prepared for that in track too. I knew I wasn't the big dog. I just had to do my best every weekend. Even though we didn't have big marks, we PR'd every week."
Even participating in track the last few months the Davis twins have not missed a single football lifting session this off-season. If they want to continue to participate in both sports, that needs to continue, but the juggling is something they enjoy.
"You start out right at the bottom," Carlos Davis said. "We didn't win a meet this spring. Khalil got third at one. It motivates us. We aren't discouraged by it; it just helps us get better."