Final take: Winning the 'Nebraska way'
SANTA CLARA, Calif. - What made Saturday's Foster Farms Bowl win over UCLA special was the Huskers won the game doing it the "Nebraska way."
All season the Huskers have struggled to consistently run the football and find an identity on offense under first year head coach Mike Riley.
In Saturday's 37-29 Foster Farms Bowl victory over UCLA, Riley seemingly found a winning formula he wants to stick with going forward - running the football and playing physical at the line of scrimmage.
The Bruins came into Saturday's game expecting a dance. The Huskers turned it into a street fight. Rushing for 326 yards on 62 carries – both season highs. It was body blow after body blow delivered by Nebraska up front.
"Part of it was a game plan to do with what we thought we can do, the other part of it was what we really wanted to do," Riley said. "I made it a point earlier that next year what we want to do is be in the top three of the league at running the football. When you can do that, life goes better everywhere. We didn't necessarily have to wait until next year to start that idea."
It was hard to even know how the Huskers would respond being in a bowl game after the way they closed the season against Iowa.
Did they even want to be there? Did they deserve to be there at 5-7? Could they compete with a UCLA team that was once ranked as high as No. 7 in the nation?
"They beat us two years in a row and I did not want to lose to them for a third time," senior wide receiver Jamal Turner said after losing to the Bruins in 2012 and 2013. "We really wanted this win and I'm proud of our guys. We just kept fighting. The only reason we got down was because of us. Once we started making plays and didn't turn the ball over we just started rolling."
Down 21-7 you have to credit how this team responded and kept their composure. Quarterback Tommy Armstrong fumbled the ball after being tackled by his face mask. NU was about to go up 14-7 at that point, but instead found themselves down 14-7 a few plays later.
Even after Nate Gerry's controversial targeting penalty that led to an ejection for him the second game in a row the Huskers kept their cool. When it was all said and done Bruin head coach Jim Mora said this was a much better Nebraska team than their record indicated in 2015.
"I think we as a team have great respect for (Nebraska)," Mora said. "We don't look at their record, but when you do look at their record you saw that they lost seven games by 6 points or less and they beat Michigan State. That's a really good football team and a lot of their games came down to the last play. The bottom line is we just didn't perform well enough tonight."
For guys like senior defensive end Jack Gangwish the way the Huskers won on Saturday was the perfect ending.
"I'm born, bred and corn fed Nebraskan, so to see a little bit of an old school offense was cool for me," Gangwish said. "That o-line showed up today. They did well. I can't believe how they came together. The guys showed up and did well."
Now on to the post game grade out….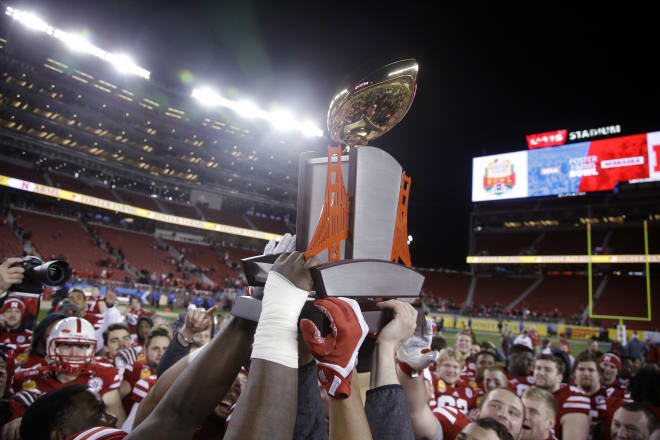 What I saw on Saturday
***Nebraska clearly saw something from UCLA's loss earlier this season to Stanford. The Cardinal rushed for 309 yards on 49 carries that day. They are really the only other team that came at the Bruins with heavy running formations like the Huskers did on Saturday. Mora even said after the game they aren't big enough up front on defense and the the Huskers more or less exposed that.
***I've been to Jerry's World and Lucas Oil Stadium. I'd put Levi's Field in Santa Clara right up there as one of the nicest football stadiums in America. Probably the most overwhelming thing to me was the amount of staff and security personnel that worked in the stadium. My guess is they are getting ready for a pretty big day coming up in about six weeks.
***Raise your hand if you expected Antonio Reed to play that much at safety? With that said I was very impressed with the flashes he showed.
***It's probably a good thing Nebraska saw UCLA quarterback Josh Rosen as a true freshman. It's scary to think how much better he's going to get the next two seasons.
***Some questioned Nebraska's bowl practice strategy cramming in 12 workouts in 15 days, but Mike Riley's 7-2 record in bowl games clearly shows he knows how to prepare a team in December.
***It was good seeing both former Husker coach Barney Cotton and quarterback Cody Green at Saturday's game. Green is now a graduate assistant for Cotton at UNLV, along with Cotton's oldest son Ben who was also in attendance with his brother Jake.
***I'm not surprised at all about Maliek Collins' decision to declare for the NFL Draft. It's hard to read Vincent Valentine, but you get the impression he's really thinking about leaving. I personally think one more year could really help his stock.
***The other curve ball thrown our way on Saturday was defensive tackle Kevin Williams saying after the game he's not sure if he's coming back. My take is he probably wasn't happy with the lack of snaps he saw on Saturday against UCLA.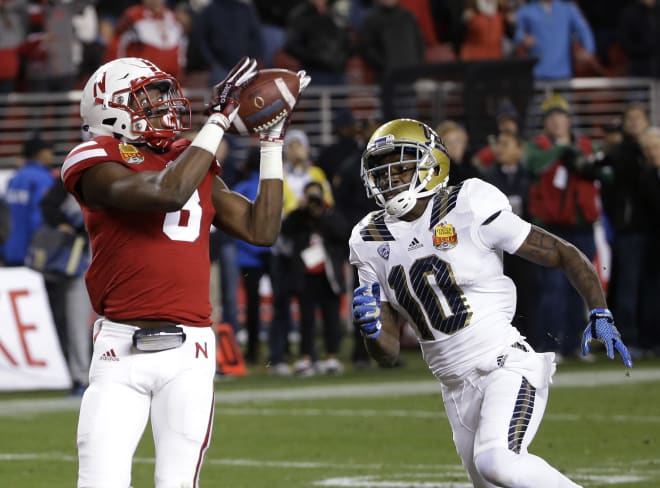 The final grades
Rushing offense: A+
This was the type of rushing offense Nebraska fans have been hoping to see all season. Tight ends, fullbacks and 220 pound running backs pounding at a defense.
Passing offense: B
Quarterback Tommy Armstrong was a very efficient 12-of-19 for 174 yards. The way Nebraska ran the ball on Saturday it took a lot of pressure of Armstrong and the passing game. Armstrong did take one bad sack and you also question the third-and-1 passing call made when NU was running it so well at UCLA.
Rushing defense: B+
UCLA had just 83 rushing yards on 16 attempts. In some way the Bruins probably abandoned the run too early, but you have to credit the way Nebraska's defense took it away.
Passing defense: C-
It was a bend but don't break type effort for Nebraska on the back end. They forced Rosen into two interceptions and when it mattered the Huskers showed up. I think you also have to credit Josh Rosen and some of the throws he made. He's going to be a special player.
Special teams: D
Nebraska's special teams struggled on Saturday. NU missed an extra point, got an off-side penalty that took away a missed UCLA extra point and they were very inconsistent with their kickoff coverage and in the return game on kickoffs. Sam Foltz also shanked an early punt. All and all and it wasn't Nebraska's best game on special teams, but it didn't end up costing them in the end.
Sean Callahan can be reached at sean@huskeronline.com and he can be heard each day at 6:50 am and 5:05 pm on Big Red Radio 1110 KFAB in Omaha during the football season. He can also be seen on KETV Channel 7 TV in Omaha during the fall and each week he appears on NET's Big Red Wrap Tuesday's at 7 pm.
Related HuskerOnline links