Five defensive players in need of a big spring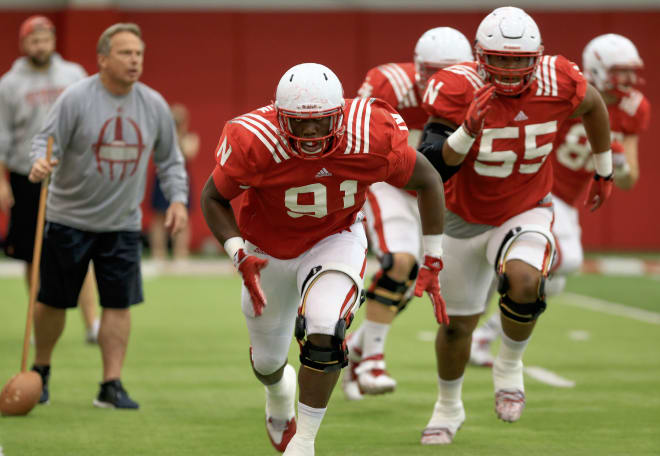 Last spring, Mike Riley and his newly-hired staff entered spring practice with little idea of what to expect. They'd been able to watch their new players on film, but had yet to see them play in person or interact with them in a practice setting.
That's not the case this time around. Riley and company have a much better idea of how to handle the squad heading into spring practice, which begins Saturday. While spring ball is critical for most players, there is something extra at stake for several Huskers.
After looking at five offensive players who are looking to make their mark this spring on Monday, today HuskerOnline turns to the defense and examines who needs to put on a good show.
Defensive end Freedom Akinmoladun
Nebraska's pass rush was average at best in 2015, and was at times downright anemic. The defensive backs were roasted for allowing monster passing days to middling quarterbacks, but those signal callers were often allowed all day to survey the field unmolested as the offensive line easily kept NU's defenders at bay. The Huskers had just 24.0 sacks last year, 10th-most in the Big Ten.
That has to change in 2016, and Nebraska's best shot at improving lies in Akinmoladun's development. The sophomore got off to a great start last season, registering 4.5 sacks in the first five games. But then he suffered a knee injury, missed two contests and lost his explosiveness, finishing the year without any more quarterback takedowns.
A terrific athlete with size, Akinmoladun is dripping potential and is still learning after spending his redshirt season at tight end. Nebraska needs him to turn that promise into production quickly - if Akinmoladun doesn't make a leap, it's hard to see where the pass rush comes from.
Linebacker Michael Rose-Ivey
Rose-Ivey was a revelation as a redshirt freshman in 2013, setting the school record for tackles as a rookie (66). But he missed all of 2014 with a preseason ACL tear and was severely limited by a balky groin muscle for much of last season.
Though Nebraska discovered some serious depth at linebacker last year, getting Rose-Ivey would be a major boon for Mark Banker's unit. Rose-Ivey's instincts are unmatched, and his leadership is a major bonus. But as good as he's been when healthy, he now has to hold off talented youngsters such as Marcus Newby and Chris Weber, who proved themselves capable of stepping in last year.
Rose-Ivey's father reports that his son is healthier now than he's ever been since coming to Lincoln. The Huskers will have to hope that holds true.
Thinking on this past year, 2015 was definitely a storm so I know 2016 will be the sunshine after the rain 😎

— Michael Rose-Ivey (@Rose_IveyNB15) December 25, 2015
Defensive tackle Kevin Maurice
Defensive tackle has been one of Nebraska's deepest positions over the past couple of seasons, limiting Maurice's playing time. But with Maliek Collins and Vincent Valentine opting to leave early for the NFL and Kevin Williams' health status perpetually up in the air, Maurice becomes one of the more important players on the defense.
The senior has flashed real ability in the limited opportunities he's gotten, namely his eight-tackle performance against Illinois in his first career start. Now the Huskers need him to turn those sparks into consistent production.
The cupboard is far from bare at tackle - sophomore Mick Stoltenberg and redshirt freshmen Carlos and Khalil Davis all have high ceilings and strong futures. But that trio is very short on experience and will need some seasoning. After being the understudy for so long, Maurice has to become the rock for the middle of the defensive line.
Defensive ends Sedrick King/A.J. Natter
Due to a series of misses in recruiting, the Huskers are paper thin at defensive end. Jack Gangwish is gone and Greg McMullen could see more time at defensive tackle this season, a position that better suits his body type.
Despite the lack of depth, Natter and King could barely sniff the field last season. The Huskers need at least one to emerge as a role player this year. Akinmoladun and Ross Dzuris form a decent starting pair but need help behind them. Redshirt freshmen Alex Davis and DaiShon Neal could help, but they may need more seasoning before they can be fully counted on.
So the mantle falls on King (two career games, zero tackles) and Natter (five career games, two tackles). Both have shown very little so far, but the opportunity is there this spring. If either player is going to make a move, the time is now.
Cornerback Eric Lee
Joshua Kalu and Chris Jones are pretty much locked in as starters at this point, but playing time behind them is wide open with Daniel Davie and Jonathan Rose moving on, Trai Mosley transferring and Avery Anderson moving to safety. There is a real opportunity for Lee, a four-star recruit in the 2015 class, to grab hold off one of the top backup positions and put himself in a good spot should anything happen to Kalu or Jones.
Lee would do well to make a strong impression now, because there's some serious cavalry coming in the fall. Marquel Dismuke and Lamar Jackson are both four-star recruits who could challenge for playing time early and, though he's viewed as more of a project, the coaches love DiCaprio Bootle's speed. Lee needs to make his mark now to help hold off the youngsters once fall rolls around.