Former QBs agree: Gebbia only scratching surface on potential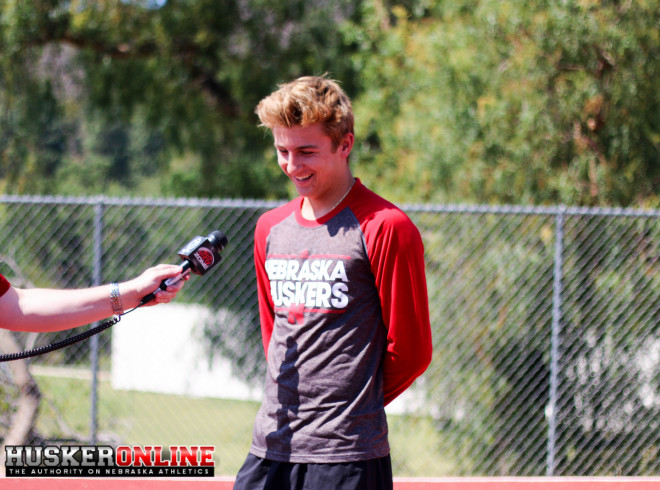 OAK PARK, Calif. - Tristan Gebbia was the star of the show among the quarterbacks in attendance at the Calabasas satellite camp on Sunday, but the four-star Nebraska commit certainly didn't carry himself like it.
In fact, in Gebbia's opinion, he's still just a rookie in terms of his development as a quarterback.
That's why Sunday's camp, which featured NU's entire coaching staff, was so important for the 2017 signal caller who is currently ranked the No. 4 pro-style quarterback in the country.
While he's already had numerous meetings with the Husker coaches, including participating in last year's satellite camp in Los Angeles, Gebbia viewed the most recent interaction with head coach Mike Riley and offensive coordinator Danny Langsdorf as another golden opportunity to learn and improve.
"That's invaluable to me, just being able to get to know my coaching staff a little bit more and really learn what they're expecting from me at the next level and really just getting a feel for them," Gebbia said. "I really had a good time today."
Given his lofty profile, there was plenty of discussion regarding Gebbia and his future with the Huskers on Sunday. In talking with Calabasas head coach and former Tennessee quarterback Casey Clausen, there is one word that best describes Gebbia's future at the next level.
"Upside," Clausen said. "Upside. For a kid at that height and his weight - which obviously is not ideal for college football - the way he spins the football, when he's 6-3, 215-220… He's got the mental side of it down. Our job is to prepare him as best as we can and then let Mike and those guys take it from there. He works hard and is the leader of our team, and he's pretty much run the show since Day One as a sophomore.
"At that position, it's pretty much flip a coin to see if a guy's going to be a boom or a bust. He's raw in that he's only going on his fourth year of playing football. He's not a kid who has been training since he was six years old or whatever. But if you look at his family, they've all been late bloomers, and they're all big.
"So height-wise he's going to be a 6-2, 6-3 kid, but the thing I'm excited for is just the development he's going to have with us over the next six months and then obviously when he goes on to Nebraska. The kid is just full of upside."
Another former star college quarterback who's now on an NFL roster was also impressed with what he saw from Gebbia on Sunday.
Former Oregon State standout and current Los Angeles Rams QB Sean Mannion was in attendance for the camp, and he too saw nothing but potential when he watched Gebbia in action for the first time.
"I was a skinny guy coming out of high school too," Mannion said. "For anyone coming into their first year of college, I think it's just committing themselves to developing physically in the weight room and mentally growing in the system. I think that applies to any player, but especially quarterback.
"I'd just keep working on your fundamentals. If he works hard he's going to be great. It's the commitment to getting good at the fundamentals and developing yourself physically. That's what I had to do coming out of high school. If he does that, the rest will take care of itself."
With another full high school season to go before he enrolls at Nebraska early for the start of spring practice in 2017, Gebbia said he plans to continue working on his weakness in order to be as ready as he can to hit the ground running in Lincoln.
That's why maybe the most important aspect of Sunday's camp was picking Langsdorf's brain as much as possible.
"Today I just asked him from my film and from what he saw from me out here today what I really needed to work on," Gebbia said. "He told me that my footwork is big and to really get that down, because that basically impacts everything that we do. So I'm just going to go back and work on that and do my best.
"He also talked to me about my accuracy. That's something that everyone needs to work on, whether you're my little brother who's in second grade or Tom Brady, accuracy is a huge thing… I just really want to work on ball placement, especially when I get to the next level. That's when windows get tighter and the situations get bigger."