Freshman WR Grim making big impression this spring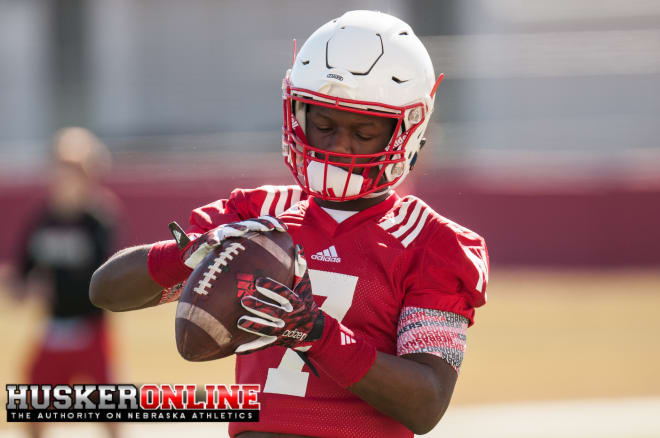 It would be easy to see how Derrion Grim could have been lost in the shuffle a bit during his first spring at Nebraska.
Not only is he just one of two true freshman early enrollees this year, the other is heralded quarterback Patrick O'Brien, who has already garnered rave reviews from his coaches and teammates alike.
But the 6-foot, 195-pound native of Stockton, Calif., has done anything by fly under the radar through the first two weeks of spring ball.
He may be competing at arguably the deepest and most talented position on NU's roster, but Grim has made his presence felt with his impressive athleticism and natural receiver instincts for a player who should still be finishing up his senior year of high school.
"He's a focused young man," receivers coach Keith Williams said. "He reminds me a lot of Stan (Morgan) in terms of his focus and attention to detail. He's focused here everyday, he doesn't joke around, he's in his playbook. I'm really excited about him."
Grim, or "Cherry", as Williams calls him, came to Nebraska with one of the most impressive high school resumes one could assemble.
As a senior at Ronald E. McNair High School last season, Grim hauled in a staggering 96 passes for 1,928 yards and 34 touchdowns in just 10 games, which set a California high school record for receiving yards in a season.
Grim registered at least 200 receiving yards in four different games as a senior and had at least eight receptions in eight of his 10 games. He even had six touchdown grabs in one game alone, a 72-26 win over Calaveras High School in the season opener, and added two other four-touchdown games.
His gaudy numbers helped him become ranked the No. 37 overall athlete in the country and among the top-55 players in California at any position, as well as being tabbed a first-team All-American by Parade Magazine.
"Yeah, I saw that he almost put up as good of high school numbers has I did," said senior wideout Jordan Westerkamp, who put up equally large stats at Montini (Ill.) Catholic. "I was reading his stats and I was like, 'Oh my goodness. This kind of reminds me of myself.'"
Grim's natural adjustment to the college level has been equally noticed by the rest of his his fellow Husker wide receivers. With Westerkamp, Morgan, and De'Mornay Pierson-El all sitting out for part or all of the rest of the spring practice with injuries, is opportunity to showcase his ability has been bigger than ever.
So far, the freshman has taken full advantage.
"He's doing well," senior receiver Brandon Reilly said. "He's a good kid. It's rare to see a young kid and not be kind of cocky or have an edge, but he was mature, came in, knew what he had to do, been working hard, comes there, gets his work in, does what he has to do, doesn't complain. That's great to see out of a young guy, because it takes a couple years sometimes for a young guy to develop that maturity level, but he kind of already has and it's great to kind of see that. He'll still have to learn the system and stuff like that, but he will.
"Grim he is a great kid honestly. I didn't know what to expect from him, but on the first day he came and introduced himself to me and he wasn't cocky at all which showed me a lot because some kids come in like that. But he came to me and said what can I do differently. That showed me a lot there. I'm expecting to see a lot from him this spring."