Fyfe continues to compete despite unusual circumstances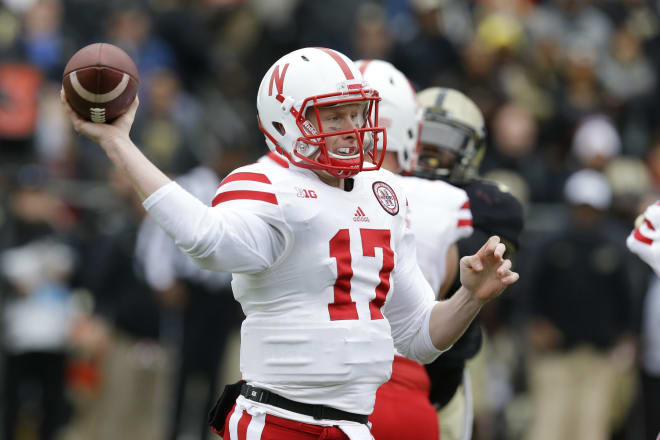 Few players on Nebraska's roster are in quite as difficult of a situation as senior quarterback Ryker Fyfe is this spring.
On one side, fellow senior and three-year starter Tommy Armstrong is all but cemented as the Huskers' No. 1 quarterback for the 2016 season. On the other side, heralded true freshman Patrick O'Brien has hit the ground running over his first eight collegiate practices and seemingly draws more praise by the day.
So not only is Fyfe already faced with an uphill battle to see game reps over Armstrong, he's also having to fight to make sure O'Brien doesn't pass him up on the depth chart as the No. 2.
But all of that doesn't really matter much to the former walk-on from Grand Island. He'll just continue to do the same thing he's been doing since his first day as a Husker nearly five years ago.
"Just keep making (Armstrong) better, making the team better, and making myself better every day," Fyfe said. "Maybe I could get a shot someday, but I don't know. We'll see. I'm just going to keep making the team better. That's kind of my goal."
While Fyfe might sometimes get lost in the spring football hype, he's been arguably as consistent as any of the quarterbacks according to offensive coordinator Danny Langsdorf, who said Fyfe had one of his best practices yet last time out on Thursday.
"I think Ryker had a really good day (Thursday)," Langsdorf said. "I thought he made some nice throws, he was getting rid of the ball quickly, making good decisions in the run game. So I like the way he's coming along."
Fyfe is coming off a 2015 season that saw by far the most extensive action of his career, playing in seven games and making his first-career start on the road at Purdue. But his limited action came with drastically varying results.
He was able to complete 29-of-48 passes for 407 yards - the fifth most ever by an NU quarterback - and four touchdowns against the Boilermakers while Armstrong was sidelined with a foot injury.
However, that also came with five total turnovers, including four interceptions, that played a key role in the Huskers' 55-45 loss.
Like the rest of the quarterbacks, Fyfe said he feels much more comfortable in Nebraska's offense now with a full year of experience with it under his belt.
Another aid in his recent jump this offseason has been picking the brain of former Oregon State and now L.A. Rams signal caller Sean Mannion, who has been in Lincoln training with his former OSU coaches Langsdorf and Mike Riley.
"I've talked to him quite a bit, about every day since he's been here," Fyfe said. "Just going over reads and stuff, because he's been in the offense for five years, so just getting some tips from him."
Barring an unforeseen development, it would appear Fyfe's chances of supplanting Armstrong as the starter are slim at best at this point.
But that hasn't shaken his confidence or deterred his focus in practice, as he knows full well that every backup is just one play away from taking the reigns once the season rolls around.
"Every day you're competing for the No. 1 spot," Fyfe said. "I mean, it's tough when a guy has played 30-some games, but I just try to make Tommy better and just keep my No. 2 spot for now."