FNL: Hard to draw it up much better
I've been covering Nebraska football recruiting since 1999 and I don't think I've seen anything quite like the scene Friday night in Memorial Stadium for the Huskers third and final Friday Night Light's Camp.
An estimated 2,500 to 3,000 NU fans filled Memorial Stadium to watch a high school football camp. In a nutshell, this is what makes Nebraska fans unique. They are called the best and smartest fans in college football for a reason.
With nine current Rivals.com four and five star prospects in attendance, Husker fans understood the importance of this event for the program's future. They understood you may only get one shot with some of these guys to leave a lasting impression, so they went all in on Friday to make the event quite possibly the most fan attended high school football camp in history. Even University of Nebraska President Hank Bounds understood the significance of Friday night's event, as he too was in attendance talking with some of the recruits on hand. (Bounds was once a former graduate assistant coach at Southern Miss).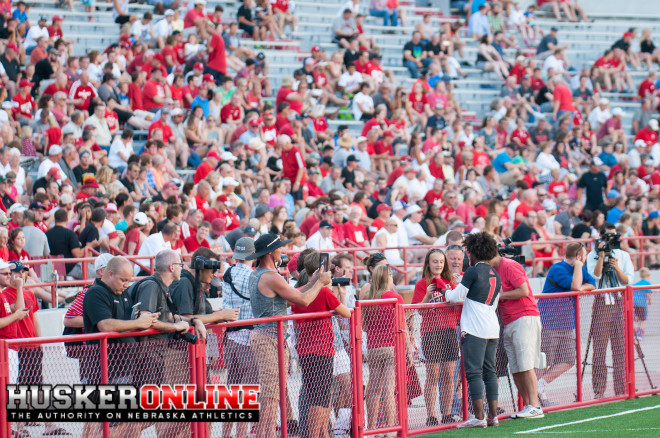 "I've coached 40 years and I've never seen anything quite like that," NU head coach Mike Riley said after Friday night's event. "That's what I told some of the kids, only in Nebraska you see stuff like that. That was fun. I really, really appreciate the fans. I've just come to realize that over the last 6 months, probably more than ever how much we are really in this all together. They join in and helped, and I think that's real."
As the camp begun, Riley yelled to the crowd "thanks for coming!" He was greeted with a massive applause followed by stadium wide "Go Big Red" and "Husker Power" chants.
The crowd was literally engaged in the action for most of the night, appreciating the talent that was on display, particular at the wide receiver and defensive back positions.
Wide receivers Joseph Lewis, Tyjon Lindsey, Jaevon McQuitty, Keyshawn Johnson Jr. and DaRon Davis, along with defensive backs Jaylen Kelly-Powell and Brendan Radley-Hiles stole the show.
During a one-on-one between Radley-Hiles and Lewis, even all of Nebraska's current players had their cell phone cameras out capturing the action.
The day in general really couldn't have gone much better for Riley and his staff.
"I've had few days like that where at the end of the day you sit and say 'that was pretty good, and I'm not sure how we make it better,'" Riley said. "You've got a beautiful Nebraska night. You've got the lights, the highlights going on and you've got music and 3,000 fans – that's awesome."
As Nebraska closed the booked on their final summer camp for 2016, it's safe to say they've found something.
The heck with Satellite Camps, and for the record Riley convinced the five-star Lewis to attend their camp in Lincoln vs. the Satellite Camp Michigan is hosting at his high school in California this weekend. Yes, there's a place for travelling and having Satellite camps, but Nebraska got much more bang for their buck this June hosting events in Memorial Stadium, and Friday was the cherry on top.
"I'm not surprised any more by anything that goes on here," Riley said. "As far as the progress we made and considering the talent we got this year compared to last year on these Friday Night Light (camps), it's considerably different. I guess that's the best thing I can about what's happened this year."