Huskers cruise to 41-14 win over Minnesota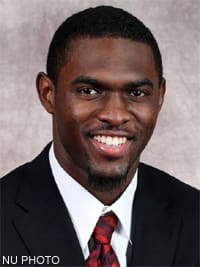 When all was said and done, the Huskers had put up 515 yards of total offense to Minnesota's 254 in what ended in a 41-14 blowout win Saturday at TCF Bank Stadium.
The win marked the Huskers' first Big Ten Conference road victory and their 11th straight over Minnesota.
On the next drive, Nebraska got a bit of lucky bounce on a fourth down play, as a bad pitch by Martinez ended up bouncing up field and past the first down marker. By rule, the spot is marked where the ball goes out of bounds, and a fumble on a lateral is allowed to be advanced.
The play was the longest touchdown run ever by a Nebraska freshman and the team's longest run since Cory Ross went 86 yards against Missouri in 2006.
The play marked the Huskers' first fumble recovery for a touchdown since Daniel Bullocks returned one against Wake Forest in 2005. It was also NU's last defensive score since Cassidy took back an interception last year against Iowa State.
"I was in the right place at the right time, but it's pretty cool," Cassidy said. "Helping the team is the most important thing."
Nebraska took it from there and marched right back down the field on a 14-play, 73-yard drive that ate up 5:35 and was capped off with a 4-yard touchdown run by Burkhead on a fourth-and-goal to make it 34-0 with 33 seconds left in the half.
The competition should pick up significantly for Nebraska next week, as the Huskers play host to Michigan State in a pivotal Legends Division showdown that could end up punching a ticket to the Big Ten Championship for either team.
For now, though, Nebraska knows that it's arguably played its best its best football over the past six quarters.
"I think we've come a long way, "Pelini said. "When we've struggled, we've been our own worst enemy. We do our thing the right way - we communicate, we play the way we've been taught - we're pretty good."
Overall, Pelini said he was pleased with the performances of Jean-Baptiste and Rome, saying both players stepped up and held their own against the Gophers.
Pelini said his initial impressions of Jean-Baptiste's performance were pretty good overall.
"I've got to look at the film, but I thought he did some good things," Pelini said. "I thought he was physical. I thought he challenged receivers. I'm sure there are some things technique wise he's going to need to clean up, but he's getting better. Each day, every opportunity for him to get out there and experience and be out there in real time, he's going to get better as a football player.
"Every day, every practice for that matter is important for him. He's got to keep it coming, but I thought he did well today."
As for Rome, he said he thought he played fairly well, though admitted he made some bad mistakes as well. One error in particular came on his personal foul penalty during Cassidy's touchdown fumble return.
Well away from the play and Cassidy having already crossed the goal line, Rome delivered a hit on a Minnesota offensive lineman that drew a flag from almost every official on the field.
"I feel like I played well, well enough," Rome said. There's always things I can work on, and obviously I had the stupid penalty… I just wasn't thinking."
Maybe the most daunting challenge for Nebraska during its trip to Minnesota came from a hotel elevator.
The group, which not surprisingly included six offensive lineman, as apparently too heavy for the elevator to pull up, and it stalled shortly after beginning its ascent. Not only were the players trapped in the elevator, it actually dropped three separate times before hotel staff could get the players off safely.
To make matters even worse, the players then had to walk up six flights of stairs to get back to the main lobby and get on a different elevator. Understandably, Hardrick said some players didn't trust getting back on another elevator and hiked up as many as 14 more stories of stairs to get back to their rooms.
"I know I didn't want to get back on another elevator," Hardrick said. "Not with a bunch of o-linemen at least."
***While it appeared Bell's 82-yard touchdown run was executed to perfection, Pelini said there were actually several blocking mistakes up front that were luckily made up for by Bell's speed around the edge.
"I thought it was a good design," Pelini said. "I thought it could've been blocked better. (Mike) Caputo was laughing. That probably wasn't his best effort of the day. But you see that Kenny Bell is a pretty explosive guy, and he showed tremendous balance on the sideline. I'm not sure how he was able to keep his balance and stay in. It showed how explosive he was."
"I said early in the week, I felt this team was very aggressive," Beck said. "They play hard and they run to the ball. I felt like there could be a chance for it. They were playing hard, and it looked like it was there."
***While Nebraska's 346 rushing yards against the Gophers were impressive, Pelini said the Huskers were anything but perfect in the running game.
"Yeah, we had a lot of yards, but I thought there were a lot of things we need to get cleared up," Pelini said. "I would give us probably around a B in how we played in the run game. They gave us a lot of different looks that we expected, and I don't know if we reacted real well to some of those looks, especially as the game went on. We had some repeat errors and didn't get hats on hats. I'll put it this way: we left a lot of big plays out there on the field."
***Pelini said that while the Huskers were happy about the win, they were well aware that they would have to keep their focus as they head into a crucial stretch of the season over the next few weeks.
"You saw a team out there today, they weren't hooping and hollering," Pelini said. "I mean they were happy, but (it was) another day at the office, kind of, is their approach. I think everybody in the locker room knows no one in there played a perfect game, and we've iust got to keep up in our level and we've got to keep working to get better. That's the approach we take, and that will continue."