Huskers feeling Shields' absence more than ever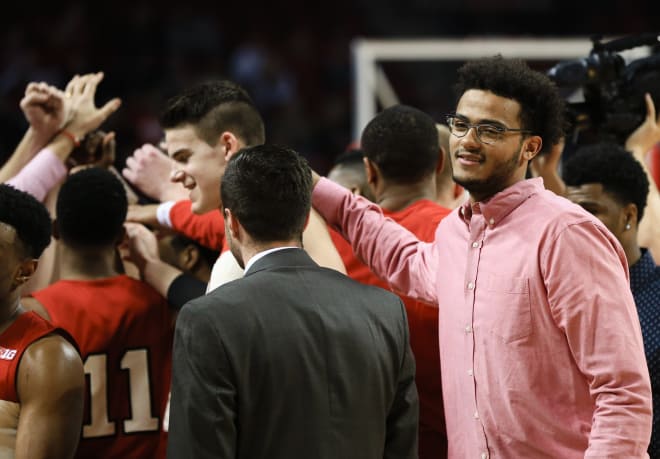 BLOOMINGTON, Ind. - Indiana forward Collin Hartman drove right through Nebraska's defense and threw down a one-handed dunk late in the second half that put a bow on the Hoosiers' comfortable 80-62 victory.
Husker head coach Tim Miles turned and looked down his bench, and the one big void that had been missing for a third straight game was as noticeable as ever.
As senior forward Shavon Shields continues to recover from a concussion and neck strain he suffered in a win over Rutgers back on Feb. 6, Nebraska has been searching for ways to not only make up for his absence in terms of production, but as the veteran leader who could put the team on his shoulders when things got tough.
"We lacked leadership and talk out there at that point in time," Miles said following Wednesday's defeat. "Tai (Webster) was trying, Benny (Parker) was trying. That's probably where we missed Shields more than anything at those points."
Now 1-2 in three games without Shields, NU was able to put together one of its better overall performances in a home win over Penn State last weekend. But in two road losses at Wisconsin and now at Indiana, not having the captain who had started 106 consecutive games clearly has taken its toll on the Huskers.
Not only has Shields been held out of action the past two weeks, he hasn't even been able to travel with the team for its two road games because his recovery hasn't progressed enough to fly. The win over Penn State is a bit of an outlier compared to the road losses, especially when considering it was the only game Shields was at least there on the bench with his teammates.
"We miss him off the court as much as we miss him on the court," said freshman forward Jack McVeigh, who has replaced Shields in the starting lineup the past three games. "People don't give him enough credit just for being around the guys.
"We've missed him every game, even against Penn State we missed him. That's just how it falls. We've got to keep preparing for no Shavon and keep having all of us stepping up to get some wins."
Along with missing Shields' leadership, Nebraska has also obviously missed the player who ranked either first or second on the team in points, rebounds, assists and steals prior to his injury.
No stat on the boxscore emphasizes Shields' void more than the vast free throw discrepancy at the free throw line on the road. The Huskers went a combined 15-of-22 from the charity stripe against Wisconsin and Indiana, while the Badgers and Hoosiers were 34-of-51.
Against Indiana in particular, the Hoosiers finished 17-of-23 from the foul line compared to NU's 6-of-10.
The big question moving forward, just as it has been the past two weeks, will be when Shields might finally be healthy enough to rejoin the lineup. Based on Miles' comments following his team's most recent loss, it appears Shields will be considered doubtful at best to return for Saturday's home game against Ohio State.
"I didn't hear anything today - I didn't ask what he did today or what was going on," Miles said. "So I have no idea. Nothing to report on that."