Huskers have successful day in Southern California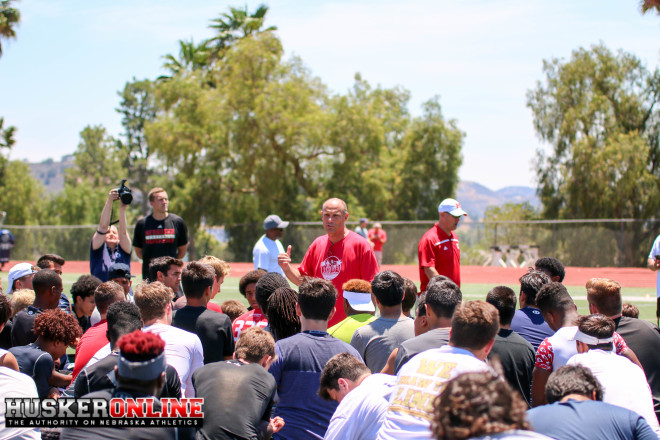 OAK PARK, Calif. – Nebraska's Satellite Football Camp in Los Angeles was scheduled to be at Calabasas High School all along, but when wild fires spread throughout a 500-acre area on Saturday night, there was a change of plans.
Officials from Calabasas feverishly worked the phones late Saturday in order to find a new home for their Satellite Football Camp that featured head coach Mike Riley and his entire Cornhusker staff. After several unsuccessful tries they were able to get nearby Oak Park High School to hold the event in their stadium.
Despite the late change in venues, there were still 165 prospects in attendance, including around 10 four and five start prospects from the classes of 2017, 2018 and 2019.
"All these people worked hard for us and we had a great turnout," Riley said. "Lots of good players. Our coaches did a real nice job working the camp and Casey Clausen and Calabasas High School did a great job of putting it on."
Clausen, the head coach at Calabasas, was the one responsible for getting the word out about the location change.
The former Tennessee quarterback is going into his third year as the head coach at Calabasas and is the older brother Notre Dame and current NFL quarterback Jimmy Clausen.
"I was working the phones last night, and thankfully Oak Park was able to host this thing for us," Clausen said. "We've obviously known Mike (Riley) and Mark (Banker) for a long time, and anything we can do to benefit the kids we are for it. It was a great turnout, especially for the short notice of moving it.
"We had some parents of kids on our team that weren't allowed back at their houses last night. Even if they were, all the air conditioning quality wasn't going to work. We started working the phones last night. The challenging thing was most schools were graduating this coming week, so they already had their stadium set up for graduation."
The Calabasas Satellite Camp is the only one Riley and the entire staff will be at, along with the Sound Mind Sound Body Camp in Detroit on Friday.
"We've obviously had a little buzz out here and did a lot of work out here," Riley said of deciding to have a camp in California. "The other thing is I have relationships at this place and so do some of our coaches that go back many, many years. I think a lot of recruiting is really built on that trust and relationship part, so we kind of wanted to follow through on what we kind of got started here and what we intended to do from the start."
Freshman have all reported to Lincoln
Riley and his staff took advantage of the new direct American Airlines flight offered in Omaha on Sunday to get back late Sunday night in order to be with their 2016 recruiting class that checked into the dorms this weekend in Lincoln.
Riley said all of his 2016 recruits have academically qualified at this point and are in Lincoln ready to begin their summer conditioning program this week.
"We expect all of them to be there," Riley said. "Everybody will get started at the same time – that means the academic part of it is all in line."
Riley added he felt it was important for the staff to be in Lincoln with the team this week and not on the road running a bunch of Satellite Camps.
"When we shifted gears coming out of the fact they weren't going to have Satellite Camps, I immediately said there's two things we can do: We can spend more time with our own team and be here for the new guys coming in and then get more guys to our campus. When they brought Satellite Camps back, what we tried to do from there is blend those two ideas.
"I want to do it all. I want to be there for our team in Lincoln. I want to bring kids to Lincoln and we are going to do a couple of (Satellite Camps) as we can and still blend that whole idea that I talked about."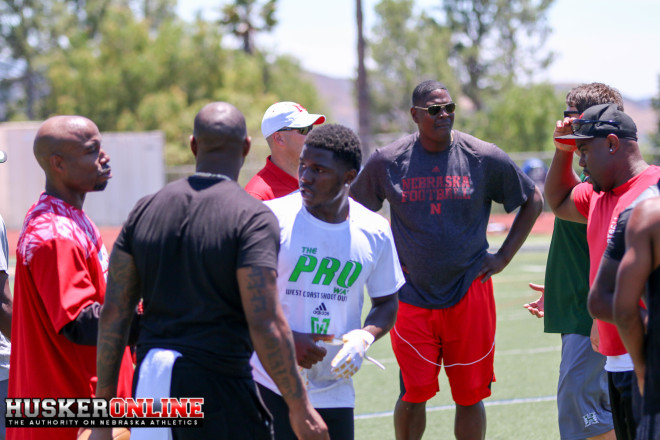 Johnson Sr. says Riley has more to sell at Nebraska
When Keyshawn Johnson Sr. looks at Riley at Nebraska, there's no question his former coach has much more to work with at NU.
Johnson Sr.'s son Keyshawn Jr. and his four-star quarterback Tristan Gebbia are already Husker commits at this point, and the former No. 1 NFL Draft pick doesn't see Nebraska's recruiting success in Southern California slowing down any time soon.
"They are really truly a West Coast staff from Oregon State," Johnson Sr. said. "They've had the luxury of recruiting this area as well as other parts of Southern California in general. The difference is the brand of Nebraska vs. the brand of Oregon State. The brand is a different brand. Nebraska…Oregon State. It's not even in the same..."
Clausen expressed similar feelings about Riley.
"It's all about relationships, but I think the biggest thing is obviously we've known these coaches for many years," Clausen said. "A lot of these coaches recruited myself and my brothers and the kids we've coached in the past. I think the biggest thing is to make sure no matter where they go just to make sure they get an opportunity."
Quick hits
***Riley said he has not selected captains at this point, but expects that to happen here real soon.
"We've normally done that in the summer, but I'll have some information on that soon about that," Riley said.
***Former Nebraska and now UCLA defensive line coach Angus McClure was present at Sunday's camp because his son Hammish took part in the event.
***Riley said after the event it was as much talent as they've ever had at one Satellite Camp before.
"I will tell you this, the overall talent today was as productive as a camp as we've ever had," Riley said. "The overall number of scholarship appearing players that were on this field were pretty high."
***Former Oregon State and now Los Angeles Rams quarterback Sean Mannion was also present at Sunday's camp. Mannion has been a regular in Lincoln this past year as well.