Johnson Jr. creates his own path with commitment to Nebraska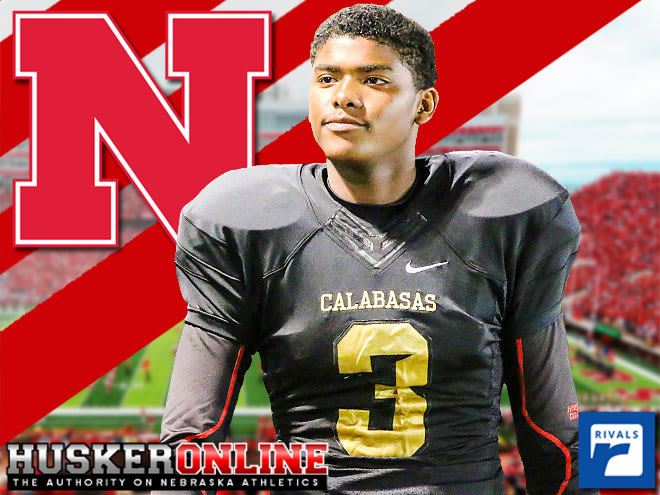 It's not always easy to do something different and make your own path, but that's what wide receiver Keyshawn Johnson Jr. has decided to do as he committed to Nebraska today.
The 6-foot-1, 195-pound Rival250 prospect is the son of former USC legend Keyshawn Johnson. His cousin, Michael Thomas, just wrapped up a great career at Ohio State and is considered among the top receivers in this year's NFL Draft.
Wanting to create his own path, Johnson Jr. picked the Huskers today over the Trojans and Buckeyes, as well as his other finalists Alabama and Clemson.
"I'm not going to lie, it was pretty tough," Johnson Jr. said about his decision. "About a month ago I kind of picked where I was going to go. I'm not going to say where, but I knew I was going to go somewhere and then I started thinking and reevaluating things.
"Why would I pass up people that want me, coaches that want me and a great environment? I mean a really great environment, a football environment. Why would I pass that up?
"The Ohio State aspect, my cousin, played there and he's probably going to be a first-round draft pick. That's not me, he did what he had to do. My dad went to USC and was the first overall draft pick, but that's not me.
"I had to decide what I wanted to do. Not what other people have done and maybe I could follow in their footsteps. That's just not how I do things. I just wanted to start my own path and I think Nebraska was the best fit to do that."
Johnson Jr.'s first offer came from Florida State when he was just a freshman in high school. Looking back at it, he never would have thought that he'd wind up committing to Nebraska.
"The recruiting process started my freshman year when I got my first offer from Florida State," Johnson Jr. said. "That was kind of the turning point in my recruiting process. To think back to my freshman year, I would never have thought I would go to Nebraska.
"Just the fact that I never knew anything about it and that I've always been a USC type of guy because it's always been in my family. I never thought to myself, 'OK, I'm going to be a Cornhusker when I grow up.' I always thought I was going to be a Trojan.
"Then I got down there for a visit and everything changed. My whole perception of college football and my whole perception of Nebraska changed for me.
"The atmosphere was great, the people are amazing, the coaching staff, just all the people around Nebraska make you feel like you're at home. I'm happy where I'm at right now, which is home."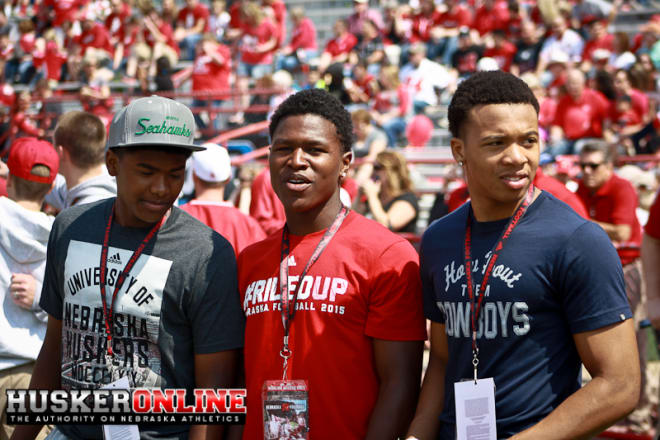 The first of six total visits Johnson Jr. has made to Lincoln occurred just over a year ago for an impromptu junior day with his 7-on-7 team.
He says it was his second visit where he and teammate Darnay Holmes went to Nebraska's spring game and met recent Husker wide receiver commit Jaevon McQuitty when he realized that it might be the place for him.
"It was probably at the spring game when I met Jaevon. That was probably the first real feel of Nebraska," Johnson Jr. said. "Honestly, I didn't feel like people would know who I was when I went out to Nebraska. Random people would come up to me though and be like, 'Be a Cornhusker, Keyshawn! We need you! Build a revolution! Calabraska!' They had signs and shirts. It was just like, 'Whoa, this is surreal. I've never felt anything like this.'
"It was just the coolest thing ever and I couldn't pass up the fans, a great coaching staff with Mike Riley, Danny Langsdorf and Coach (Keith) Williams, and just overall the family feel. I think I made a great decision in picking Nebraska and I'm done with the recruiting process."
Johnson Jr. says he has been fortunate to have met a lot of great coaches during his recruitment, but he had developed a special connection to Nebraska's entire staff. It was a connection that began with head coach Mike Riley, who was the offensive coordinator at USC when his father played there.
"Every coach that I've gotten to meet is an amazing coach," Johnson Jr. said. "With Coach Riley though, I could pick up the phone and call him and he'd have a conversation with me about how my day was and just anything.
"I feel like with Coach Riley, I have a great relationship with him because he knows me, he knows my dad. It's almost like he's already coached me and I had that relationship with him already. Then to come back over and over again and just meet and just kind of getting the feel for him, just like my dad got the feel for him when he was in college, was a big thing for me.
"Then with Coach Williams, he's probably the best receivers coach in the nation. I can relate to him because he talks to me like how I talk. He's not like, 'How are you doing, sir? When are you going to come up to the junior day?' He's more like, 'What's good, man? What's your deal?' I can just relate to him that way."
Now that Johnson Jr. is committed to Nebraska, he plans to become a recruiter in order to help make his class one that returns the Huskers to being one of the top teams in the country.
"I think it would be unfair to say names, but I think you'll see within a couple of weeks who I'm going to try and get," Johnson Jr. said. "If they're interested in Nebraska, then I'm going to try and get them out there and show them what it really is. I'm trying to get just straight ballers around me. I'm trying to win a National Championship and get back to where Nebraska was.
"It would be cool to have this group of guys that's going to be in the 2017 class to be like, 'Wow, this is the class that got Nebraska back to where they are supposed to be.' It would be pretty dope, I've been thinking about it for a while now."
In addition to having success as a recruiter, he wants to be clear that he has certain goals for himself as a player once he arrives to Nebraska as an early enrollee next December.
"As much as I'm going to recruit that's not what I'm trying to be known as," Johnson Jr. said. "I'm trying to go out there and break records and do what I have to do off of the field as well."