Kitrell gives it his all at Husker camp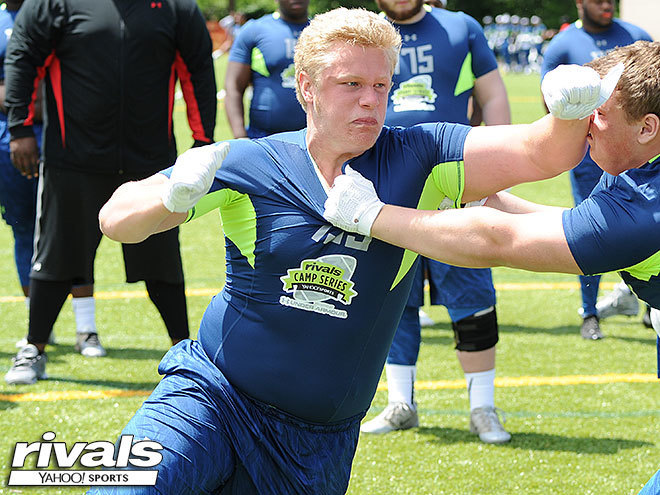 The Nebraska staff hosted their Big Men summer camp today and one of the most closely watched participants was Brett Kitrell from Ashland (Neb.) Ashland Greenwood. The camp lasted approximately four hours and Kitrell thought that he more than held his own.
"It was a good camp," Kitrell relayed. "We were there at 12:30-ish, but we started at 1:00 PM. We got our stuff, got our gear and jersey, and they measured us for height and weight and everything like that. Then we went through our stretch and went straight through until 4:00 where we did some drills and things like that."
The camp did not include full pads, it was just in jerseys and cleats. Kitrell measured out at 6-foot-3.5 and 271-pounds by the NU staff before the camp started.
"I only worked with the d-line and Coach (John) Parrella and did those drills," Kitrell explained. "They wanted to see me work as a defensive lineman, so I only worked with the defensive line. We went through a lot of hand movement and hip movement, footwork, and a lot of agility work.
"There were a couple other coaches there working from [the University of South Dakota] as they were helping at the camp. We tested out at the beginning with the forty and vertical [leap] and things like that. We went through the drills for quite awhile, a couple of hours maybe. And then we finished up with one-on-ones. It was a hot day but everyone made it through, as far as I know. We did a lot of water breaks just to make sure everyone was safe."
Kitrell was asked to do a self-evaluation of how he performed during the day, and he responded:
"I think I did about as good as I can do," Kitrell said. "I felt explosive, I felt fast, I felt like I played well. In the one-on-ones I thought I did well. I thought I got off the ball well, used my hands, and things like that. So I thought I did well. Yep, I'm totally healthy now and I went through everything."
The Ashland (Neb.) Ashland Greenwood product was also asked who else stood out at today's camp in his eyes.
"Well, there were some good offensive lineman there," Kitrell shared. "(Patrick) Arnold from Gretna was a good one, he was obviously pretty good. There was a kid from Missouri (Daniel Parker) who was a pretty good athlete and a pretty good defensive lineman. So those were the two that probably stood out to me. And also Kevin Williams from Omaha North. He was good as well."
Next on tap for Kitrell will be an unofficial visit to Minnesota on Friday with his family, but any future camp stops are up in the air.
"I'm not totally sure on any more camps," Kitrell stated. "We have a team camp and everything like that starting up, but I'm not really sure on individual camps yet. I don't know if I'm going to any more of them and, if I did, it would probably be to Iowa State's camp. I've also been in contact with Angus McClure from UCLA, and just Iowa State, Kansas State and places like that."
The feedback Kitrell received from the Husker coaches was all positive, so now he will wait to see if a Nebraska offer materializes for him.
"Yes, Coach Parrella and I talked again and he said that they would be in contact," Kitrell said. "So we'll see what happens. Coach (Mike) Riley was there and he pulled me aside during the camp and talked to me. He said he just wanted to say 'hi'.
"We talked a little bit about my brother, Bo, who is on the team and he asked me how everything was going. He talked to everybody after the camp too and sent everyone off, so that was good."