McClure saw Nebraska get a lot better over 2015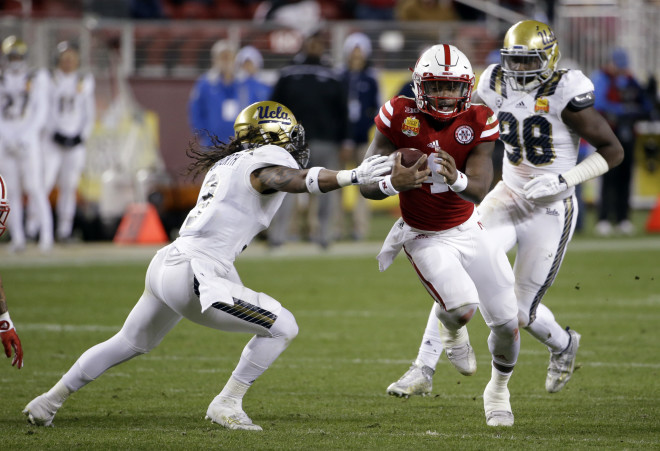 OAK PARK, Calif. - UCLA's Angus McClure has a unique perspective about what he saw from Nebraska over the course of the 2015 season.
The former Husker graduate assistant (2004-05) was able to breakdown NU after their early season loss to BYU because the Bruins played the Cougars in September. Then he saw Mike Riley's team first hand in the Foster Farms Bowl when the Huskers beat the Bruins 37-29.
"I thought (Tommy) Armstrong did a great job of controlling the ball," McClure said, as he was watching his son take part in Nebraska's Satellite Football Camp in Southern California. "He did a nice job of play action pass. They did a really good job of letting him use his legs. I thought that really hurt us. They got heavy with personnel and got after us. They really attacked our outside linebackers. They got in 11 personnel and 12 personnel and did some shifting and that third quarter really hurt us. That was the key to the game for Nebraska.
"As I studied Nebraska going into that bowl game I saw them get better and better and better. I'm telling you they played in some games that obviously we all know they should've won. I think they are going to have much better luck in the coming years."
And like many people have said over time, change is never easy. Heck, McClure knows exactly what it's like at a place like Nebraska after his time on Bill Callahan's staff in 2004 and 2005.
During that time Callahan was evolving NU into a West Coast offense system, which was a foreign language to Husker fans at the time.
"I think things were getting close while he was there, I think (Callahan) implemented a lot of new ideas to Nebraska and changed a lot of things they did in the past. Sometimes good and sometimes bad," McClure said of his time in Lincoln. "The recruiting I thought was incredible. We were extremely organized being 100 percent national. We really focused on coastal states and Texas. I'm telling if you look back at that staff, we had some really good recruiters. Everyone on it was a really good recruiter. Even myself as a graduate assistant, I was in charge of the California Junior Colleges, because GA's could do that at that time.
"We hit it hard and we were very thorough, we made great evaluations, we saw the kids in person and our objective was to get them in during the season and really experience Nebraska and their game day experience, because it's a special place."
As McClure looks back more at Nebraska last season, he said by season's end they played "more like a Mike Riley" coached team.
The key to everything, and really going forward into 2016 is the play of quarterback Tommy Armstrong and McClure said his improvement was the biggest reason why they lost their bowl game to NU.
"We thought (Nebraska) was one of the top teams," McClure said. "They certainly played like it, they just had some unfortunate situations happen to them. We watched that BYU game because certainly we played BYU and that was a big game to look at and they should've won that game. Even though their record wasn't what Husker fans thought it should've been, as they all expect higher from Nebraska. They are going to be a much better program."