Mike Riley previews spring practice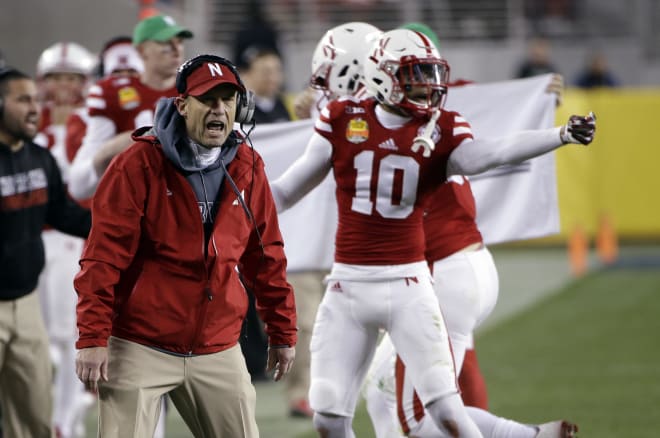 Mike Riley joined Sports Nightly Monday night to discuss the state of the Nebraska program heading into spring ball. Here's what you need to know from his appearance.
Armstrong vs. O'Brien
Few positions will be more highly scrutinized during spring practice than quarterback, especially with the addition of Patrick O'Brien. Riley said the spring session will be very important in determining what the true freshman's role on the 2016 squad will be.
"We're going to coach him and we're going to give him an opportunity in this thing," Riley said. "Our quarterbacks know that. We want to blend him in, get him turns, develop him, and at the end of spring ball we'll see where he might fit next year.
"Might it be best to redshirt him? Might it be best to activate him? I don't have that answer right now, but we're going to coach him like crazy, give him an opportunity and then we'll see from there."
Riley said that Ryker Fyfe, AJ Bush and Zack Darlington will all get opportunities as well, but Tommy Armstrong is clearly O'Brien's top competitor. The senior was a captain last year and has started 33 career games, and Riley was encouraged by how well Armstrong played in the Huskers' bowl game victory over UCLA.
Armstrong threw 16 interceptions in 2015, but was an efficient 12-for-19 with no turnovers and added 76 yards on the ground against the Bruins.
"I sure like how he finished with that last game, and I think as we go we get a clearer snapshot of where we should head for this upcoming season with him," Riley said. "He had a very good game, making good decisions running the football. The balls that he threw, he was accurate. We had some nice play-action that isolated players. My total thought about him right now is, let's just go from there and continue to grow."
Riley explains Parrella hire
Unhappy with both the play of the defensive line and the position's lack of punch on the recruiting trail, Riley let position coach Hank Hughes go this offseason. He said Nebraska started with a list of "75-plus" candidates before narrowing it down to former All-American John Parrella, who played at Nebraska from 1988-92.
"I told him, 'John, you're not hired here just because you're from Nebraska, but what a great bonus,'" Riley said. "He loves this place, loves the history here, loves his teammates. This guy is a technician. I think our players will really respond to him. This guy will be a bulldog in recruiting. I think it will be hard to say no to John Parrella."
A 13-year NFL veteran, Parrella spent the past two seasons as the defensive line coach at Northern Michigan. Riley coaches Parrella briefly in the NFL with the San Diego Chargers and got a good sense for his passion and loyalty then.
"I suppose him and Junior Seau were the hardest workers on the team," Riley said. "He was a great example for all of us who were around him. He was a pro's pro. He's taken all that passion into the coaching profession. He's well-prepared for this job and he blew us away in the interview."
Penalties and turnovers must decrease
Penalties and turnovers were commonly major issues for the Huskers during the Bo Pelini era, and that trend continued into Riley's first season. Nebraska was 100th in the nation in penalty yardage (63.8 yards per game), and many of the miscues can be easily avoided.
Riley said that false starts, illegal formations and offsides penalties were among NU's most popular infractions, and those should be improved by better teaching.
"We have to work technically to improve holding and pass interference, and those other ones are totally controlled by us," Riley said. "We can control that. We can move way up in the league just by improving those things and doing a little better technically."
Turnovers were the other major issue. Nebraska was 13th in the Big Ten in creating turnovers (15) and had the second-most giveaways (27).
"That is a really bad combination," Riley said. "Aside from the fact that we were very productive offensive - second in the league in total offense - we gave the ball up too much, hurt our defense that way and hurt our opportunities to score. That's an area we have to improve, and the quarterback has to take responsibility in that. We expect to make a big jump up there."
Quick hits
***Riley said the offensive line, which must replace starters Alex Lewis, Zach Sterup and Ryne Reeves, is "probably my No. 1 curiosity" heading into spring ball.
"I think there is some young talent and some guys that are middle-age that have been developing that it's time for them to step up," he said. "We're obviously going to have to do a lot of learning and developing as we go. It's definitely a key area for what this team will look like next year."
***Riley called Greg McMullen "the ultimate swing guy." He said it's possible McMullen could play more inside than at defensive end during spring practice because Kevin Williams won't be ready for spring practice.
***Nebraska was sixth in the Big Ten in rushing last season, and Riley wonders if the Huskers can crack the top three this year.
***Riley said Nebraska's pass defense was "awful" and that the Huskers have to make a considerable move there.
***Riley felt that Chris Jones and Joshua Kalu "settled us down" at cornerback last season.
"I like that picture," Riley said. "Those are two good-looking athletes, two smart kids that have ability and they started to play better and better as the year went on."
***Riley was very encouraged by the way Nebraska closed the season despite its disappointing record.
"There's a very, very good vibe," Riley said. "This is a team that never quit even though the season didn't go in total as we wanted. I really admire them because they didn't quit, they competed every ball game and they played their best football the last month and were rewarded for their work and perseverance in the bowl game."