Nebraska lands in-state TE Allen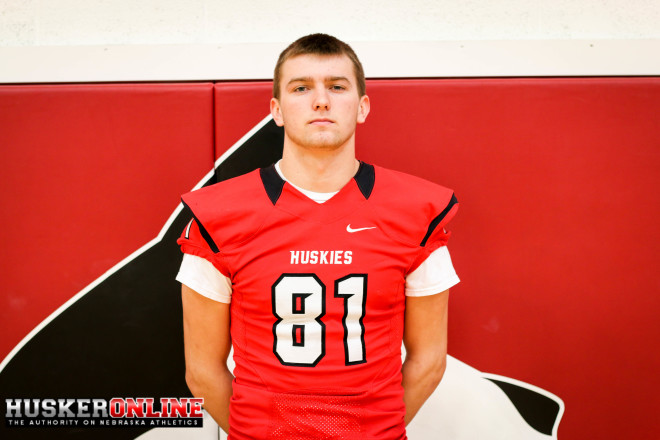 Nebraska added commit No. 5 to its 2017 recruiting class on Thursday from Aurora, Neb. tight end Austin Allen.
The 6-foot-8, 230-pound Allen took an unofficial visit to Lincoln to take in one of NU's last spring practices. He gave his verbal commitment to head coach Mike Riley and staff before leaving campus and officially announced it via Twitter.
Allen had been discussing committing with his family members and, since he was attending practice today, he felt that that was as good a time as any to keep the Huskers' recruiting momentum going.
"I mean, this week I was talking things over with my family and Nebraska seems like the place," Allen said. "I went to practice today, and watching practice there's no doubt that Nebraska is the place I want to be.
"It's just awesome, and I felt like today is the day, so I told Coach Riley [that I was committing] and he said it made his day. He gave me a big, old hug. Coach said they were going to take two or three tight ends in this class, so I might as well lead the charge and see if I can help with any recruiting. I wanted to get the ball rolling."
In watching the team practice, Allen thought he would fit in well with the team in future seasons.
"I mean, it's up-tempo and they work with each individual to make them the best they can be," Allen observed. "It's awesome! I think they said that right away they would use me as a Y tight end, and as it goes on see how I would fit."
Allen's first offer of his recruitment came from the Huskers back in late February. Landing that first offer from the in-state school was meant a lot to the big, multi-sport athlete.
He has been steadily developing a solid relationship with the NU staff and felt comfortable coming aboard with the new coaches.
"My relationship with Coach (Tavita) Thompson is great," Allen stated. "He DMs me every day on twitter. It's just been growing and growing every day."
Though he has prom Saturday evening in Aurora, Allen intends to return to Lincoln for the Red-White game.
"I am going to the spring game probably until halftime, and then I have to bounce," Allen explained. "I will get back to school on Friday and I have a track meet, but I will be back here Saturday."
Allen is currently the only in-state prospect to hold an offer from Nebraska and he becomes the first tight end commit of the Huskers' 2017 recruiting class.
As a junior, Allen helped lead the Huskies to an appearance in the Class B state title game with his play as a tight end and linebacker. He committed to Nebraska over offers from Iowa, Iowa State and Central Florida.