Notebook: NU gets back to work in first spring practice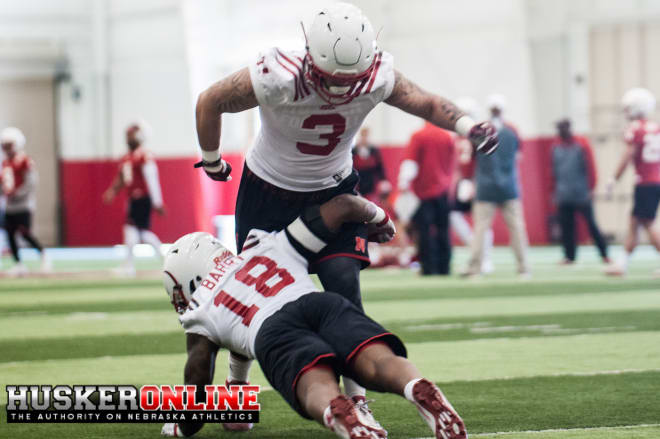 For the first time since hoisting the Farms Farms Bowl trophy last December, Nebraska was back on the football field on Saturday for its first spring practice of 2016.
The Huskers practiced in helmets, jerseys and shorts for just about two hours, and head coach Mike Riley said that even though it was a fairly basic session, he still gained some positive impressions about his team.
"We had Day One today, and I thought it was pretty smooth," Riley said. "There wasn't a lot of drama… I always worry about that. Guys have to be smart when you do it without pads on, and I thought they did real well. I thought they handled that real well."
Riley said the Huskers got in a good amount of special teams installation as well as some solid individual and team work with the offense and defense.
While it was hard to take away too much from an opening practice where there wasn't even any tackling, Riley said he noticed an immediate difference in the overall knowledge of the players in terms of their handle on the offensive and defensive schemes.
"Man, just like lightyears," Riley said. "There's no doubt about it. Just those things about choices for the quarterback, the routes as far as assignments. That's how it should be. They didn't have to start with the huddle today, so that was encouraging."
For the players, finally being able to get back on the field and play football was a long-awaited moment as they look to carry over the momentum of their bowl victory on into the offseason and beyond.
Add in the fact that Nebraska started spring ball a week earlier than normal with its schedule change this year, the team got to get back to work sooner than ever.
"It's nice to just get the football movements down again," senior safety Nathan Gerry said. "We've been doing a lot of movements in the weight room to try and help our athletic ability. We've got a lot of new guys out here too, a lot of guys who have to step up, especially at the front of the defense. It's nice to get out and see new bodies and new hats just flying around."
- Robin Washut
Darlington moves to receiver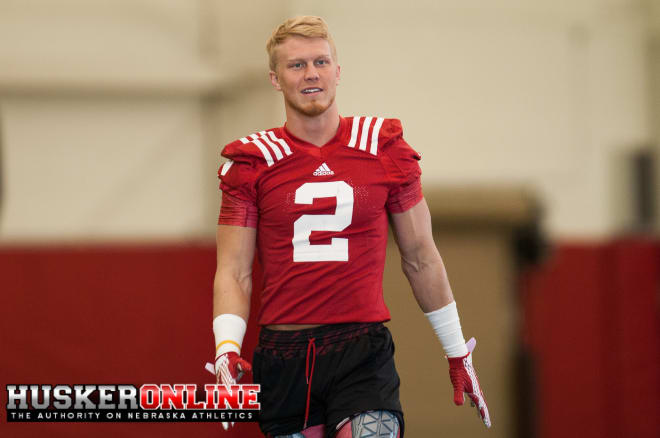 Every spring generally brings about a few surprises, and move that certainly raised some eyebrows during Nebraska's opening practice was Zack Darlington's switch from quarterback to wide receiver.
The 6-foot-2, 195-pond sophomore had was recruited to NU as a quarterback and had spent the past two years working under center.
But he and Riley had been talking for some time about finding a different way to get him on the field looking ahead to the 2016 season and beyond.
Regarded as one of the top dual-threat quarterbacks in the 2014 class, Darlington's athleticism gave him some options at other positions.
After thinking it over with Riley, they decided that a move to wide receiver was worth a shot.
"Zack and I have been talking for a while about something like this," Riley said. "What he's looking for is opportunity, and what we're looking for is the placement of a guy who is really a good athlete somewhere where he can find a niche more easily.
"Maybe it'll be right where he is. He's playing slot back right now, and we'll see how that goes."
- Robin Washut
Nabity to try hand at fullback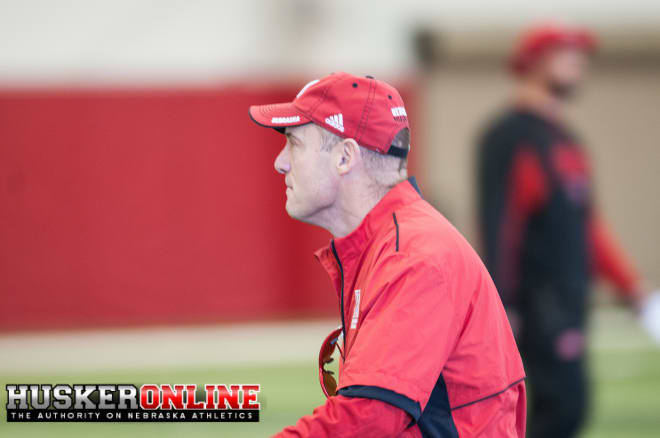 Another position change this spring that didn't garner quite the same attention as Darlington's was the move of senior Graham Nabity from running back to fullback.
Like Darlington, Riley said they decide to change things up with Nabity in an effort to get a guy they consider a very talented athlete a better chance to see the field this season.
"I was the one who talked to Graham about moving to fullback, just because I think one of our jobs is to look and see where a guy might find his niche to play more, and I think Graham is a really good football player," Riley said. "So I'd like to get him involved somewhere, and I thought that might be his best opportunity."
At 6-1, 210, Nabity doesn't necessarily fit the mold physically of the traditional Big Ten Conference fullback, especially when trying to fill the shoes of a player like Andy Janovich, a potential NFL Draft pick.
However, Riley doesn't think all fullbacks need to look the same. Because of Nabity's ability as a runner and a receiver, Riley thinks he could be an intriguing factor in Nebraska's backfield.
"I don't think that there necessarily has to be prototype fullbacks," Riley said. "When I broke into this thing coaching offensively at USC, the way Coach (John) Robinson did it was if you weren't starting at tailback you were going to be the fullback. Marcus Allen was a fullback before he became the Heisman winner at tailback…
"I think with losing Andy Janovich, who I really admired and look forward to seeing him play in the future, we're looking for a guy that can run the ball in there and catch the ball coming out of the backfield, particularly a zone runner, and Graham is a real good zone runner. So we're going to try and find that niche and see if it works."
- Robin Washut
Gerry reflects on ejections from final two games
When Gerry looks back at the ejections that ended each of his last two contests before halftime in 2015, he doesn't necessarily disagree with the rule itself. He can even understand why the official made the call in each case.
It's the penalty for the crime that doesn't sit right with him, and he'd like to see the punishment be changed.
"I'm all for the rule," Gerry said. "For example, on my first one, I totally understand that I put my head to his head, but I think the whole ejection part may be too much. I understand that I may have hit his head, so give me a flag, but don't kick someone out for that. Same for the second one – give me a flag, but for that you don't eject a guy."
Gerry was first thrown out of the Iowa game, relegating to watching the remainder of the contest with his mother in the locker room ("My mom was probably more upset than anybody, so if you need to talk to someone, go talk to my mom," he said.)
But the more appalling ejection came when he tackled UCLA running back Paul Perkins near the end of the first half of the bowl game. It was a seemingly textbook hit, but Gerry was lost for the game.
"It's one of those things," Gerry said. "You can't do anything about it. It just sucks."
- Dan Hoppen
Grim making a strong first impression
Patrick O'Brien certainly drew plenty of attention in his first practice Saturday as media members and visitors alike craned to get their first look at the highly-touted freshman.
But O'Brien wasn't the only true freshman to make his debut. Receiver Derrion Grim, deemed "Cherry" by his fellow receivers for his red-dyed hair, also got his first action. At 6-feet tall and 195 pounds, Grim doesn't look like a player who should be getting ready for prom in a few weeks.
"I think back and I wasn't made like that," fellow receiver Alonzo Moore said with a laugh. "He's got the frame and all that. When I came in I was probably 170 pounds soaking wet, no muscles at all, just bones. So I look at him and this kid has a huge chance. He's coming in and all he has to do is work hard."
Grim looked good for the most part Saturday, though he was chastised a few times by receivers coach Keith Williams, who repeatedly reminded Grim he wasn't in high school any more. But it's clear that Grim has already made an impression on his fellow receivers.
"I like him a lot," Moore said. "He's a great guy and he's going to be a great player. He's very explosive, I can say that."
Quick hits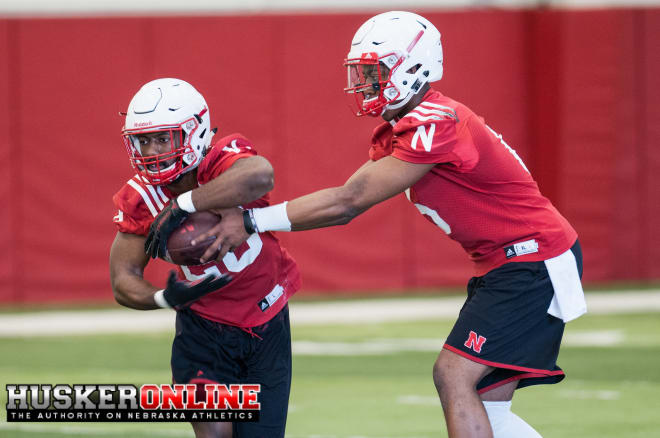 ***Defensive coordinator Mark Banker spent much of the practice working with the safeties, which Riley said they have done in the past and probably should have done more last season. With Banker working individually with the safeties, DBs coach Brian Stewart worked primarily with the cornerbacks.
Riley, who has coached both positions in his career, said there were big differences in the instructions with safeties and cornerbacks, so having extra help was good.

***Riley said the main things he was looking for from the quarterbacks on Day One was their decision making - which wasn't hard today with the basic coverages they saw - and their throwing accuracy. He said overall it was a good day in that regard for the group.
***As for freshman quarterback Patrick O'Brien, Riley said he didn't think O'Brien was overwhelmed by his first college practice at all. Riley said O'Brien was "calm" and "easy going" during practice, and added that "he looked pretty good throwing the ball."
***Riley said the wide receivers as a group had a very good day, which was exactly what he expected from the unit. Riley said he expects big things from the wide outs this season.
***Gerry said the defense has almost completely changed up their tackling techniques, utilizing a rugby style similar to what some NFL teams like the Seattle Seahawks have been doing.