Notebook: QBs take center stage entering spring ball
Just as it is essentially every season for most every team in college football, all eyes will be on the quarterback position as Nebraska takes the field for its second round of spring practices under head coach Mike Riley on Saturday.
Though the Huskers would appear to be set with senior and three-year starter Tommy Armstrong returning, a bit of intrigue surrounds the group with the development of senior Ryker Fyfe - last year's No. 2 - and redshirt sophomores AJ Bush and Zack Darlington.
Oh yeah, the early enrollment of true freshman Patrick O'Brien should also spice things up under center this spring and fall.
During NU's spring kickoff press conference on Wednesday at Memorial Stadium, Riley said the Huskers would once again utilize a two-team practice format this spring to get more players as many reps as possible.
Armstrong and Fyfe will be on one team, while Bush, Darlington and O'Brien will work with the other.
Depending on how the quarterbacks perform over the next six weeks, though, those could very well be fluid assignments.
"That's the hardest position, right, because there's just one spot," Riley said. "That's why it's kind of a residual bonus to be able to practice with two teams, because otherwise you're talking about five quarterbacks and getting them adequate work with one field, one team. That would be hard to do. So we're looking at providing five guys a pretty good number of turns that way."
At this point, Armstrong looks to have the clear edge to enter the 2016 season as the No. 1, especially after his Foster Farms Bowl MVP performance back in December. But that doesn't mean the Cibolo, Texas, native is taking anything for granted.
Armstrong said the rest of the quarterback group is already pushing him before they've even set foot on the practice field.
For example, prior to meeting with reporters on Wednesday, the QBs took a test administered by offensive coordinator Danny Langsdorf that quizzed them on detailed aspects of the offense and what to do with the football in certain situations.
Armstrong said he only answered six of the 10 questions correctly, while Bush led the way with nine correct answers.
"He's paying attention to the details, and he's doing a great job," Armstrong said of Bush. "It's the small things. You can miss one little thing and you've got the whole problem (on the test) wrong. That's one of the things that we've got to fix as a group, just knowing where we need to go with the ball, who has to go where with what formations we're in."
- Robin Washut
Armstrong sets bar high for offense, himself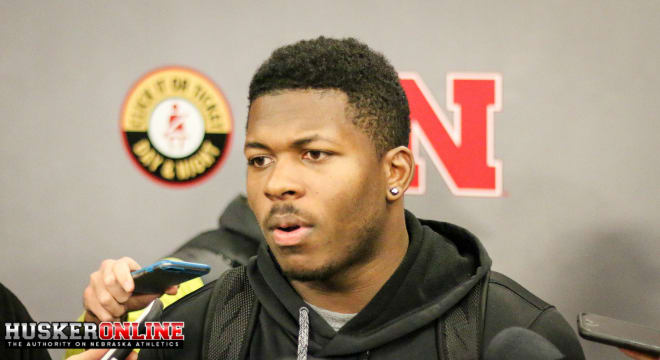 While Armstrong may be focused on maintaining his role as Nebraska's starter this spring, he's already taken a major step in earning even more respect from his teammates.
Shortly after the team returned to campus after the bowl game for the start of the spring semester, Armstrong organized a meeting with several offensive players, primarily returning seniors and other significant contributors.
In the meeting, Armstrong's message was that this year's offense had a chance to be great, but it would only happen if they put the work in necessary to get there.
More importantly, he also listed himself as a player who needed to improve as much as anyone else.
"He stepped up and said 'I've got to quit with the bad mistakes and bad decisions,'" senior wide receiver Brandon Reilly said. "Him coming forward and telling the whole offense that, that's tough to do. Especially with a lot of your friends there, it's not an easy thing. So for him to step up and do that, that showed a lot."
Armstrong's goal for the meeting was to try and set the tone for an offense that, like he noted, is loaded with potential with a huge senior class and a number of talented underclassmen working their way up.
By listing himself as the first player who needed to get better, Armstrong made it clear that he's fully prepared to back up his talk with his play on the field.
"We can be great," Armstrong said. "But we can only be as great as we let ourselves be. Like I told the guys, the sky's the limit with this team. We've got a lot of talent, we've just got to get out there and show it.
"Last year was a reality check for us that we can't take plays off. We've got to make sure that we're smart with the ball. When we're smart with the ball, we're capable of winning games."
- Robin Washut
Riley lays out offensive line depth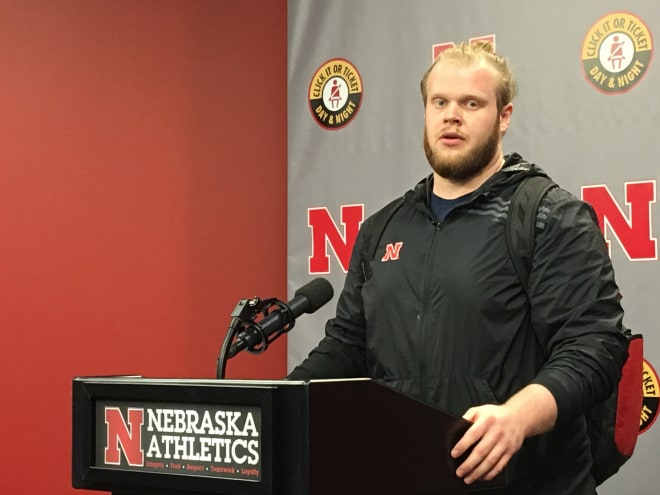 With three starters and one key backup moving on after last season, Nebraska's offensive line is going to have a very different look this spring.
Riley laid out what the depth chart will look like to start the spring session.
Nick Gates, who started every game when healthy at right tackle, will flip to the left side, where he will be backed up by Christian Gaylord and Dwayne Johnson.
David Knevel will start at right tackle, and though he has played very little at this level, Riley was very high on the junior.
"Knevel is an outstanding prospect, with his athletic ability and size and all that goes with it," Riley said. "We just have to help him be prepared to play."
Jerald Foster and Jalin Barnett will battle at left guard with Tanner Farmer and Corey Whitaker duking it out on the right side.
The center position is clouded by a class conflict. Senior Paul Thurston has a class that he needs to graduate that runs during practice times, so he will miss several sessions.
Because of that, left guard Dylan Utter will be moved inside to center for the time being. Michael Decker and Zach Hannon will provide depth.
"The practice reps and the development of that group are going to be a key component to our success, there's no doubt about it," Riley said. "There's no sense in being nervous about it yet. We just have to go to work and get these guys going."
- Dan Hoppen
Alex Davis still has growing to do
With Nebraska's lack of depth at defensive end and senior Greg McMullen expected to spend much of the spring session inside at tackle, Alex Davis has been thought of as one of the youngsters that could emerge.
Davis was the defensive scout team's defensive MVP last season and has excellent athleticism for his size.
But the redshirt freshman played just one year of football in high school, and fellow end Ross Dzuris warned of expecting too much from Davis right off the bat.
"He's got a great frame and he's been able to build on that pretty well," Dzuris said. "He needs some really tough coaching to round out some pretty tough edges. He's a great athlete, but he needs to become a great football player."
At 6-foot-5 and 255 pounds, Davis has a frame somewhat similar to that of former All-Big Ten end Randy Gregory, though he is a bit heavier.
It took Gregory some time for his knowledge and production to catch up with his athleticism, and Dzuris said that could be the case with Davis as well.
"You've got to be able to connect that athletic ability with football knowledge, be able to react fast to everything," he said.
- Dan Hoppen
Parrella looking to bring '90s intensity back to d-line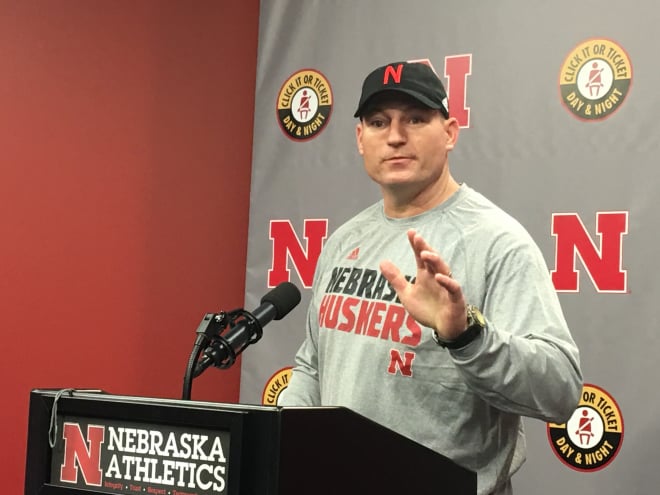 New defensive line coach John Parrella met with the media for the first time since being hired last week.
Parrella, who starred as a lineman at Nebraska from 1988-92 before embarking on a 13-year NFL career, said he wants to instill the toughness that was developed by his Nebraska teams in the early '90s.
"You can't help it," Parrella said. "This is a great program and coach Riley has done a great job with it. Anything I can do, any role I can play, especially with the defensive line and getting them to understand the toughness of this program and what it takes to play in this conference, I'm going to do that."
Riley originally had a list of 75 names he was considering for the position after Hank Hughes was let go. Parrella served as the defensive line coach at Northern Michigan and was briefly played for Riley as a member of the San Diego Chargers.
"I'm just trying to get up to speed on our defense and our personnel and get ready to go," Parrella said. "I'm excited to be here and excited to be a part of this group.
"Any former player that had success at his college would want to go back and coach there. That's a no-brainer for any former player, especially anyone from Nebraska."
- Dan Hoppen
Quick hits
***Nebraska's spring practice schedule looks a bit different this year than it has in the past, as spring ball will last a week longer than usual. Counting the week off for spring break, NU's spring practices will cover six weeks from start to finish.
***The Huskers will only practice three days a week on Tuesday, Thursday, Saturday, with lifting sessions and team meetings held on Monday, Wednesday, Friday. By doing so, it essentially allows them to get a full lifting program done in the spring alone.
***Riley said the first two spring practices will be helmets-only per NCAA rules, and then they'll begin full-pads work after that.
***At running back, Riley said Terrell Newby and Devine Ozigbo will start out as the top running backs, but they will continue to look for other players to work into the rotation. Riley said they're really looking forward to see what Mikale Wilbon and Adam Taylor can do, as both should be in the mix.
***Riley said he hopes the offense doesn't have to run the ball more than they did last year, but he wants it to run the ball better than what it did in 2015. He knows full well that throwing the ball 40-45 times a game is not a recipe for success, so he wants a more consistent, reliable running game.
***Riley said the UCLA game was more a reflection of a good game plan formulated to beat the Bruins. That doesn't mean that same plan will work against other teams. However, there was no doubt how much better being able to run the ball like that made everyone else, especially Armstrong.
***Riley said linebacker Luke Gifford (hip) is considered day-to-day right now and won't do any contact drills, but he will be able to do all other non-contact work and might be able to play in the spring game.
***Other players who will be out this spring with injuries include safety Aaron Williams, defensive tackles Kevin Williams and Mick Stoltenberg, receiver De'Mornay Pierson-El and defensive back Antonio Reed.
***Other players who will be limited participants are receivers Lavan Alston and Brady Peltzer.
***With Aaron Williams being out with an injury, Riley said Kieron Williams, Avery Anderson, Creighton Koley, and Reid Karel will work at safety along with Gerry. Riley admitted that safety might be one of their thinnest positions this spring.