Now fully bought in, Foster making his move at guard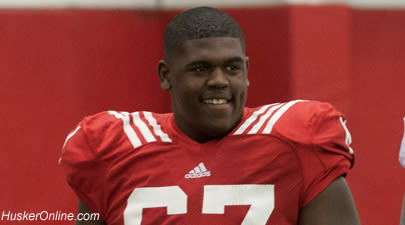 When Jerald Foster committed to Nebraska two years ago, waiting wasn't a part of his plan. The nation's No. 21 guard, Foster was a hotly-pursued recruit that chose the Huskers over Georgia, Iowa, Florida, and UCLA. After redshirting, he was ready to assume his role in the starting lineup in 2015.
But that never materialized. Not only was Foster beaten out by walk-on Dylan Utter, but he rarely even saw the field outside of field goal and PAT situations.
That didn't sit well with Foster and his attitude soured. But an offseason meeting with offensive coordinator Mike Cavanaugh brought new perspective. Cavanaugh told Foster he had a bright future but needed to buy in to realize it.
"There was a lot going on. It was kind of a complicated situation there," Foster said. "I don't know if I want to go too deep into it. It was a lot about where my head was, and my head is in the right place now. I'm ready for it."
As it turns out, the lack of playing time served as a wake-up call. Foster was trying to get by on his natural athletic ability, so the coaches turned to Utter, a smaller and less talented player with a better grasp of the offense.
"What I felt like I needed to do better was buy into the program and buy into learning the offense at another level," Foster said. "Knowing the plays and being able to just be out there and having the center tell you what to do, that's one thing. But actually being able to know what's going on and the reasons we're in these plays and why we're changing our blocking scheme, it's just a different step. I'm happy to be on that step now."
Foster's new attitude has him as the favorite to start at left guard as Utter moves inside to center. The sophomore is far from a finished product, but Cavanaugh sees the skeleton of a special player.
"I want to see a physical guy, a guy that's real serious," Cavanaugh said. "He's capable of being a great player for us. Physically the biggest thing he's got to become better at is being a knee-bender and playing with leverage. You just can't rely on your athletic ability without being in good posture."
Foster declined to elaborate on exactly what issues existed, but he feels confident those are behind him now. If so, the Huskers could be unlocking a special player.
"I wanted to be out there and not being able to have that chance, it really clicked in my mind," Foster said. "He's not going to not play me if I'm ready. So I was like, 'Well, then I need to get ready.'"