Opponent spring review: Indiana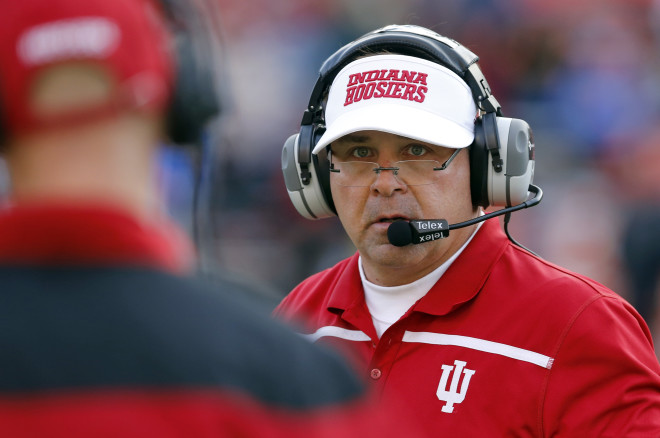 With spring practices finally all wrapping up around the country, HuskerOnline.com continues our look at where each of Nebraska's 12 opponents in 2016 currently stand coming out of spring ball and heading into the summer.
Today, we check in on the Huskers' first Big Ten road matchup of the season in the Indiana Hoosiers, who host NU for their homecoming game on Oct. 15 for a 2:30 p.m. kick.
To get a feel for where the Hoosiers stand heading into their sixth season under head coach Kevin Wilson, we spoke with Matt Weaver of the Indiana Rivals.com site Peegs.com to get his thoughts and perspective on the team and what to expect once the season gets underway in a few months.
Spring overview
It's a bit unusual to talk about Indiana having to replace a wealth of firepower from the previous season, but that's exactly the task the up-and-coming Hoosiers are faced with coming off last year's 6-7 campaign and appearance in the Pinstripe Bowl - their first bowl game since 2007 and only their second in the past 22 years.
Most of the notable departures were on IU's now formidable offense, highlighted by quarterback Nate Sudfeld, running back Jordan Howard, and left tackle Jason Sprigs, all of which were 2016 NFL draft picks. Despite the turnover, Indiana should have enough weapons coming back on offense to once again be one of the most potent teams in the Big Ten Conference.
The big question this spring was who would fill Sudfeld's shoes at quarterback, as junior college transfer Richard Lagow, junior Zander Diamont and sophomore Danny Cameron all continue to battle for the job going into the summer.
The major concern, as per the usual, will be on defense. The Hoosiers have a new defensive coordinator in Tom Allen, who came to IU after leaving Ole Miss for one season at South Florida. Along with transitioning from a 3-4 base package to Allen's 4-2-5 scheme, Indiana must replace its entire starting defensive line and hope its secondary can grow from a brutal 2015.
Returning starters
In addition to having to replace Sudfeld under center, Indiana also must fill Howard's void at running back and two starting spots on the offensive line left by Spriggs and center Jake Reed.
The good news is that the Hoosiers have two capable backfield candidates in junior Devine Redding - a 1,000-yard rusher last season - and Camion Patrick, who Wilson called the best player that they've had at Indiana since he took over in 2011. The receivers should be strong once again, too, led by big-play junior Simme Cobbs Jr.
Despite losing two key members on the o-line, Weaver thinks there are more than enough capable backups ready to step up across the board and join 2015 All-American right guard Dan Feeney.
Defense, as has been mentioned, is another story. A completely new defensive line creates immediate concerns, but IU does bring back leading tackler Marcus Oliver at middle linebacker to anchor the front seven. In the secondary, several players return with starting experience from a group that relied on a bevy of youth last season.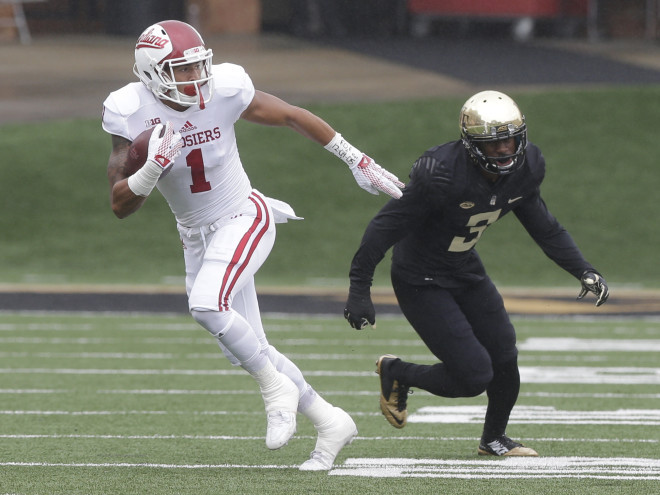 Offensive star: WR Simmie Cobbs Jr.
Known for his ability to make spectacular catches, Cobbs might be Indiana's best overall playmaker in 2016. However, he still needs to prove he can produce consistently before he can be regarded as an elite Big Ten receiver.
Weaver said Cobbs has struggled with dropped passes throughout his career, as he can make a highlight grab on one play and then drop an easy wide-open ball on the very next snap.
Still, Cobbs is a 6-foot-4 former basketball player with immense athletic ability, and there's no doubt that he will be the No. 1 option in the passing regardless of which quarterback is under center.
Defensive star: LB Marcus Oliver
Indiana has some serious questions to answer on its defensive front seven this season, but Oliver definitely isn't one of them at middle linebacker.
Oliver led the Hoosiers and ranked seventh in the Big Ten last year with 112 total tackles, and he emerged as the clear leader of the defense this spring. He's not the most explosive athlete around, but he has good size (6-1, 236) and more importantly has an impressive football I.Q. and just finds ways to make plays.
A perfect example of that is his knack for coming up with the football. In 27 career games, Oliver has assisted on 10 takeaways with a team-best seven forced fumbles to go along with two interceptions and one fumble recovery. Last season alone he led IU with four forced fumbles, which ranked fourth in the conference and tied for ninth nationally.
Spring surprise: RB Devonte Williams
Though he was recruited as a running back, Williams was quickly moved to the other side of the ball to cornerback after just a handful of workouts last summer. He suffered an injury in the third game of the season, and he was able to redshirt 2015 to come into the spring as a redshirt freshman.
Williams is now back at his natural running back position, and it didn't take long for Indiana to realize it had a unique skill set to work with in the 5-foot-10, 181-pounder from Washington, D.C.
A good athlete who makes up for his smaller size with speed and quickness, Williams could be used in a multitude of ways this season. Weaver said Williams could make an impact as a ball carrier on jet sweeps, as a receiver lined up in the slot, or even as a return man on special teams.
With Patrick expected to be out at least until the start of Big Ten play while recovering from an offseason injury, Williams could end up having a big role for the Hoosiers right away.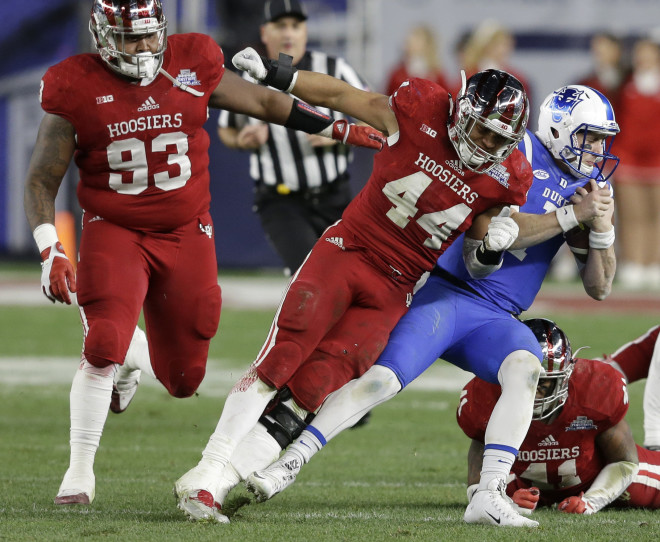 Best spring position battle: Quarterback
The newest addition to Indiana's quarterback room might have established himself as the frontrunner to win the starting job coming out of spring ball.
Lagow, who just joined the team this spring from Cisco (Texas) Community College, was regarded as one of the the top-ranked juco pocket passers in the country last year. He clearly possesses the physical tools to be the guy, but Weaver noted that Lagow struggled a bit mentally in learning Wilson's offense this spring.
As a result, Cameron - the son of former NFL head coach Cam Cameron - was able to keep pace and remain in the conversation heading into the summer.
Things will likely get even more complicated once fall camp rolls around, too, as Diamont rejoins the mix after missing the spring due to an ankle injury. Diamont started six games in 2014 when Sudfeld was injured and then got another start last season when Sudfeld went down again.
Weaver projects that it will likely come down to Lagow and Diamont when all is said and done, with Lagow having a bit of an edge at this point.
Biggest question: Can the defense be good enough?
It's no secret that Indiana's defense has been downright bad for a long time, including giving up 509.5 yards per game to rank dead last in the Big Ten in total defense last season.
Needless to say, Allen has a hefty challenge ahead of him as he tries to turn the Hoosiers defense around in 2016.
But with what appears to be a loaded offensive group once again, the reality is that IU doesn't need its defense to be an elite unit. Heck, they don't even need to rank in the top half of the conference.
As long as the front four can provide at least a semi-decent pass rush and the secondary can make steady improvements, the hope is the offense can put up enough points to once again get back to a bowl game this year.
Early outlook on Indiana vs. Nebraska
Weaver: "I didn't watch Nebraska a ton last year obviously because you guys are in the other division and this is the first time they've played since you guys have been in the Big Ten. But from what I know I think it'll be a good game. I think Indiana has shown they can score on anybody.
"The question for me in that game for Indiana - and I won't know until I see them play in the fall - is where is the defense at? I think that's a game that could probably go back and forth and could be a game where maybe the first team to 40 wins.

"But I think it will be a good, competitive game. Like I said, I don't know a ton about Nebraska, but I know they've got some good players back and there's obviously a lot of talent at Nebraska. Indiana has shown they can play with anybody, and I think they'll be able to play with Nebraska."
Overall win-loss expectations
Weaver: "Well they got to six wins last year and obviously went to a bowl game. I think they'll at least get to six again this year. Their three non-conference games are at FIU and then Ball State and Wake Forest at home. I've come to realize with Indiana football that there's no such thing as a gimme, but they've gotten to a point under Kevin Wilson where they usually beat the teams they should beat.
"The question is in Big Ten play, are there three more wins? Purdue is still down and that game is at home, I like their chances there. They've got Maryland at home with a coaching change, they go to Rutgers who has a new coach. Then can they beat somebody like a Nebraska, maybe even pull an upset over Michigan State at home or at Northwestern?
"I think they'll get to six wins, but the question will be can they get to seven or eight wins? It's all going to come down to whether the defense can be good enough to help the offense win games, but I think they'll at least get to six."