Opponent spring review: Oregon
With spring practices finally all wrapping up around the country, HuskerOnline.com continues our look at where each of Nebraska's 12 opponents in 2016 currently stand coming out of spring ball and heading into the summer.
Today, we check in on the Huskers' first marquee matchup of the season in the Oregon Ducks, who come to Lincoln on Sept. 17.
To get a feel for where the Ducks stand heading into their fourth season under head coach Mark Helfrich, we spoke with Tyson Alger of the Portland Oregonian to get his thoughts and perspective on the team and what to expect once the season gets underway in a few months.
Spring overview
This spring ended up being one of the more interesting sessions Oregon has had in recent years due to all the changes occurring in three very important areas.
First and foremost, the Ducks will once again have to break in a new starting quarterback in 2016 after losing Vernon Adams
Secondly, the defense will be getting a complete makeover after losing some major talent to the NFL and introducing a new defensive coordinator in former Michigan head coach Brady Hoke.
Maybe the biggest wrinkle of all on that side of the ball was UO transitioning from a 3-4 base defense to Hoke's 4-3 scheme, something Alger said was still a work in progress heading into the summer.
Lastly, Oregon must replace three starters on its offensive line and six starters from its defensive front seven this year.
While the Ducks certainly have the same type of fire power at the offensive skill positions and in the back end of their defense in the secondary, how they reload in the trenches could end up define their season.
Returning starters
The biggest loss on offense was obviously Adams, who started 10 games and passed for 2,643 yards, 26 touchdowns and six interceptions after arriving as a graduate transfer from Eastern Washington.
His shoes will likely be filled by another senior transfer in Montana State's Dakota Prukop, though redshirt freshman Travis Jonsen also had a solid spring.
Whichever quarterback wins the job will have one of the top playmakers in the country behind him in junior running back Royce Freeman, who Alger called potentially one of the top backs in all of college football.
Oregon must also replace two of its top wide receivers in Bralon Addison and Byron Marshall, but as one would expect that position might be the deepest on the entire roster.
Offensive line is another concern after losing three starters from last season, and on defense only junior defensive end Henry Mondeaux returns from a front seven that lost 2015 Pac-12 Defensive Player of the Year and No. 7 overall NFL draft pick DeForest Buckner.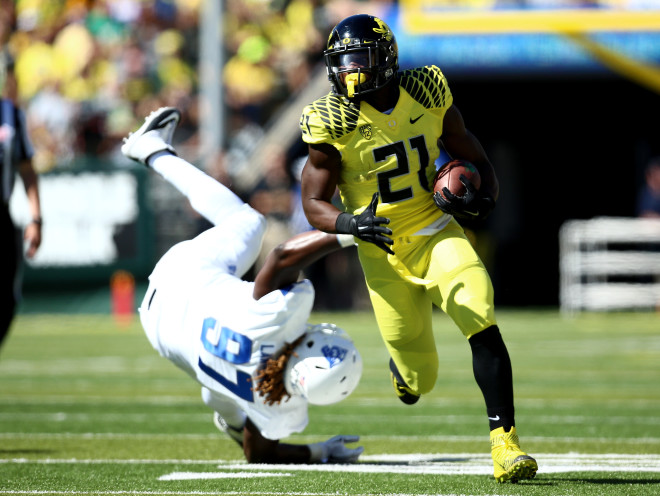 Offensive star: RB Royce Freeman
After becoming the first true freshman in school history to rush for 1,000 yards two years ago, Freeman followed up with one of the most productive seasons ever by an Oregon running back in 2015.
Racking up 1,836 yards and 17 touchdowns, Freeman ranked fourth nationally in rushing and broke LaMichael James' single-season school rushing record.
His 141.2 yards per game ranked second in the Pac-12 and marked the Ducks' highest average since James (150.4) in 2011. Those numbers were good enough to earn his second-team All-American and first-team all-conference honors.
Freeman looked as good as ever this spring, and while his output in 2016 could be impacted by UO's situations at quarterback and offensive line, there's no doubt that from a pure talent standpoint he's one of the most electric players in the country this season.
Defensive star: DE Henry Mondeaux
The lone returning starter on Oregon's defensive front seven, Mondeaux is coming off a solid sophomore campaign in which he posted 22 tackles and four sacks.
But what makes the 6-foot-5, 280-pounder so intriguing going into this season is how he might end up benefitting as much as anyone from the arrival of Hoke.
By switching to a 4-3 scheme, Alger expects Mondeaux's skills as a pass rusher to flourish in 2016. Along with his notable size, the Portland, Ore., native also possesses the same type of speed and athleticism that Oregon defensive ends have become known for over the past few years.
UO's strength and conditioning staff reported that Mondeaux was arguably the most impressive defensive lineman in winter workouts, and he carried that over into an impressive spring.
Spring surprise: WR Dillon Mitchell
A true freshman who came in as a four-star prospect ranked the No. 17 receiver in the 2016 class, Mitchell immediately made his presence known in Oregon's offense this spring.
Despite the fact that the Ducks obviously possess as much receiver talent and depth as any team in the country, Mitchell showed up to campus a week before the start of spring ball and kind of stole the show in the spring game, hauling in two long highlight-reel touchdown catches.
Though it's generally hard for most true freshmen wide outs to find playing time right away, Alger thinks Mitchell will avoid a redshirt and make an immediate impact this season.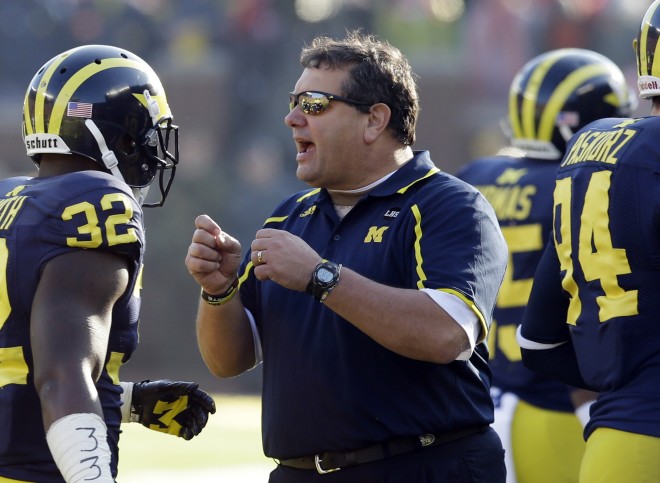 Best spring position battle: Offensive line
Oregon came into spring practice with only two full-time returning starters in junior guard Cameron Hunt and senior right tackle Tyrell Crosby.
By the end of the spring ball, Alger feels the Ducks found another projected starter at center in redshirt freshman Jake Hanson.
Still, that leaves two starting position on the offensive left to be filled when UO returns to action for the start of fall camp in August.
The good news is that the Ducks have recruited fairly well on the offensive line the past couple of classes, and Alger thinks they have four or five redshirt freshmen who could be ready to fill those voids up front.
Also, Oregon will be adding another senior graduate transfer from Dayton this summer in Zac Morgan, who is expected to compete for the starting job left tackle job right away.
Biggest question: Will a new star QB emerge?
As things sit right now, the starting quarterback job appears to be Prukop's to lose. The fifth-year senior came to Oregon as a two-year starter at Montana State, and it's been assumed since he committed that he would follow the same path as Adams did last season.

However, Alger reports that Prukop didn't exactly set the world on fire with his performance this spring, and that Jonsen actually played as well as any of the quarterbacks.
It certainly helps Prukop's cause that unlike Adams, who arrived on campus just before the start of fall camp last year, he will get an entire offseason to ease into the role.
Alger noted that the Ducks have been "awfully spoiled" at the quarterback position over the years, and there's no doubt that all eyes will be under center to see if their newest field general can pick up where his predecessors left off.
Early outlook on Oregon vs. Nebraska
Alger: "For the last two years, Oregon has had really, really tough non-conference opponents in Michigan State. They had a big one at home two years ago when they won it, and that ended up being the catalyst for their national championship appearance that season. Then last year (a loss at MSU) was also a really big mark. So Oregon does like these big tests early in the season.
"I don't think Nebraska is the caliber of what Michigan State has been the past two seasons, but I think it will be an awfully tough test nonetheless because you're going into a relatively rabid fanbase on the road, and you're going to have a brand-new offensive line, a brand-new defense, and a brand-new quarterback. So I think if Oregon's going to succeed in that game, they're really going to have to rely on some of their veterans who have been there before.
"I'm not quite sure exactly what to expect in that game, but I do know that out of all the games they have on that schedule, that's going to be one of the more interesting ones."
Overall 2016 win-loss expectations
Alger: "I think a lot of it hinges on what happens at that quarterback position. I don't think Oregon has the tools to become a national title contender quite this year, but I do think they can still hang in there and potentially contend for a Pac-12 title. So I would peg them at probably a nine-win season this year, not counting the bowl game."