Opponent spring review: Wisconsin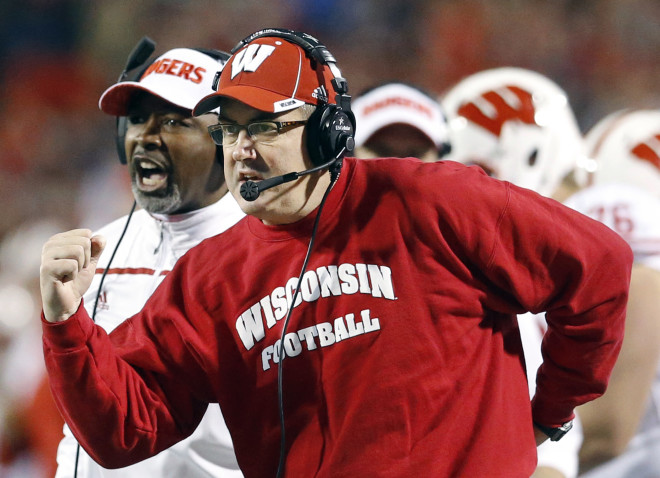 With spring practices finally all wrapping up around the country, HuskerOnline.com continues our look at where each of Nebraska's 12 opponents in 2016 currently stand coming out of spring ball and heading into the summer.
Today, we check in on the Wisconsin Badgers, who will host the Huskers on Oct. 29 for a primetime nationally-televised showdown.
To get a feel for where the Badgers stand heading into their second season under head coach Paul Chryst, we spoke with John Veldhuis of the Wisconsin Rivals.com site BadgerBlitz.com to get his thoughts and perspective on the team and what to expect once the season gets underway in a few months.
Spring overview
The big storyline for Wisconsin this spring was the search for who is going to replace Joel Stave as the new starting quarterback. For better or worse, Stave is gone after two years as the starter, and neither of the candidates to take over the job boast much of any experience to speak of.
The two frontrunners are fifth-year senior Bart Houston and redshirt freshman Alex Hornibook, and both took turns making their cases this spring. However, according to Veldhuis, neither player did enough to lock up the starting spot, and the competition will pick up right where it left off when the Badgers return to action in the fall.
On defense, UW is breaking in a new defensive coordinator after Dave Aranda left to take same position at LSU this offseason. Justin Wilcox is now in charge of the unit, and the good news of the Badgers is that he is keeping much of the same system as Aranda in place, which definitely helped the transition this spring.
Maybe the main difference for the defense will be how aggressive Wilcox is with his play calling once the season gets underway, and Aranda was known for turning up the heat early and often and being unafraid to take risks.
Returning starters
While the search continues to find a new quarterback, Wisconsin does return Corey Clement as its starting running back and all but one starter on the offensive line.
The lone departure up front was left tackle Tyler Marz, a third-team All-Big Ten selection in 2015. But he is being replaced by a player in Ryan Ramczyk who some were saying last year was arguably the best tackle on the entire team even though he sat out after transferring from Division III UW-Stevens Point.
The Badgers also must replace leading receiver Alex Erickson, but unlike previous years the Badgers actually have a few options of players who could step up and fill that void. Robert Wheelwright was the No. 2 wide out last season before suffering an injury midway through the year, and others like Jazz Peavy also looked good this spring.
Wisconsin returns the bulk of its defensive front seven, led by outside linebacker Vince Biegel, who turned down an early jump to the NFL to return for his senior year. The Badgers do lose Joe Schobert at the other OLB spot, but he'll be replaced T.J. Watt, the youngest brother of NFL star J.J. Watt.
Three out of four starters in the secondary are gone, including team captain Michael Caputo and Tanner McEvoy at safety. But UW does return fourth-year starter Sojourn Shelton at cornerback to lead the way on the back end of the defense.
Offensive star: RB Corey Clement
Even though he has been in program for three years now, Wisconsin still hasn't seen Clement emerge into the All-American running back that his predecessors were. While he has been great in spurts over the years, injuries have limited his consistency and in turn his production.
Clement missed most of last season with a lingering groin/hernia injury and was only really fully healthy for a game or two all year. In the games he did play, Veldhuis estimated Clement was only at 50-80 percent, which showed in his lack of burst in the open field.
His original career plan was to jump to the NFL after his third year at Wisconsin, but Clement decided to come back for his senior season because his junior campaign was so disappointing. Assuming he can stay healthy and with an offensive line capable of producing a big year, the opportunity has never been greater to finally reach his potential.
Defensive star: LB Vince Biegel
Regarded as maybe the most energetic and charismatic players on Wisconsin's defense, Biegel returns for his senior season intent on improving upon the 66 tackles, 14 tackles for loss and 8.0 sacks he put up in 2015.
Like with the rest of the front seven, if UW's secondary can make opposing quarterbacks sit in the pocket long enough, the opportunity should certainly be there for Biegel to post yet another productive campaign.
That will be especially true if Wilcox lets his linebackers attack the quarterback the way Aranda did.
Spring surprise: Wide receiver depth
Looking back on the past few seasons, the majority of the wide receiver output has generally come from one star player with little help from the rest of the unit.
Two years ago, Jared Abbrederis was essentially the lone go-to target in the passing game. That was definitely the case last season with Erickson, who finished with a team-high 77 catches for 798 yards. Wheelwright was the next closest with 32 receptions.
This year could be different, though.
With Wheelwright, Peavy, and some of the younger wide outs coming up, the Badgers look to have a solid compliment of talents at wide out that should be a very nice asset for whichever quarterback ends up winning the job this fall.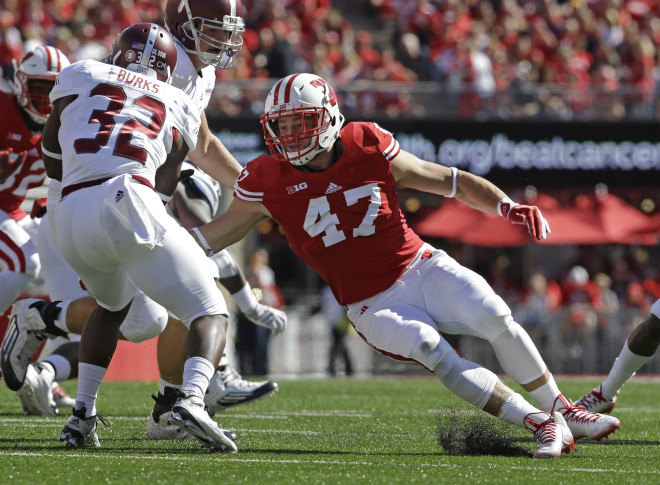 Best position battle: Quarterback
Despite the fact that the quarterback race will come down to a fifth-year senior and a redshirt freshman, experience isn't exactly much of a factor in this discussion.
Houston only played spot duty last season when Stave got hurt, totaling maybe one full game of snaps in his career. While that is still more than what Hornibrook has done, Veldhuis said the battle this spring was much closer than he had expected.
What works in Hornibook's favor is that he originally committed Pittsburgh when Chryst was the head coach there. After Chryst left for the Wisconsin job, Hornibrook quickly followed him to Madison. That connection and the fact that Chryst obviously feels Hornbook fits his system is certainly worth noting.
But with a brutal schedule in 2016, it might come down to which quarterback is better suited mentally to handle adversity. That might favor the older player in Houston, but he didn't lock up the job by any means this spring and will continue to fight it out with Hornibrook this fall.
Biggest question: Can the new safeties fill the void?
Two of Wisconsin's biggest losses from last season ended up coming at the same position in safeties Caputo and McEvoy.
Maputo had established himself as the heartbeat of UW's defense and was the clear leader of the team both on the field and in the locker room. McEvoy was a former quarterback who showed just how gifted of an athlete he was by transitioning to safety and locking up a starting job last year.
Now the Badgers must try to fill both of their shoes with young players that boast little to no game experience. How quickly the new safeties adjust will play a major role in the overall success of Wisconsin's defense this season.
Early outlook on Wisconsin vs. Nebraska?
Veldhuis: "Well, I would feel a lot better about it if I knew who was playing quarterback for Wisconsin at that point. But I guess without know that, I think the Badgers have shown that they can - especially if their running game is functioning at a high level - I think the Badgers can win that game, especially since it's a home.
"If the Badgers' offensive line pans out like I think it will and is better, and if Corey Clement is still healthy, I think that combination plus at least a serviceable passing game will be enough where the Badgers can win that game at home.
"That's at a point in the schedule where I think the Badgers are really going to need a victory in the Big Ten, because they open up with a really tough schedule. So worst-case scenario, they could be 0-4 in the Big Ten even if they're not bad. They open up with road games at Michigan and Michigan State and then they host Ohio State and are at Iowa.
"So the Badgers could be very hungry for a win, and if the running game improves like I think it will, they can definitely win that game."
Overall 2016 win-loss expectations
Veldhuis: "It really depends on how the Badgers do during that first opening slate against the two Michigans and then Ohio State and at Iowa. The schedule is really front loaded. I'm thinking LSU will have the upper hand in that neutral site game at Lambeau Field.
"With a new quarterback and a tougher Big Ten schedule, it would not surprise me if the Badgers take a step back in the win department. If they can steal one of those first three road games or even go 2-2, I would feel a lot better about them down the stretch.
"I think probably the median outcome would be maybe 6-6. That's probably pretty on the negative side, but I think if they can steal some of those early games 8-4 would be pretty good."