Opponent spring review: Wyoming
With spring practices finally all wrapping up around the country, HuskerOnline.com will take a look at where each of Nebraska's 12 opponents in 2016 currently stand coming out of spring ball and heading into the summer. Today, we look at the Huskers Week 2 opponent the Wyoming Cowboys.
Former Nebraska defensive coordinator Craig Bohl will lead the Cowboys into Lincoln in 2016. This is Bohl's third year at Wyoming after capturing three consecutive national titles at North Dakota State from 2011 to 2013. HOL caught up with GoWyoGo.com publisher Ian McMackin to get his take on the Cowboys coming out of the spring.
Spring overview
After winning 5 games in 2014, Wyoming took a step back in 2015 winning just 2 games overall.
A lot of that had to do with playing so many young players, which has led to great optimism heading into 2016.
The defining question for this Wyoming team is will playing so many young players in 2015 pay off?
Returning starters
Overall Wyoming graduated just seven seniors from their 2015 team. The big areas they'll be breaking in new starters at are at quarterback and on the defensive line.
The defensive line would be their biggest area of concern, where they lost senior starters Eddie Yarbrough and Siaosi Hala'api'api, while defensive tackle Uso Olive left the program for personal reasons.
Offensive star: RB Brian Hill
Running back Brian Hill set a Wyoming record with 1,631 yards rushing in 2015. The previous record 1,455 yards set in 1994 (the same season the Cowboys almost beat NU in Lincoln).
Hill will no doubt possess a physical challenge, as Bohl said his weight is around 220 pounds coming out of the spring. He's considered the most talented running back in the school's history according to McMackin.
Also keep your eyes on running back Shaun Wick, who received a medical hardship year and is one of the Cowboys top 10 leading rushers of all-time.
Defensive star: DB Andrew Wingard
Colorado native Andrew Wingard played as a true freshman in 2015, and arguably was Wyoming's best overall defensive player.
Wingard had 113 total tackles in 12 games, and he's gained 20 pounds since last season. He has a really good nose for the football and has proven to be a big playmaker on the back end for the Cowboys.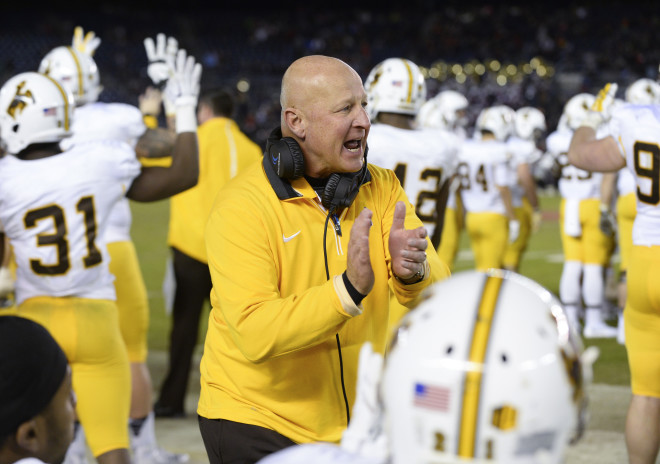 Spring surprise: QB Josh Allen
When you look at Wyoming quarterback Josh Allen, he resembles more the style of signal caller Bohl had during his days at North Dakota State.
The 6-foot-5, 230 pound Allen redshirted last season as a junior college transfer, but threw for 285 yards per game and 26 total touchdowns at Reedley College in California. He has a strong arm and can make the pro-style throws Bohl wants to see in his offense. He has a lot of upside and the chance to really make some noise as an unknown player in 2016.
Best spring position battle: Secondary
Wyoming had a lot of competition this spring in the secondary. They are a solid two-deep at each cornerback position, along with the safety position.
One battle to keep your eyes on in the secondary is between C.J. Jennings, appeared to beat out who Wyoming thought might be their best corner coming into the spring in Robert Priester.
Look for that competition to continue, as the Cowboy coaching staff feels like their deepest overall position on this team is in the secondary, despite being very young.
Biggest question: Can Wyoming's youth growth up?
The biggest question for Bohl's team heading into the 2016 season is can their youth grow up?
Last year Bohl played a ton of young players, and the Cowboys graduated just seven overall seniors. The one position group they need to reload at though is on the defensive line, as they are looking to replace three of four starters.
Early outlook on Wyoming vs. Nebraska
McMackin: "I think there's no question Nebraska is going to physically be a better team playing on their home turf. I do really expect Wyoming to go in there and fight hard. They do have a really good running back in Brian Hill, and maybe if the Cowboys can do some things running with him, he has the capability to rush for a a couple hundred yards in a game pretty easily.
"I think I would probably expect at this point a fairly competitive game, with Nebraska pulling away later in the game in the fourth quarter."
Overall 2016 win-loss expectations
McMackin: "Last year they lost some early games they normally would've won because they played so many younger players. This year I think making a bowl game would be a good expectation for the this year. I don't think it's out of the realm of possibility getting to a bowl game this year. It's important that the program has some sort of concrete success in Bohl's third year, because I really think fundamentally he's doing a lot of good things with the program right now.
"In terms of recruiting there's a lot of promise with the younger players in the program and there's some promise with the young roster. They need to see something concrete and I think a bowl game would be a reasonable expectation this year."