Pitt transfer PG Trey McGowens picks Nebraska
Despite college athletics being in flux amid the coronavirus pandemic, Nebraska basketball recruiting hasn't slowed down one bit.
The Huskers added yet another big piece to their future by landing a commitment from coveted Pittsburgh transfer Trey McGowens on Saturday.
A sophomore point guard who was rated by Rivals.com as the No. 2 sit-out transfer in the country for 2020, McGowens chose NU over other finalists Alabama, Arkansas, Auburn, and Ole Miss.
He announced his commitment via social media. With his addition, Nebraska now has one open scholarship remaining for the 2020-21 season.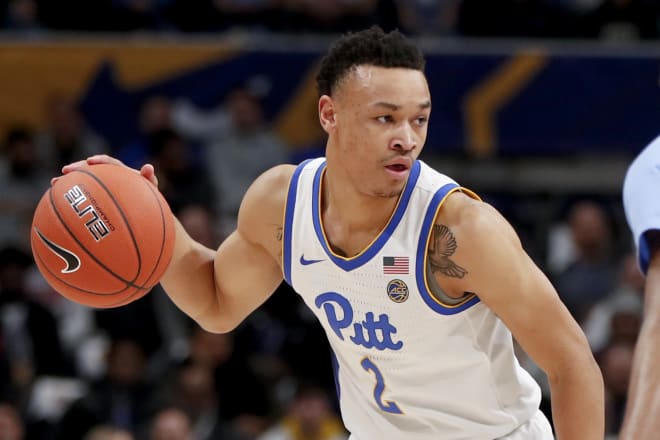 A former four-star prospect who ranked 83rd in the 2018 class, McGowens was the first commitment for Pitt head coach Jeff Capel and was the Panthers' highest-rated recruit since Steven Adams.
He lived up to the hype as a true freshman, averaging 11.6 points per game and setting a freshman school record with 33 points in a win over Louisville.
The South Carolina native who attended Hargrave Military Academy in Virginia followed that up this past season by ranking third on the team in scoring (11.5 ppg), second in assists (3.6 apg), and first in steals (1.9 spg).
But McGowens ended his sophomore campaign unsure that his game was developing the way he had hoped to achieve his ultimate goal of making the NBA, so he opted to enter the NCAA Transfer Portal on Mar. 18.
Like every other prospect for the 2020-21 season, McGowens had to decide on his next school without being able to take any visits due to the current NCAA recruiting restrictions caused by coronavirus concerns.
He told HuskerOnline.com last week that he'd done plenty of his own research on the coaches and programs recruiting him, watching old games and reading articles to garner information beyond the recruiting phone calls and FaceTime conversations.
Nebraska was one of the first schools to reach out when McGowens entered the transfer portal, and those conversations hit the ground running because of a strong pre-existing relationship with Husker assistant coach Matt Abdelmassih.
"They were on me very early," McGowens said. "Coach Matt, I kind of had a relationship with him from when he was at St. John's because he recruited me there. So that was always there, and then knowing Coach (Fred) Hoiberg from coaching and playing in the league, I know he helped get a lot of guys to the next level, especially transfers.
"So that's huge.
One thing McGowens said quickly stood about with NU was head coach Hoiberg's up-tempo style of play and how much trust and responsibility are put on the point guard in his system.
"I think they could put me in a position to help me get to the next level," McGowens said.
More than anything, though, McGowens said his decision ultimately came down to his relationships with the coaches as much as anything.
For Nebraska, having that connection with Abdelmassih – who also recruited McGowens' younger brother, 2021 Florida State commit Bryce McGowens – was enough to seal the deal.
"It's probably one of the biggest factors," McGowens said. "You can't be on campus, so you just have to get a feel for the coaches and do research on them all. But having a relationship already there is really important."