Ranking the Big Ten: Defensive end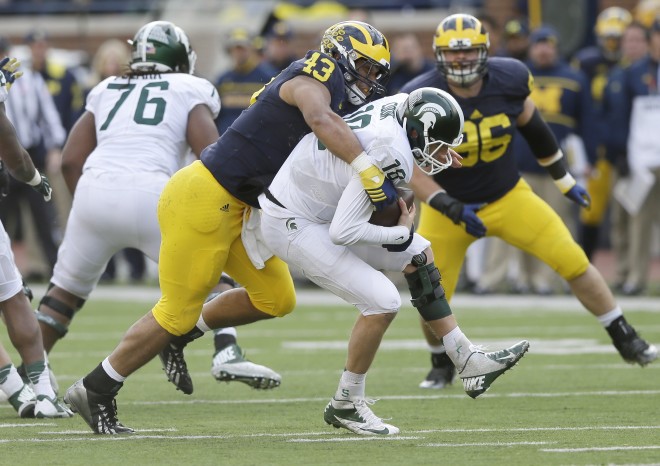 As the 2016 season draws nearer by the day, it's time to start taking a look at some of the top players to watch in the Big Ten Conference.
We continue our Ranking the Big Ten series today by taking a look at the defensive ends, another group ready to terrorize opposing quarterbacks all season long.
1. Chris Wormley, Michigan
Wormley posted by far the best season of his career in 2015 by racking up 43 tackles, 14.5 tackles for loss (which ranked third in the Big Ten), and 6.5 sacks to earn third-team all-conference honors.
But if his finish to the season is any indication of what's to come, his senior campaign could be even bigger.
Wormley ended up posting 20 tackles and 4.5 sacks in the final four games of last season, and he's now considered one of the top defensive end prospects in the 2017 NFL draft class. At 6-5, 303, he's capable of playing anywhere on the line, and he'll lead the way for what some are calling one of the best front fours in the country this year.
2. Dawuane Smoot, Illinois
One of the first things new Illinois head coach Lovie Smith told Smoot when he took the job was that one of his top goals was to make Smoot a first-round draft pick next spring.
Based on last year's production and Smoot's sky-high potential, that could be easily attainable. The 6-foot-3, 270-pounder led the Illini with 8.0 sacks, 15 tackles for loss and forced three fumbles while playing across from future draft pick Jihad Ward.
Looking ahead to his senior season, Smoot's goals are as big as his new coach's. One of them is to record at least 10 sacks in 2016, a number only four Illinois players have attained in school history, two of which by UI legend Simeon Rice.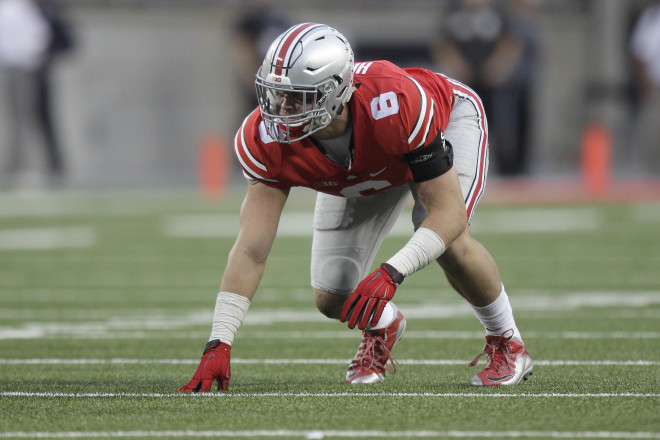 3. Sam Hubbard, Ohio State
Hubbard came to Ohio State as a safety, then moved to tight end and then to linebacker shortly after arriving on campus. He finally found his home at defensive end last offseason, and it didn't take long for him to establish himself as one of the best in the Big Ten at his position.
Having added 65 pounds of muscle since first arriving on campus, the 6-foot-5, 265-pound Hubbard is being counted on to replace All-American and No. 3 overall NFL draft pick Joey Bosa on the Buckeyes' starting defense. He more than held his own as a backup in 2015, finishing with 6.5 sacks and 8.0 tackles for loss.
Time will tell if he's ready to try and fill Bosa's enormous shoes, but according to OSU head coach Urban Meyer, the staff is supremely confident Hubbard is a star in the making. "He has to be," Meyer told the Columbus Dispatch. "I really think he will, too."
4. Demetrius Cooper, Michigan State
Like some of the others on this list, Cooper is being counted on to fill in for some major departures on Michigan State's always-loaded defensive line.
Gone are two NFL draft picks in ends Shilique Calhoun and Lawrence Thomas, but Cooper steps in with an impressive resume in his own right. He ranked second on the team in sacks (5.0) as a sophomore last season and fifth in tackles for loss (6.5) to go along with 22 total tackles.
The 6-foot-5, 252-pound junior looked to be well on his way this spring to becoming the latest addition on the Spartans' long list of stud defensive ends.
5. Tyquan Lewis, Ohio State
It certainly must be nice to be in Ohio State's position. While the Buckeyes lose one of the best defensive players in the country in Bosa, they have the luxury of boasting not one but two players they feel are more than capable of filling his void.
Along with Hubbard, OSU returns the junior Lewis who led the team with 8.0 sacks and added 14 tackles for loss last year. Even more impressive is the fact that he did so while playing through a torn labrum in his shoulder that he suffered prior to the start of the season.
The 6-5, 260-pound Lewis missed most of the spring after undergoing shoulder surgery in January, but he's expected to make a full recovery by the time fall camp rolls around. If he can play as well this season as he did with a bad shoulder last year, the Buckeyes should have no problems reloading once again.