Ranking the Big Ten: Safety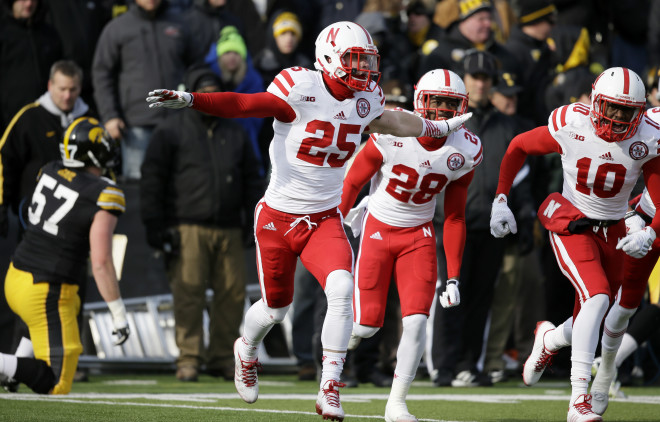 As the 2016 season draws nearer by the day, it's time to start taking a look at some of the top players to watch in the Big Ten Conference.
We continue our Ranking the Big Ten series today by taking a look at the safeties, which feature a blend of ball-hawking veterans and underclassmen.
1. Nate Gerry, Nebraska
Gerry admittedly struggled early on last season in adjusting to a complete shift in coverage responsibilities from the previous defense to Mark Banker's scheme. But things started to click as the year went on, and he ended up posting one of the better seasons of any Husker defender.
The 6-foot-2, 215-pounder led NU with 79 tackles (49 solo), four interceptions, and seven pass breakups. Gerry had at least six tackles in eight games in 2015, and his play was good enough to earn third-team All-Big Ten honors.
The South Dakota native is well on his way to etching his name in the school career record books, as he's currently just outside the all-time interceptions list (nine) and needs five more picks to tie the program record of 14. Also, with 199 tackles, Gerry needs just 55 more to crack the top-10 career list.
Now with a year of experience in Banker's system, there should be no reason Gerry can't continue to rise up those charts in his senior year.
2. Demetrius Cox, Michigan State
Whether he's playing safety or on the outside at cornerback, Cox has been a playmaker in Michigan State's secondary for years now. The senior played primarily at safety for most of his first three seasons but moved to cornerback towards the end of 2014 and then started eight games at corner last season.
However, Cox moved back to safety and started there the final four games of 2015, and he's currently listed as one of the Spartans' first-team safeties on the spring depth chart.
The 6-foot-1, 198-pounder has always shown a nose for the football regardless of where he's lined up. He finished with 79 tackles, seven pass breakups, and tied for the team lead with three interceptions last year to earn third-team All-Big Ten honors.
3. Godwin Igwebuike, Northwestern
Igwebuike may not have some of the same accolades as other safeties around the Big Ten, but when the 2017 NFL Draft rolls around next spring, the Northwestern junior could very well be the first at his position to hear his name called.
At 6-0, 200, Igwebuike ranked second on the team only to stud linebacker Anthony Walker in tackles with 73 and added five pass breakups and a forced fumble. Though he didn't haul in an interception last season, he showed his ball-hawking ability with three picks in as a redshirt freshman in 2014.
A lot of Igwebuike's praise stems from his sky high potential, and if he ends up putting together an all-conference type of season this year he could decide to make an early jump to the NFL. He's already being regarded by some analysts as one of the top-10 safeties in the 2017 draft class.
4. Jonathan Crawford, Indiana
Crawford is coming off one of the more impressive freshman campaigns of any Big Ten defensive back, as he led Indiana with four interceptions to go along with 76 tackles (48 solo) and added a sack, a forced fumble, and a blocked field goal.
His four picks ranked third in the conference and fourth nationally among true freshmen, and they marked the third-most ever by a Hoosier freshman. Those numbers were good enough to earn him a spot on the Big Ten All-Freshman Team.
The 6-foot-2, 190-pound Crawford ended his college debut with one of his best performances of the season, posting a career-high nine tackles and an interception in the Pinstripe Bowl against Duke.
5. Montae Nicholson, Michigan State
After committing to Michigan State as a four-star recruit in the 2014 class, expectations have been high for Nicholson since the day he first set foot on campus.
So far, he's met those lofty standards and then some. The 6-foot-2, 220-pounder was named to the 2014 Big Ten All-Freshman Team his first year and then followed that up by ranking third on the team with 83 total tackles as a sophomore.
Now a junior, Crawford and Cox give the Spartans one of the best safety tandems not only in the Big Ten, but in all of college football.