Ranking the Big Ten: Wide receiver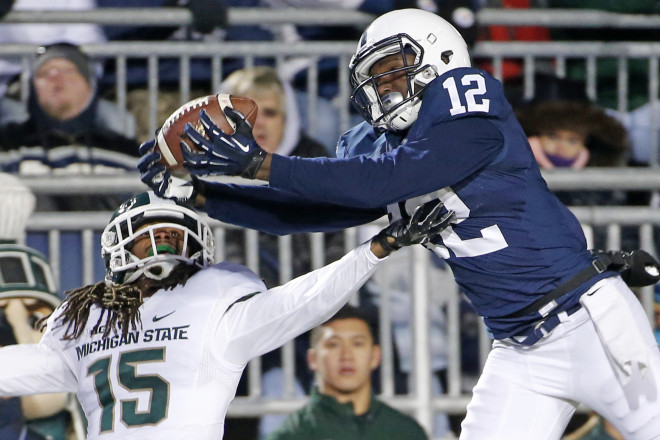 As the 2016 season draws nearer by the day, it's time to start taking a look at some of the top players to watch in the Big Ten Conference.
We continue our Ranking the Big Ten series today by taking a look at the wide receivers, which appear to be loaded with playmakers across the board.
1. Chris Godwin, Penn State
Godwin established himself as one of the Big Ten's best wide receivers last season by ranking second in the league with 1,191 yards and fifth with 69 catches.
Looking ahead, Godwin is back as the league's most productive returning wide out in 2016 and looks poised to build upon those numbers even more this season.
The Nittany Lions must replace Christian Hackenberg with a new starting quarterback, but whoever ends up winning the job will get to throw the ball to one of the best in the country in Godwin.
2. Jordan Westerkamp, Nebraska
Most would agree that wide receiver might be the biggest overall strength on Nebraska's offense this season, and the face of that group is undoubtedly the senior captain Westerkamp.
A consensus second-team All-Big Ten selection last season, Westerkamp broke the school season record for receptions by a wide out with 65 and tied the record with four straight games with at least 100 receiving yards.
He's on pace to etch his name as one of the most productive wide receivers ever to play at Nebraska, and as the model of consistency over the past three seasons, there's little doubt he'll get there when all is said and done.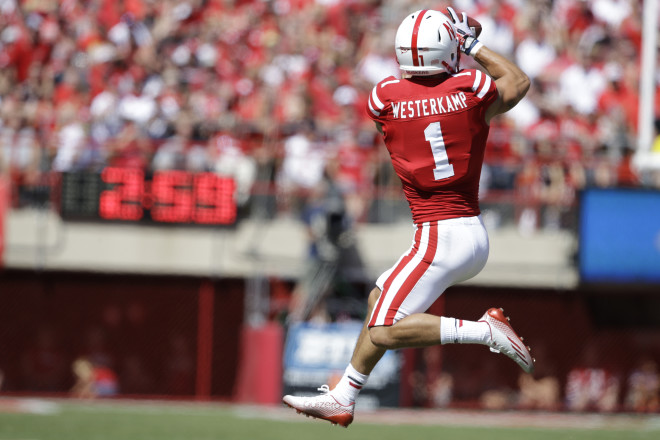 3. Jehu Chessun, Michigan
From a catches standpoint, Chesson isn't even the top returner on his team, as Amara Darboh led Michigan with 58 receptions in 2015.
However, Chesson is without a doubt the Wolverines' biggest receiving threat. He ended up just behind Darboh with 50 catches last year, but still posted more yards (764) than Darboh (727) and tied for the most receiving touchdowns in the Big Ten with nine.
Though he'll once again have to share targets with Darboh, Chesson should still get plenty of opportunities to put up big time numbers for Michigan this season.
4. Simmie Cobbs, Indiana
Already known for his ability to make spectacular catches, Cobbs will be the go-to target in Indiana's explosive passing attack this season.
Cobbs is coming off an impressive 2015 season in which he ranked third in the conference with 1,035 receiving yards on 60 catches to go along with four touchdowns. Drops have been an issue over the course of his career, so he still needs to prove he can produce consistently as the No. 1 option.
Still, the 6-foot-4 former basketball player has the ability to be a breakout player for the Hoosiers this season.
5. Matt VandeBerg, Iowa
Iowa has one of the top returning quarterbacks in the conference in C.J. Beathard, and VandeBerg will likely be his No. 1 target by a wide margin once again.
VandeBerg hauled in 65 catches in 2015, which rank third on the school's single-season list, along with 703 yards and four touchdowns. The next highest totals weren't even close, as the Brandon, S.D., native was far and away Beathard's go-to guy all year.
There are still plenty of questions regarding the Hawkeyes' wide receiver depth this season, so there should be no secret where Beathard is going to look when the Hawkeyes need a big play through the air.