Revamped offensive line still coming into shape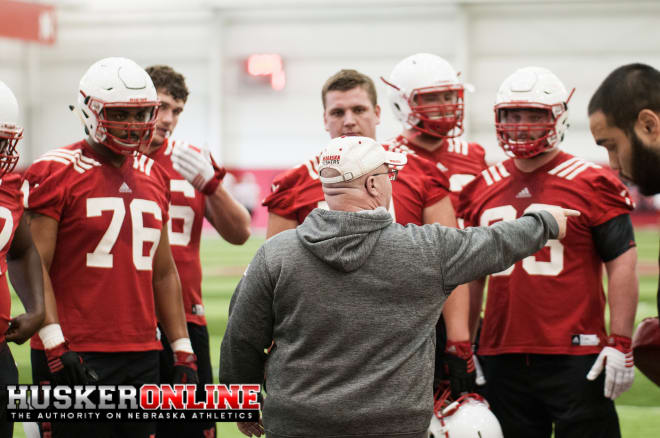 When looking at Nebraska's offense over the first two weeks of spring practice, a wealth of talent and experience at the skill positions immediately jumps out as one of the major team strengths going into the 2016 season.
But one area that is anything but a sure thing at this point is up front on the offensive line.
With the departure of three starters and some shuffling of returning players to different positions, the unit stands as one of the biggest question marks on the entire roster and one of the main concerns for NU's coaching staff.
"There's some new lineman in there, trying to get that group to gel and work together," offensive coordinator Danny Langsdorf said. "I think just making sure we find the right five and then our depth beyond that. Breaking in three new guys, it's a bit concerning, but I think they're doing a good job."
The Huskers bring back two starters from last year's group in Nick Gates and Dylan Utter, but both players will likely be at different spots on the line this season from where they were in 2015. Gates swapped from right tackle to replace Alex Lewis at left tackle, and Utter has moved from left guard to inside to center to replace Ryne Reeves.
That leaves both guard positions and right tackle in the hands of first-year starters. Though the inexperience certainly isn't ideal, head coach Mike Riley and offensive line coach Mike Cavanaugh both said they've been encouraged by the progress of the young linemen so far this spring.
"I'm pretty pleased with how the first two groups are looking, actually," Riley said. "I think we have a long way to go to get to the season, but at this point I would say it's pretty good news how that thing could look."
Riley said he would like to have a two reliable line groups going into the season where they have 10 players they feel comfortable with playing in a game. Before the Huskers can worry about filling out their depth chart, though, they first need to establish a starting five.
Gates is locked in as the No. 1 left tackle, and Utter appears to be in line to take over as the starting center. He could also go back to guard depending on what happens with Paul Thurston, whose practice time has been limited this spring because of a class conflict.
In the meantime, Cavanaugh said Tanner Farmer and Corey Whitaker have emerged as the top candidates at right guard, while Jerald Foster has a chance to secure the left guard job this offseason.
At right tackle, Cavanaugh said the starting spot is David Knevel's to lose.
"He's doing good," Cavanaugh said. "I think the transition over (to right tackle) has been good. He's done well with his sets, he's playing physical, he's a good knee bender, I think he's got confidence. So I'm excited about David Knevel… He's got a chance, and it's his turn, so hopefully this is what he would love to do and he keeps grinding and getting after it."
Others in the mix behind Knevel at right tackle are Sam Hahn and Christian Gaylord, with Hahn currently the frontrunner to be the No. 2.
"One thing about Sam Hahn since I've been here is he's steady," Cavanaugh said. "I think he's in good shape, and he's been very consistent in his play. So there's a good push there. Hopefully Gaylord will be able to push there as well. We'll see how spring progresses and on through fall camp."
The competition up front has only just begun, and the battles across the line will continue when the Huskers return to action after spring break and then again on through the summer and fall camp.
"That's what we're fighting for," Riley said. "We're fighting to find our starters, and then finding five more guys that can play in the game. Whether you get to seven or eight or nine, it would be great to have 10. So we're trying to raise everybody up through the coaching and the teaching and the competition, all those parts together."