RojoBreakdown: Patching up pass rush critical to '16 improvement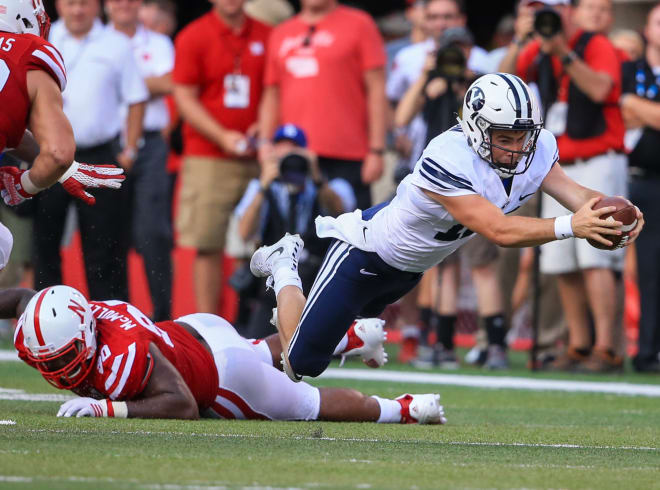 As the passing yards piled up and the losses mounted early last season, the easy culprit to point to was Nebraska's secondary. The Huskers gave up more than 300 yards passing to six of their first seven opponents, a group that included Minnesota's Mitch Leidner, Wisconsin's Joel Stave and Southern Miss' duo of Cody Clements and Dallas Davis.
Not exactly a murderer's row of quarterbacks there.
Though the defensive backs' play improved as the season progressed, Nebraska still allowed 290.5 passing yards per game, the seventh-highest total in the country. But while the cornerbacks and safeties took most of the heat for the success of opposing passers, more fingers needed to be pointed at the men up front.
Even the best defensive backs can't cover forever, and the Huskers' anemic pass rush allowed quarterbacks all day to survey the field and pick the secondary apart. Nebraska amassed just 24 sacks last season, the school's third-fewest total since the stat was introduced in 1981.
The only seasons worse? The disastrous 2007 defense (13 sacks) got a coaching staff fired, while the 2011 defense, anchored by Lavonte David, was strong enough in other areas to still finish 38th in the nation in yards allowed.
That wasn't the case with this year's squad. Freedom Akinmoladun led the Huskers with 4.5 sacks, and he missed four games and was limited in many others with a knee injury. His final sack came in game five, and 22 Big Ten players finished with more sacks than he did.
To put it in perspective - Jared Crick had more sacks against Baylor in 2009 (5.0) than NU's leading sack artist had all season long.
Of course, sacks aren't the only way to measure pressure. Often times rushing or hitting a quarterback as he's releasing the ball can be just as effective as a sack. But Nebraska didn't pressure the passer either - the Huskers had just 39 hurries this season after accumulating 61 pressures in 2014. Crick and Ndamukong Suh combined for 42 pressures by themselves in 2009.
A look at how the pass rush stacks up against the Huskers' other defenses of the past 15 years:
Table Name
| Year | Sacks | Leader |
| --- | --- | --- |
| 2015 | 24 | Freedom Akinmoladun (4.5) |
| 2014 | 29 | Randy Gregory (7) |
| 2013 | 38 | Gregory (9.5) |
| 2012 | 31 | Eric Martin (8.5) |
| 2011 | 21 | Lavonte David (5.5) |
| 2010 | 31 | Jared Crick (9.5) |
| 2009 | 44 | Ndamukong Suh (12.0) |
| 2008 | 35 | Suh (7.5) |
| 2007 | 13 | Barry Turner (3.0) |
| 2006 | 31 | Adam Carriker (7.0) |
| 2005 | 50 | Carriker (9.5) |
| 2004 | 25 | Bernard Thomas (4.0) |
| 2003 | 27 | Demorrio Williams (11.0) |
| 2002 | 32 | Chris Kelsay (7.0) |
| 2001 | 39 | Demoine Adams |
Even with a few lean years, the Huskers averaged 31.9 sacks per season from 2001-14, a good deed more than they managed in 2015.
A defense simply can't succeed if opposing passers are allowed to take their time in the pocket. Take a look at Josh Rosen's 60-yard touchdown pass from the Foster Farms Bowl. Akinmoladun gives a bit of a rush from the right side, but Rosen is completely unbothered as he unfurls a perfect bomb to hit Kenny Walker in stride.
And check out the clean pocket for Michigan State's Connor Cook to unload a 33-yard score:
Nebraska had one banner game rushing the passer, when it piled up six sacks against hapless Rutgers, which finished ninth in the Big Ten in sacks allowed. Consider the following statistics:
***In four games against ranked teams, the Huskers had just 3.0 sacks (0.75 per game).
***Nebraska failed to record a single sack in three of its final four games.
***NU had one sack or fewer in six of 13 games.
***In the past 15 years, 27 Huskers had at least 4.5 sacks in a season - that figure led Nebraska in 2015.
The responsibility certainly falls foremost on the players, whose inability to get to the quarterback certainly crippled the defense. But the scheme is to blame here as well - Nebraska's linebackers and defensive backs combined for just 4.0 sacks last year. NU's blitzes were mostly ineffective, leaving quarterbacks with more time to scan the field against fewer defenders.
So what's the solution for 2016? The Huskers should be able to count on more from Akinmoladun. The sophomore is an athletic freak and showed true potential before being slowed by the injury, and that was after spending his entire redshirt season at tight end. The more he plays defense, the better he'll get, and he has the tools to be a special rusher.
But things are a bit dicey after him. Maliek Collins, Vincent Valentine and Jack Gangwish are all gone. Greg McMullen (9.0 sacks in three years) is hardly a threat, and he could be moved inside to defensive tackle. Ross Dzuris is a tireless worker, but relying on him for significant pressure is a bit of a pipe dream.
The clock is ticking on A.J. Natter and Sedrick King, and it's getting to the point where expecting a breakout from either might be wishful thinking. If none of the veterans show improvement, Nebraska will have to lean more heavily on redshirt freshmen Alex Davis and DaiShon Neal, talented but raw prospects who might not be up to the task just yet.
The Huskers are scrambling to find other defensive linemen to join Ben Stille in the 2016 class, but time is growing short, and expecting to pick up a significant contributor may prove a long shot at this point.
Defensive coordinator Mark Banker will have to get creative to put some heat on opposing quarterbacks next year. Nebraska's blitzes simply must be more effective, and they will be helped by the return of a healthy Michael Rose-Ivey, NU's best pass-rushing linebacker.
Maybe Akinmoladun blossoms and becomes a star. Perhaps Davis or Neal are more ready to contribute than originally thought, or Natter and King finally show signs of life. All of these are possible and would greatly help.
Regardless of where the aid comes from, the Huskers simply must bother opposing passers more than they did in 2015. If the defense is carved up by quarterbacks again, there will be plenty of fingers pointed, and they won't just be at the defensive backs.