Saturday Notebook: Huskers ramp things up in scrimmage
In a spring that has been relatively light on full-contact work, Nebraska had its most extensive live session yet on Saturday inside Memorial Stadium.
Head coach Mike Riley said the staff initially wanted to get around 50 plays of scrimmaging in, but the Huskers ended up doubling that and running right about 100 when all was said and done.
With the annual Red-White Spring Game now less than a week away, Riley said he was pleased with how his team responded in the most significant live football it has seen so far this spring.
"I thought that it kind of flowed pretty easily today," Riley said. "I thought we put the ball down and they played football… We're at the point offensively where we're looking for just consistent execution, making it look like football running the ball, throwing the ball, running the routes. It was pretty smooth operation today I think offensively.
"Defensively, I think a lot of guys got to make plays, both in the run defense and pass defense."
Riley said all four quarterbacks got at least two full drives of work in, with backups AJ Bush and Patrick O'Brien getting three drives each after starter Tommy Armstrong and No. 2 Ryker Fyfe were done.
Overall, Riley estimated the first-team offensive and defensive players scrimmaged for about 25 plays.
"Offensively we kind of had a slow start, and then Tommy the next time in took them down for a touchdown. Ryker, I think his group made some plays. I think overall we ran the ball effectively today, too, which was nice to see…
"I thought it was just good football. It was fairly clean, not too many penalties. We had a couple procedures that were disappointing, but it was good."
- Robin Washut
McMullen taking 'leave of absence' from team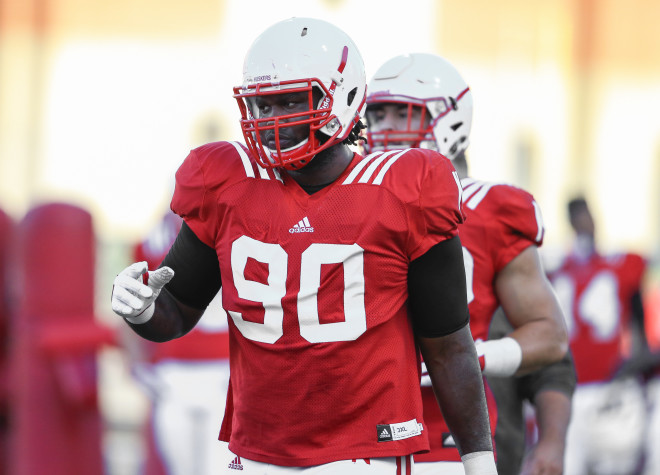 There was one very notable absence from Nebraska's defense during the scrimmage, as senior defensive lineman Greg McMullen was nowhere to be found.
After practice, Riley said he and McMullen had talked earlier in the week and agreed that McMullen would take some time away from football to focus on some personal issues.
"Greg McMullen is just taking a little leave of absence, with an agreement between him and me," Riley said. "He's catching up on some stuff personally for himself, and I basically told him the other day, 'Next time I want to talk to you is next week.' I just gave him a little space here right now."
With McMullen working primarily inside at defensive tackle, redshirt freshmen Carlos and Khalil Davis both got increased reps with the first- and second-team defenses on Saturday.
Asked if there was a chance McMullen could return at some point during the final week of spring ball next week, Riley said it was a possibility, but not a sure thing.
"He might be, he might be," Riley said. "I'm going to talk to him again next week to see where he is personally. It's not anything that is overall dramatic. It's just a senior that is working on graduating and getting into grad school that I just gave a little bit of a leeway to."
When asked directly if McMullen would be back with the team at all, Riley did give a much clearer answer.
"Oh yeah," Riley said confidently. "Yeah."
- Robin Washut
Riley weighs in on NCAA's ban of satellite camps
The big news on Friday was the NCAA's decision to ban schools from holding satellite camps at off-campus locations, something Nebraska utilized to its benefit quite well on the recruiting front last summer.
Riley was asked his thoughts on the ruling, and like most coaches outside of the Southeastern Conference, he voiced confusion over exactly how and why the NCAA would come to that decision.
"I was surprised at the vote," Riley said. "I don't know how they vote. I talked to (Washington head coach) Chris Peterson today and we both were wondering how in the end this all gets decided. It's one of those things - I knew three years ago this was someday going to be the decision that has been made. But I still frankly don't get it.
"I just see it more simply as an opportunity for both coaches and players. I think us going to Atlanta and having a camp, and some guy down there we find or he finds us, and he changes his life and changes Nebraska, I think those are great stories. It's just another opportunity, but when I say that, I'm not surprised by it.
"I am surprised where they got the numbers to vote, because I would think this is not jut a Power Five conference vote. I would think that every school in a lesser division than our school would all want these. I just don't know where the numbers came in the vote."
Even though Nebraska's staff was prepared for the ruling, Riley said they still had six satellite camps set up for this summer. With their schedule now cleared for those dates, Riley said the focus now would be on making the absolute most of the Huskers' on-campus camps, such as the Friday Night Lights camps that begin the second week of June.
"I told the guys a couple months ago the possibility of this was evident, but let's go ahead and plan to go," Riley said. "So now we just have to cancel it. It gives us a little more time to make a more focused dedication to our own camps and getting some guys here.
"You just have to adjust, and that will be one of the adjustments we make. If we can't go out there, then we have to try and get as many guys as we can here."
- Robin Washut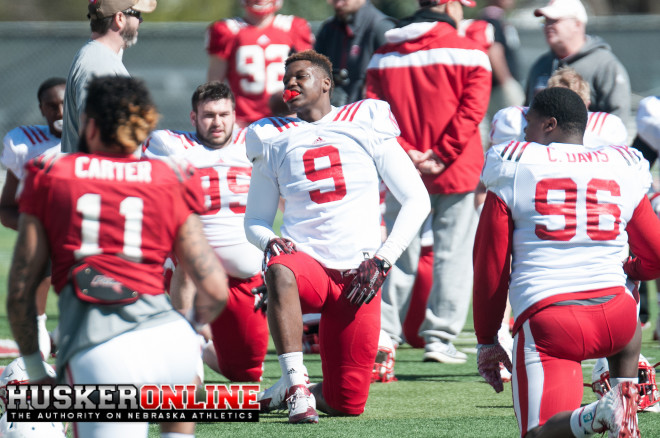 Quick hits
***Defensive end DaiShon Neal sat out of Saturday's practice with an undisclosed injury, while receiver Stanley Morgan took part in the individual portion of practice but did not participate in the scrimmage.
***Riley praised the progress of guard Tanner Farmer this offseason, saying the redshirt freshman has "made a major move" towards winning a starting job. Riley said Farmer always had the physical skills, but now he's been "overall impressive" with his football IQ.
***With NU so thin at cornerback, Charles Jackson has moved back from safety to corner to help provide some depth this spring. He made a couple nice plays during Saturday's scrimmage.
***Riley said Jordan Westerkamp was recovering well from his recent sports hernia surgery in Germany, and that the senior wide out would begin running again soon.
***Asked about O'Brien's play in the scrimmage, Riley said he needed to be more decisive at times and held on to the a little too long on some plays. However, when O'Brien delivered the ball with confidence, Riley said he looked "pretty impressive."