Saturday notebook: Young players getting their opportunities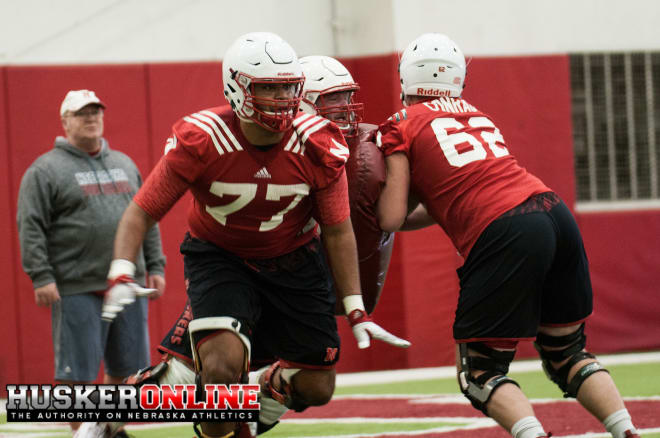 One of the nice things about spring practice is the opportunities it gives younger players to get additional reps in live scrimmage situations.
On Saturday the Huskers were able to give several fresh faces long looks in scrimmage situations while NU's veteran players encouraged them from the sidelines.
"We've definitely made some progress football wise," Riley said following Saturday's two-hour full-padded practice. "Not just the last few days. It's been fun to see the comfort level with our team over a period of time from last year to right now. I'm excited about that. I'm really excited about the vibe we have right now with this team.
"I think these guys have been training hard and are excited about football and excited about what they might be able to put together as a team in the next year. You can just feel that. We've got a lot of proving to do and a lot of work to do. The vibe is good; the work is good. We are working on a lot of football stuff that we'll fit into the games next year."
When asked what new faces that weren't a factor in 2015 have impressed him this spring, Riley listed several.
"Trey Foster didn't play a lot last year, but with what I see he should play more," Riley said. "Bryan Reimers the receiver (has stood out). With Lane Hovey transferring I watch him and I say 'can he do what Lane did?' Which was a lot for us. I'm excited about Eric Lee in what I see at corner, Avery Anderson at safety and Aaron Williams (injured) has jumped up as a player. Corey Whitaker has made a great jump with this team. I'm excited about what he's doing."
Riley also mentioned both redshirt freshmen defensive tackles Khalil and Carlos Davis.
"With Maliek (Collins) and Vince (Valentine) leaving there was no question we need some of those guys who redshirted on the defensive line to step up. The Davis twins are prime examples of that. We need them to be ready to play. Can they win starting jobs? I don't know yet. They should compete hard to do that. If they're not they should compete hard to be playing in the games.
"We should be able to play them in the games. They spent a year on the scout team and they did a nice job. They were always impressive to me. Now what they need to do is fit their skills into what we are doing defensively and do it real fast with speed and confidence and I think they can be good players."

Westerkamp, Morgan and Rose-Ivey sidelined with injury
Just like last August, Nebraska's wide receivers can't seem to shake the groin injury problems they had a year ago.
Both senior wide receiver Jordan Westerkamp and sophomore Stanley Morgan Jr. sat out Saturday's practice with groin injuries. Senior Michael Rose-Ivey missed Saturday's practice with a knee injury.
"Jordan Westerkamp and Stanley Morgan had pulled groins after the second day," Riley said. "Michael Rose-Ivey hyperextended his knee the other day. He's going to be fine and should be practicing next week.
"Stanley for sure should be at practice at least after we come back from spring break. Jordan is to be determined. We'll see about that."
With the injuries to Westerkamp and Morgan Jr., it has opened the door for others to get more valuable reps.
"What's happening right here is Derrion Grim is getting more work," Riley said. "I don't necessarily like this part of it, but what's happened with Jordan (Westerkamp) being down is (Brandon) Reilly has moved to the slot and is playing more slot back. That's ok though, because we need train him. Zack Darlington has also seen more reps.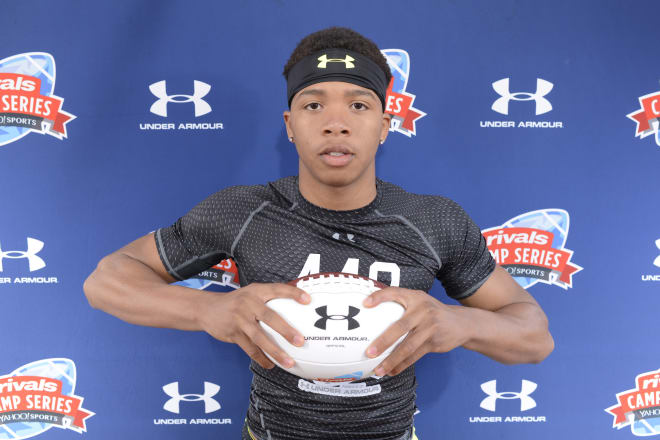 Junior day has strong turnout
Nebraska hosted 38 different 2017 and 2018 prospects at their first Junior Day of the current recruiting cycle.
Riley said he was very pleased with the turnout. NU started the day off with receiving a commitment from four-star Columbia (Mo.) Battle wide receiver Jaevon McQuitty.
"It was a huge, huge day for the Huskers today," Riley said. "We had lots of visitors from all over the place. It will be a major factor for us. Our coaches and our personnel people have done an outstanding job of getting a lot of people here."
Quick hits
***Riley said he's really pleased with Mikale Wilbon, particularly what he's brought from a running standpoint. Wilbon "needs to put the rest of the game together", but Riley complimented his talent.
"I'm really pleased with what I've seen," Riley said of Wilbon. "The running out here I've seen from him is not surprising. He's a gifted young man. As we go we hope to help him put the rest of the game all together. If he can do that he will definitely help us."
***Riley said improving the secondary is one of the team's goals this spring. "We have a lot to prove there," he said.
***Harrison Jordan, Luke McNitt and Graham Nabity are all competing to replace departed senior Andy Janovich at fullback.
***Nebraska will come back for spring practice No. 5 of 15 on Tuesday.