Spring grade out: Tight end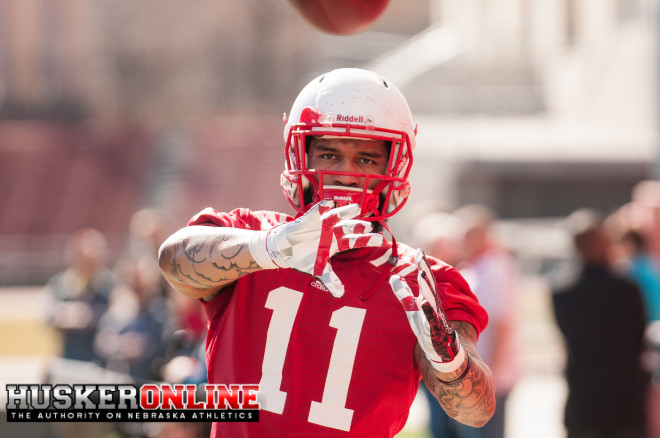 We continue our spring grade outs today by giving our final take on the tight end position.
What we learned: Carter is the man, but there is depth behind him
It wasn't much of a secret that senior Cethan Carter was the clear No. 1 when it came to Nebraska's tight end depth chart going into this spring.
Though he didn't necessarily show it in the spring game finale with just one catch for eight yards, Carter's play in the previous 14 practices further solidified his role as one of the most unique weapons on the Huskers' offense.
What may have been just as good news was that the other tight ends behind him also showed enough to give a lot more comfort regarding the overall depth at the position.
Guys like Sam Cotton, Trey Foster, Matt Snyder and even Tyler Hoppes should make NU five-deep at tight end without much drop off between the players not named Carter.
The spring game also might have served as a glimpse of how Nebraska's coaches want to incorporate the tight ends more into the offense. The unit totaled eight receptions for 88 yards in the scrimmage, led by Cotton's three grabs for a team-high 40 yards.
Biggest spring concern: Will Carter reach his potential?
It seems like we've been talking about how good Carter could be for four years now, and while he's definitely shown flashes of his undeniable physical ability, he has yet to fully live up to his sky-high potential.
Though he missed the first two games of last season due to suspension, it looked as if things were finally starting to click for Carter in Nebraska's new offense towards the end of the year.
In his first six games of 2015, Carter hauled in just 14 receptions on 36 targets for 164 yards and a catch rate of 38.9 percent. However, in the final three games of the season he had 10 catches on 13 targets (76.9 percent) for 164 yards.
It took some time, but offensive coordinator Danny Langsdorf began to find better ways to get the 6-foot-4, 240-pound specimen involved as the year went on. Carter has something to prove in his final campaign, and if he's able to build on the way he finished out 2015, he could have a very real shot at an NFL future.
Spring surprise: Cotton's big jump
The starting job is still clearly Carter's, but one of the more impressive storylines this spring was the jump made by Cotton since the end of last season.
Through improved dedication in his strength and conditioning this winter, Cotton is arguably now in the best shape of his life going into his senior season, measuring at a solid 6-5, 250.
On top of that, tight ends coach Tavita Thompson said the former Lincoln (Neb.) Southeast standout was by far the most "cerebral" player in the tight end room, which Thompson said was a big help in his transition in taking over the unit.
Not only did Cotton have as good of a day as any NU receiver in the spring game, it should also be noted that all three of his catches came from starting quarterback Tommy Armstrong, hinting that Cotton could become a safety valve in the Huskers' passing game.
Looking ahead: Promising youth must step up
The bad news for Nebraska is that it will graduate its top three tight ends after this season in seniors Carter, Cotton and Foster.
The good news, though, is that the Huskers do have some players waiting in the wings at the position who should be able to fill their void.
The emergence of the junior walk-on Hoppes, who was one of the nice stories of the spring, will certainly help with the depth in 2016, as will the presumed continued development of redshirt freshman Matt Snyder.
Nebraska will also bring in two scholarship freshmen this fall in three-star recruits Jack Stoll and David Engelhaupt, and it's already landed commitments from three-star 2017 Aurora (Neb.) tight end Austin Allen and 2018 Beatrice (Neb.) tight end Cameron Jurgens.
Needless to say, the cupboard at tight end should continue to be fully stocked for years to come.