The time is now for Knevel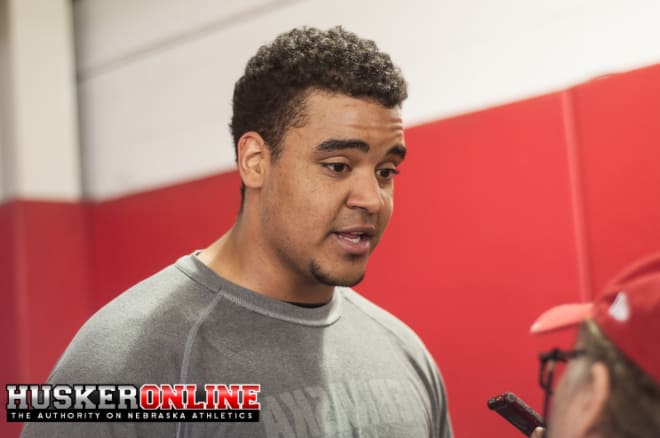 When Canadian David Knevel came to Nebraska, he knew it was going to take some time to develop.
The 6-foot-9, 315-pound offensive lineman had all the tools to be a great player out of high school, but his lack of high level playing experience was maybe the biggest obstacle he had to overcome the last three years.
Knevel played his high school football at Pauline Johnston Collegiate in Ontario and resides from the same home town as NHL hockey great Wayne Gretzky. The sport of American football in Canada is about as relevant as ice fishing in Florida. There just isn't a lot of high level competition, or players the size of Knevel playing the sport.
Going into this spring, the time is now for Knevel. He's used the last three seasons to develop and he's earned letters each of the last two seasons by playing on primarily special teams. This spring he made the move from left to right tackle, where he's currently the odds on favorite to win the starting job.
"I knew my plan," Knevel said. "When I was getting recruited I knew it was going to take some time for me to get in there. I felt like I was ahead of the game. I lettered my second and third years here, and I was not expecting that. I felt like I was patient enough."
Knevel wasn't told until about a month before spring practice that he'd be moving to right tackle.
That's been somewhat of a transition, but he's looked good through the first six practices.
"I'm just going to try to take everything in, get comfortable on the right side, help out the other guys coming along, show I'm ready to play and just build connection with whoever is beside me at any given time," Knevel said.
"I had to get stronger in the weight room. I had to learn the play book better. Learning technique – yeah there were a whole lot of things I had to work on these last three years."
Thus far offensive line coach Mike Cavanaugh has been pleased with what he's seen from the big Canadian.
Right now Knevel is working ahead of walk-on Sam Hahn at the right tackle position, while sophomore Nick Gates and redshirt freshman Christian Gaylord are at left tackle.
"He's doing good. I think the transition over there has been good," Cavanaugh said of Knevel. "He's done well in his sets. He's playing physical, he's a good knee bender, I think he's got confidence – I'm excited about David Knevel."
Generally laid back, nobody is more excited about the potential opportunity he has this spring than Knevel.
"I've always wanted to take the reins and I feel like this is my opportunity to show what I can do," Knevel said.