Thursday Notebook: Competition continues at QB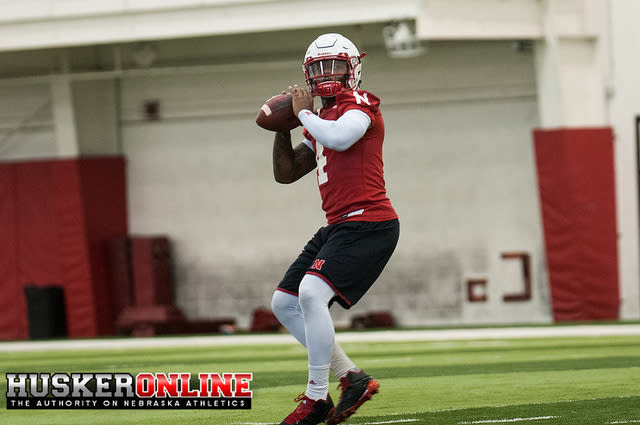 As Nebraska enters the second half of its 2016 spring session, much of the attention continues to focus on the progress of the quarterback position.
While senior and three-year starter Tommy Armstrong remains essentially cemented as the starter for the season opener, offensive coordinator Danny Langsdorf said the competition behind him continues to get more and more interesting with every practice.
Through the first eight spring practices so far, Langsdorf said both senior Ryker Fyfe and true freshman Patrick O'Brien hav shined in the reps they've seen.
Because of the two-team format the Huskers are once again using this spring, Armstrong and Fyfe have been working with the "first team" while O'Brien and sophomore AJ Bush have been on the other.
As a result, all four quarterbacks have been getting an equal amount of reps, which has led to a peak level of competition.
"We've got the ability with four guys to really get a lot of even reps, which is nice," Langsdorf said. "We're kind of broken up in two teams … and they're splitting reps 50/50. So everyone's getting a lot of work."
For Fyfe, last year's No. 2 who got his first career start at Purdue, Langsdorf said the former walk-on has consistently improved since the end of the 2015 season.
In fact, Langsdorf said Fyfe had maybe one of his best days yet this spring during Thursday's practice.
"I think Ryker had a really good day today," Langsdorf said. "I thought he made some nice throws, he was getting rid of the ball quickly, making good decisions in the run game. So I like the way he's coming along."
At the same time, O'Brien has hit the ground running in the fullest sense through his first eight collegiate practices.
Langsdorf said O'Brien hasn't had a bad day yet, and even Fyfe - his direct competition - couldn't help but praise the former four-star prospect.
"He's the best quarterback I've seen come through here as a freshman," Fyfe said. "And he should still be in high school."
If things continue the way they have been on through the rest of the spring and through fall camp, Langsdorf said there was no reason O'Brien couldn't catch Fyfe as the No. 2 by the time the season rolled around.
"Yeah, I think he'll continue to push," Langsdorf said. "We always are talking about competition daily. They get graded on every play on their footwork and their decisions and their throws and their run decisions.
"All of it's graded, and it's graded daily. We have kind of a worksheet that shows their progress, and we are always competing. We haven't made any decisions about anybody."
- Robin Washut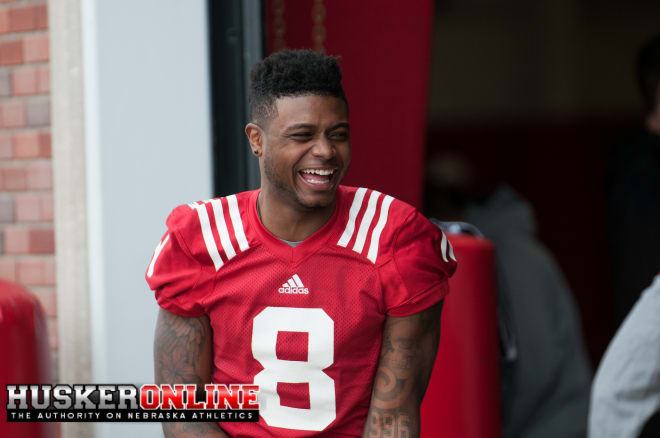 Morgan has "uncommon" passion for football
Stanley Morgan clearly has displayed the physical skills needed to be a dominant receiver in his freshman campaign. Despite playing a limited role in 2015, Morgan was third on the team with 25 receptions and ranked fifth with 304 yards.
But receivers coach Keith Williams wasn't surprised to see Morgan excel as a rookie, even with all the veteran presences in front of him on the depth chart. Formerly an assistant at Tulane, Williams recruited Morgan, who hails from St. Augustine HS in New Orleans, and remembers the hunger and love for football the receiver displayed then.
"It is uncommon, but that's his personality," Williams said. "That passion comes from a young man's personality and it just so happens he's interested in football. I believe it would be like that with anything he's into. He's a passionate guy. The things that he's into mean a lot to him and football is one thing that he loves."
And that passion has made itself quite evident off the field. Williams said Morgan's pursuit of knowledge seems endless, and he texts his coach "all night long" about plays and what to to in certain situations.
"He's awesome off the field," Williams said. "He's far beyond his years, and our whole room is jealous of him - we all wish we were like him as a freshman. He's focused, he's dialed in and it means a lot to him. He asks great questions. You can tell he understands what's going on by his questions.
"I've got no complaints about Stan. He's an animal."
- Dan Hoppen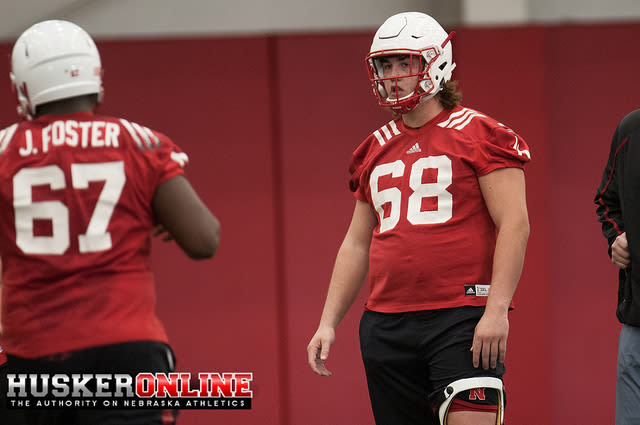 Like most players on the roster, Nick Gates felt left up in the air after the previous staff was let go following the 2014 season. Gates didn't know who his new position coach would be, leaving him with an uneasy feeling.
But the tackle breathed a sigh of relief when Mike Riley brought Mike Cavanaugh with him. Cavanaugh recruited Gates at Oregon State, and Gates recalled meeting Cavanaugh for the first time after practice Thursday.
"He came to my high school a couple of times," Gates said. "He sounds a lot different on the phone. I walk in and he's this short, fat, little bald dude.
"I was just hoping that they remembered me, that they could put a face to my name. I was definitely happy about that, that they brought in someone who recruited me and knew what I was about."
Even with that familiarity, there were stops and starts for both Gates and the rest of the offensive line last season. As should be expected with a coaching change, there were bumps in the road, but the sophomore said everyone is more on the same page now.
"I think it's grown a lot," Gates said. "Last year we didn't know him too well, but this year it's definitely better. You can just go up in his office and talk to him. It definitely helps, just being comfortable with him."
- Dan Hoppen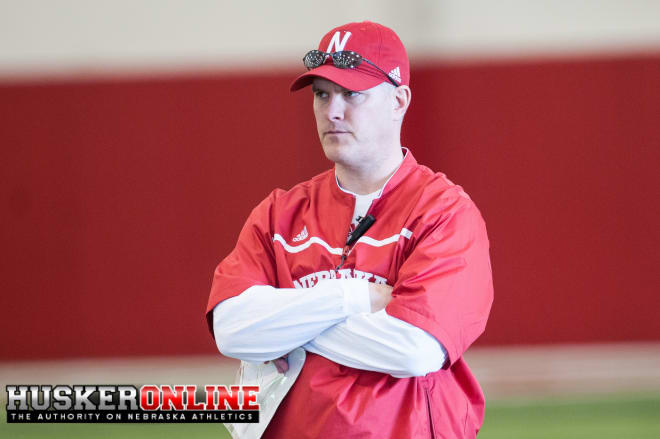 Quick hits
***Langsdorf said the staff still wasn't sure whether the Huskers would hold a live scrimmage on Saturday. They obviously want the live work, but also like to get extra work on specific packages, which is hard to do in a scrimmage setting.
***Williams said he couldn't comment on the status of Jordan Westerkamp, who is believed to have undergone surgery on Wednesday. Williams did say Westerkamp was still out for the rest of the spring but is fully expected to be back and ready to go for the start of fall camp.
***Offensive line coach Mike Cavanaugh said Jerald Foster has developed a "nastiness" to him similar to that of Nick Gates. Cavanaugh said that has been a huge step in Foster's development this offseason.
***Tight ends coach Tavita Thompson said that Sam Cotton was by far the most "cerebral" player in the tight end room, and he helped make it an easy transition when Thompson took over the position because he could help coach up his teammates on the field.
***Thompson said Matt Snyder was steadily rounding into form, especially after playing like "a robot" at times last year. Now Snyder is relying on his instincts and athleticism more as opposed to trying to run each play perfectly.
***Running backs coach Reggie Davis said it's still a three-horse race between Terrell Newby, Mikale Wilbon and Devine Ozigbo. While they still want one of the backs to emerge as the clear No. 1, right now it's looking like it will be a committee approach until one of them separates from the pack.
***Davis said the fullback job is still up in the air. Harrison Jordan has the most experience, but guys like Graham Nabity and Luke McNitt have really looked good since moving to fullback this spring. Davis said they'll use the fullback as much as the group allows them with their productivity.
***Fyfe called O'Brien the most advanced freshman quarterback he'd ever seen both physically and mentally.
***Fyfe said NU has been incorporating more read option into the offense this spring. The staff has been using some of the stuff the Huskers did in their previous offense, but also have been looking at a lot of the stuff done in the NFL with guys like Cam Newtonand Teddy Bridgewater.