Tuesday notebook: Anderson still getting up to speed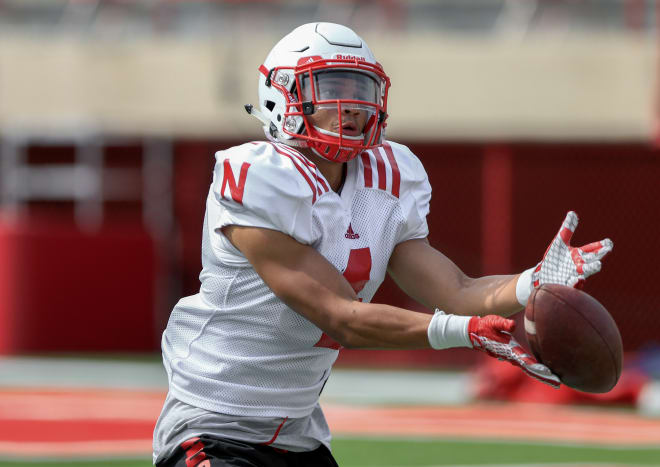 When approached with the idea of moving from cornerback to safety this offseason, Avery Anderson was very receptive to the idea. It was his high school position and, though he didn't mind playing cornerback, there was a certain comfort in returning to his original spot.
And with Antonio Reed and Aaron Williams missing spring practices with injuries, the opportunity to compete for reps with the top team was there.
Anderson's switch hasn't been seamless, however. Defensive coordinator Mark Banker expected Anderson to make a quicker adjustment.
"It's coming slower than I would personally like it," Banker said. "They can either hurt you or help you, your feet and your eyes, at just about every level of the defense. He needs to consistently work on his eye discipline and that will help him out a ton. Each practice there are fewer and fewer of those eye mistakes that he's making.
'He's great in meetings as far as learning and understanding. Now it's just for him to get out on the field and put it into use."
Anderson, who enrolled early last year and redshirted the 2015 campaign, said he had been discussing a potential switch with Brian Stewart basically since he arrived on campus. He agreed with Banker that his eyes need to improve and admitted he sometimes gets "antsy", but he thinks that's coming.
"It's kind of second nature. It's way more natural," Anderson said of returning to safety. "Once I started getting the skills back and getting in the film room, it's been pretty smooth."
Anderson is currently working with the No. 2 defense alongside Reid Karel while Nathan Gerry and Kieron Williams hold down the top unit. While he's glad to be back at his old position, he concedes that his year at cornerback was certainly beneficial.
"At corner, when you're in close quarters you learn how to move on the fly, especially when guys are close on you," Anderson said. "It helps you at safety because you have more space. You have more time and you can react faster. But playing DB is kind of all the same thing. You just have to read, react and make plays."
- Dan Hoppen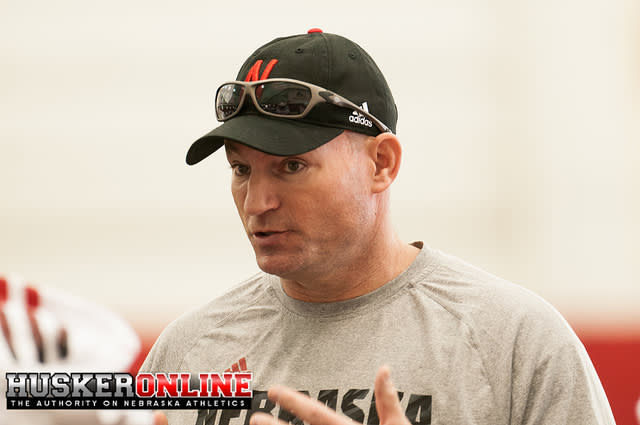 Parrella bringing new wrinkles to defensive line
With more than two decades of playing and coaching experience at both the collegiate and NFL levels, its no surprise that new defensive line coach John Parrella has brought a few new ideas to the table this spring.
While he hasn't reinvented the wheel in how to play on the defensive front, Parrella has already incorporated some wrinkles focusing more on the small details of the position that hopefully will end up paying off with big results this season.
Banker broke down some of the changes Parrella has incorporated to the front four, specifically with the Huskers' alignment before the snap and their stance when they get to the line of scrimmage.
"When I say 'alignment', it sounds kind of rudimentary," Banker said. "But based on backfield sets, the position of the quarterback under the center, off the ball - they might cancel the same gap but they might cancel it from outside the gap instead of inside the gap. It might be tighter on the edge if you're an end or more width, depending on the position of the back.
"Our stance, we've changed up with Coach Parrella a little bit as far as what hand and what foot goes down in certain alignments… There's different trains of thought. When you get down in a stance and you're over half a man, some people like the covered hand down and the off foot back, that way that's their power step when somebody comes and drive blocks.
"Other people, if you're on the left side you want your right hand down. If you're on the right side they want your left hand down. Then the third train of thought is people like to put their gap hand down - whatever gap their in, whatever shade their in, they want to step with their gap foot. So there's different schools of thought.
"I've been a part of both situations - maybe not the gap foot - but that's what he's been working on, he's been working on the covered foot back and the covered hand down."
- Robin Washut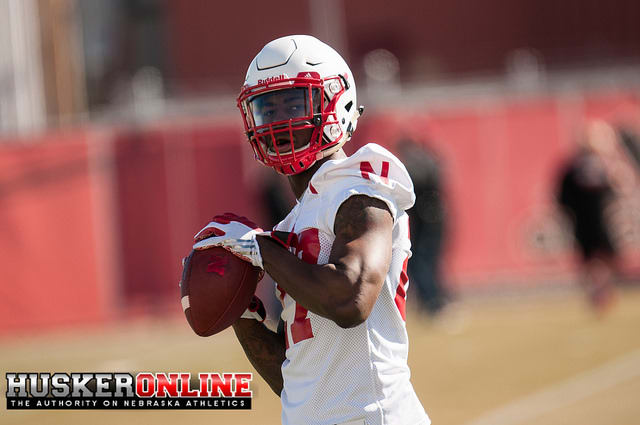 Safeties' time with Banker off to a strong start
Knowing that Nebraska's passing defense needed to improve this season, Mike Riley called an audible this winter. Stewart, who had previously coached both the cornerbacks and safeties, would now stick just with the former while Banker coached the latter.
The move seems to be paying off. To a man the safeties have said they enjoy the personal attention and it shows in their play.
"It helps a lot," Kieron Williams said. "When you have a specific guy for a specific position, it's always going to be a little better. If I were to take you six (reporters) and break you into groups and have you work with certain people, you would learn better being separated as opposed to being in a bigger group. I think it's a little better.
"But I didn't have a problem with coach Stew. I like coach Stew."

The defensive backs used to have joint meetings, but now the two positions meet separately. The idea makes sense - while all defensive backs must communicate well together, the responsibilities of the positions can be very different.
And with Nebraska ranking among the nation's worst against the pass, something needed to change.

"It's been awesome," Anderson said. "It gives us more of a focus on the safeties and our responsibility. It ensures there is no lack of communication. We're all on the same page, and Bank has been great."
- Dan Hoppen
Quick hits
***Banker said defensive end Freedom Akinmoladun "regressed" a bit last season after his injury and never quite returned the level he was during his hot start to the year. Banker said this spring has been about Akinmoladun focusing on being more "fluid" and confident on the field and utilizing his undeniable athleticism as a pass rusher.
***Banker said some of the biggest early surprises about his defense this spring have been how much more fluid and aggressive linebackers Josh Banderas, Dedrick Young and Marcus Newby have been in attacking the football. Also, he said cornerbacks Chris Jones and Joshua Kalu have been as consistent as ever, and Gerry has really refined is overall game.

***Speaking of consistency, Banker said Kieron Williams has been much improved in that regard. In fact, he said Williams finally made his first real coverage mistake of the spring in today's practice.
***Jones had good things to say about Nebraska's first-string receivers, saying Alonzo Moore was the "smoothest" route runner on the team, and that Stanley Morgan was the most physical wide receiver on the squad. Jones also said they call Brandon Reilly "The Snatcher" because of how good his hands are.
***Some notable strength and conditioning gains to pass along on the defensive line: Peyton Newell said he's up from 255 a year ago to 295 now, and his body composition was actually down two percent since last year. Also, Alex Davis said he's up from 215 to 255, and that he's ready to make an immediate impact this fall.
***Parrella said the Carlos and Khalil Davis are both working exclusively inside at tackle this spring, as he wants them to master the interior positions first before working on the outside.