Tuesday notebook: Williams back in action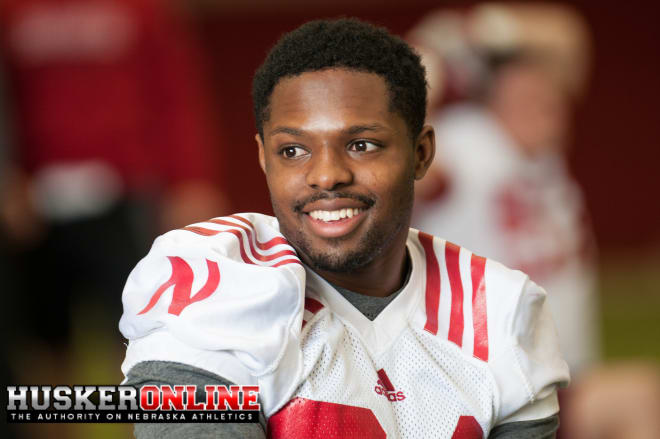 Nebraska's secondary got a welcomed addition for its first practice back after break on Tuesday, as sophomore defensive back Aaron Williams returned to action for the first time this spring.
Having missed the opening six practices while recovering from offseason knee surgery, Williams was finally cleared to return to the field last week. Though there was some expected rust, defensive coordinator Mark Banker said it was overall a good showing for Williams.
"He felt good," Banker said. "He did a great job last week. He stayed here for spring break and he worked out with (the trainers) and they put him through the paces to get him ready for the rest of spring ball. He did a nice job today."
Banker, who is working individually with the safeties in practice this season, said he made sure to keep a close eye on how many reps Williams took on Tuesday and monitored his workload throughout the day.
Because the Huskers held a helmets-only practice, Banker said it worked in Williams' favor to help ease him back into the swing of things. However, with NU incorporating a new "rugby style" tackling technique this spring, there was definitely still a bit of a learning curve.
"We've been working on a new technique and a whole new concept in tackling, and he was terrible at it," Banker said. "I asked him, 'What the hell have you been doing?' And he said, 'I've been standing here watching.' I said, 'I know you've been standing, but I don't know if you've been watching.' So he's just got to get up to speed with things like that."
Fellow safety Nate Gerry said it was certainly good to get Williams back in the fold again, especially considering how much the rest of the defense is expecting from the Atlanta native in 2016.
"I think Aaron's going to be a good player for us, especially this year," Gerry said. "I know he worked hard over the offseason to get his weight up - that's something I hassled him about all offseason…
"He looked good. Me and him had the same surgery, so I know what he's going through. He's got a little hesitation right now, but for his first day back I thought he did well."
- Robin Washut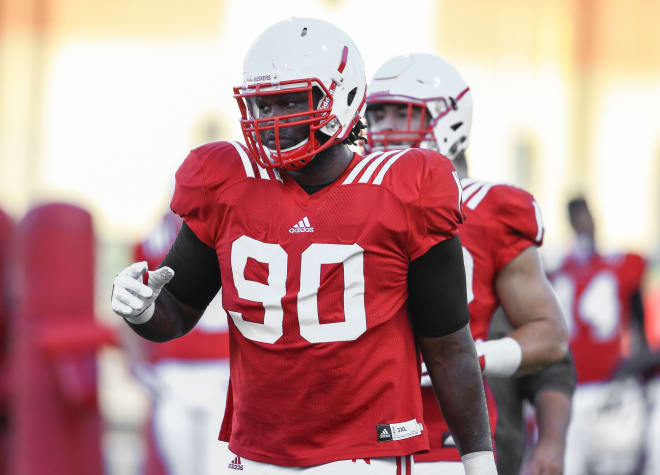 McMullen provides different look at defensive tackle
Seniors with 37 games and 26 career starts under their belt don't usually face much of a learning curve heading into their final campaigns.
But Greg McMullen has been on a bit of a crash course this spring after moving inside to defensive tackle. McMullen spent his first four years at end, but the coaches decided to move the 6-foot-5, 300 lb. presence inside this offseason.
Kevin Maurice has done his best to help his fellow senior make a smooth transition, and McMullen is apparently picking things up very quickly.
"He's asked me a couple things at certain times about things he's not used to inside," Maurice said. "He's getting better and he's getting real comfortable inside. The sky is the limit."
It's also helped having new defensive line coach John Parrella, whom Maurice says is far better at teaching inside technique, around to make the move easier. Though there is lots of talent at defensive tackle, most of it is young and hasn't seen the field much.
McMullen certainly helps there, and his massive frame doesn't hurt either.
"Experience. He's a real big, physical dude," Maurice said. "He can push people around and he's a piece of work down there."
- Dan Hoppen
Injuries shaking up return units
Nebraska's punt and kick returners have looked very different this spring with many of the top returners out.
De'Mornay Pierson-El remains sidelined after suffering a season-ending injury in the Purdue game last season. Jordan Westerkamp is likely out for the rest of the spring, and Stanley Morgan just returned Monday from a groin injury.
Special teams coach Bruce Read said it's been difficult to work the return units without the top guys present, but he mentioned Lavan Alston as a player who has stepped into up in their absence.
The Huskers have been healthier at kick returner, where Morgan has been the only missing piece. Nebraska is also working in Brandon Reilly, Joshua Kalu, Jordan Nelson and Terrell Newby in at returner, though there is a new name that has Read intrigued.
"I think (Mikale) Wilbon would be exciting back there," Read said. "He's got a lot of ability - he's fast and quick back there. There is a suddeness about him and it would be fun to see him."
- Dan Hoppen
Huskers get back to the grind
After holding six practices over a span of 13 days, Nebraska's players got some time off last week to recharge over spring break.
Many of the players went on trips or back to their respective hometowns, while a few others stayed on campus to continue rehabbing injuries or even get some extra workouts in on their own time.
Linebacker Michael Rose-Ivey said the Huskers came back on Tuesday refreshed and ready to go, setting the tone with the first of 10 remaining practices leading up to the annual Red-White Spring Game on April 16.
"It looks like everyone kind of took care of themselves over the break, so that's a good thing," Rose-Ivey said. "We're excited now for the next 10 practices we've got left."
Fellow linebacker Chris Weber said it was nice to ease back into the grind with a light helmets-only session, as the team knows the intensity and physicality is going to pick up in a major way over the next couple of weeks.
"It felt good just kind of going no pads and getting back into it," Weber said. "It felt good to just kind of get the legs back. We'll be sore tomorrow, but we'll feel good."
-Robin Washut
Quick hits
***The Huskers had two notable unofficial visitors on campus on Tuesday, as Calabasas (Calif.) standouts Keyshawn Johnson Jr. and Tristan Gebbia took in practice. Gebbia, who is still uncommitted, was wearing a red Nebraska quarter-zip sweater.
***One receiver who benefitted with increased reps while Morgan and Jordan Westerkamp (who will miss the rest of the spring with a groin injury) were out was walk-on Brandon Reimers, but he did not practice on Tuesday with an undisclosed injury.
***While there still was no live tackling, Banker said the defense got to work on some schematic stuff like zone and man presses against an offensive scout team for the first time on Tuesday.
***One interesting thing about Nebraska's practice set up is they not only used the Hawks indoor facility, but they also were using the old Cook Pavilion. Evidently they've put new turf down and wide receivers coach Keith Williams said it's actually better turf in Cook than what they have in Hawks.

The Cook Pavilion hasn't been used by the football team to our knowledge since 2005, but with the new turf put down football now has access to use it again if they want a second indoor field to go along with Hawks. We were told they used it a couple times last year as well.
***Banker said defensive end AJ Natter increased his vertical jump by four inches since last year. That shows how much more explosive he is now, Banker said.
***Daishon Neal said at one point last year he weighed as much as 280, but with a year in NU's nutrition and conditioning he dropped 20 pounds. He said he's currently up to 265 and hopes to be back around 280 - good weight this time - by his senior year.
***Banker said Kevin Maurice had times in practice last year where he "looked soft" despite being a good athlete. But once he got into a game, particularly the Illinois game, he took his game to a new level. With a bigger focus on technique and fundamentals with d-line coach John Parrella this offseason, his consistency and confidence should improve in a big way.
***Former Oregon State quarterback and current St. Louis Rams signal caller Sean Mannion was in attendance for Tuesday's practice.