Notebook: Huskers have high expectations for Young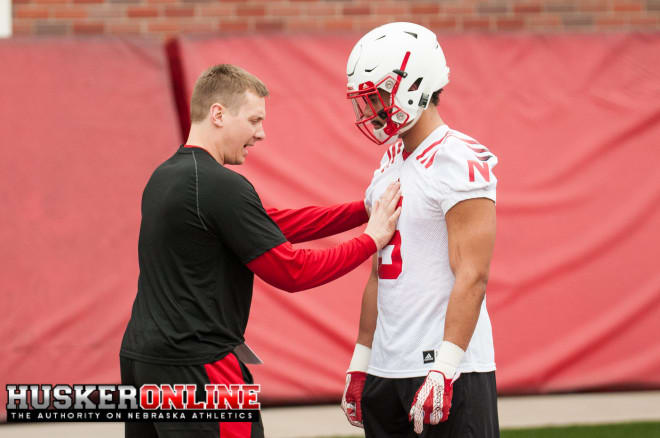 Linebackers coach Trent Bray was very encouraged by what he saw out of Dedrick Young in his true freshman season.
Young had 61 tackles, tying Josh Banderas for the most of any linebacker on the team.
But now, Bray said, it's time for Young to start making some more explosive plays. Young didn't have a sack, forced fumble, fumble recovery or interception last season, and Bray believes Young needs to improve in that area.
"He had opportunities to have about six or seven sacks," Bray said. "He just didn't have his hips down or something and they got away from him. It's kind of that same thing – he's in position to make a lot of plays. Now it's about that finish."
Part of that is just Young's natural mentality. A quiet player, Young often chooses to make the solid play instead of trying to hit a home run.
While that's certainly a wise strategy for the most part, Bray believes that for Young to reach his potential, he's going to have to make some "pop" plays.
"He's a very smart player and he's always in the right spots," Bray said. "He needs to cut it lose a little more. A lot of his missed tackles early in the year were because he was hesitating and didn't want to be wrong.
"He's got to trust that he's made the right decision, trust his ankle then go."
- Dan Hoppen
Maurice adjusting to role as veteran presence
For the past three seasons Kevin Maurice hasn't had to provide much leadership among the defensive linemen.
Kevin Williams was older and more experienced and Maliek Collins and Vincent Valentine more accomplished. Maurice had yet to make much of an impact and flew more under the radar.
That changed with his mini-breakout last season and Collins and Valentine deciding to leave school early for the NFL.
Maurice said it's been odd adjusting to his role as the veteran sage in early spring practices, but he's coming along.
"It's kind of crazy looking around," Maurice said. "It's just me and Greg that are four-year guys. We've got a whole bunch of young cats that we're trying to bring along. But the good thing about those young guys is they're willing to learn. That's a great place to start."
Two of the fresh faces that have stuck out are Carlos and Khalil Davis, both of whom redshirted last season but could have bright futures and could be called on to make an impact this year.
"They're explosive as hell," Maurice said. "They're quick and they bring a lot of athleticism. It's just getting that technique down. Once they get that, they'll be really good."
- Dan Hoppen
Blackshirts buying in after rough first season
Considering all of the both rumored and documented turmoil that went on within Nebraska's defense last season during the coaching change, it's no surprise to hear things didn't go quite as smoothly as NU's new staff might have hoped.
While the Huskers were able to get through the year without any major drama, two starting defensive tackles forwent their senior seasons to highlight the fact that some players didn't exactly gel with the change in scheme.
Defensive coordinator Mark Banker said that even though Nebraska is only two practices into spring ball, he can already sense a major difference with his defensive group from where things were a year ago.
"The biggest thing is just watching them work in the offseason," Banker said. "Their overall attitude - I think we all know each other obviously a lot better. It's a lot cleaner situation. We had good players that moved on. At the same time, there were some players - and it's always tough for seniors that aren't playing. It wasn't as if they were a disturbance of any sort, but it's tough for them.
"This group as a whole seems to be more cohesive. I think what really helped was that a good majority of them last year were juniors that were playing, and now they're seniors and they know the leadership that we're looking for and asking for."
- Robin Washut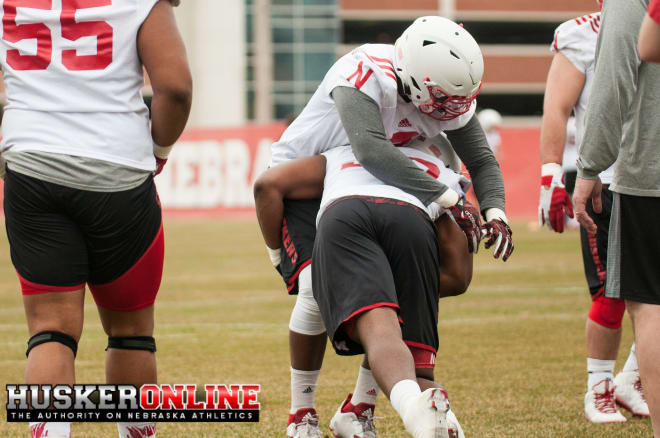 Maybe the biggest concern facing Nebraska's defense early on this spring is how the Huskers plan to get to the quarterback with a defensive line suddenly filled with youth and inexperience.
Three starters from last season are gone in tackles Maliek Collins and Vincent Valentine and end Jack Gangwish, who combined for seven of NU's 24 recorded sacks in 2015. The good news that that end Freedom Akinmoladun, who led the team with 4.5 sacks, and end/tackle Greg McMullen, who finished second with 4.0, both return.
On top of that, Banker said it doesn't matter nearly as much who Nebraska has coming back on the defensive line as it does getting players from all levels of the defense to finish on plays at the quarterback when they have the chance.
"A lot has been made about, 'Oh we need this guy and that guy to rush the passer,'" Banker said. "We counted 27 sacks last year. We had 29, but we had to take two away because of penalties. Then there were 14 that we did not make and we had people absolutely free to the quarterback. Three were defensive backs, three were linebackers, and the other eight were defensive linemen.
"The common denominator there was that our leverage was wrong on the quarterback and not attacking the high shoulder… Finishing on plays that we have an opportunity to make - because some of those were game changers - will be huge for us."
- Robin Washut
Weber trying to push more time at Mike LB
As junior linebacker Chris Weber works his way through the spring, he's coming off an extremely productive sophomore season where he was able to see plenty of playing time.
Weber got more snaps than expected because of a groin injury to Josh Banderas. Over the time Weber became a very productive linebacker and knows what he needs to do going forward for his game to take the next step.
"I felt like I was underweight last year," Weber said. "It's the Big Ten and I felt like you have to be able to withstand a season. A lot of teams are trying to run the football and you have to stop the run. I needed to gain some weight and muscle in the off-season."
Weber added the experienced he gained last season is only going to make him and this football team better in 2016.
"I just learned what it takes to be successful and the preparation that goes into it," Weber said when asked what he learned last year. "Just how to practice. You aren't going to get a second chance when playing a good team, so you have to be 100 percent on your assignments. That comes through practice and being competitive on every rep you get."
-Sean Callahan
Quick hits
***Banker said there were only two instances in his career where he didn't focus in one position group during practices and oversaw the entire defense every day, and last year was one of those seasons. By switching to coaching the safeties this spring, Banker said he's more comfortable and it benefits the players more by getting more one-on-one instruction.
***Banker said Carlos and Khalil Davis both had "big personalities" and always had smiles on their faces, and physically they both were impressive athletes. Banker said Carlos went from 265 pounds last year to 300 now, while Khalil went from 260 to 290 and just squatted 480 pounds 10 times at the Performance Index competition. Carlos said he didn't participate in the competition because he was sick, otherwise he thinks he very well could have won it.
***Weber said he is currently on scholarship for the spring semester, but that would be re-evaluated in the fall.

***Banker said he's always had great respect for new defensive line coach John Parrella going back to their days with the San Diego Chargers. Banker said Parrella was a true leader in the locker room and would help him deal with other players who would get out of line in practice or in meetings. Banker called Parrella maybe the most underrated 12-year NFL veteran of all-time.
***Defensive end Sedrick King said he's well aware about his doubters, and that his goal to win every rep this offseason to put himself in position to win a starting job and prove his critics wrong.

***Marcus Newby said he's a completely different player this year in terms of his maturity. He said he's more committed than ever to studying film and learning the game mentally, and that's definitely translated to his play on the field.
***Former Husker running back Clinton Childs was in attendance for today's practice. Fellow former NU running back Jay Sims was at Saturday's practice.