LB Willie Hampton is a Husker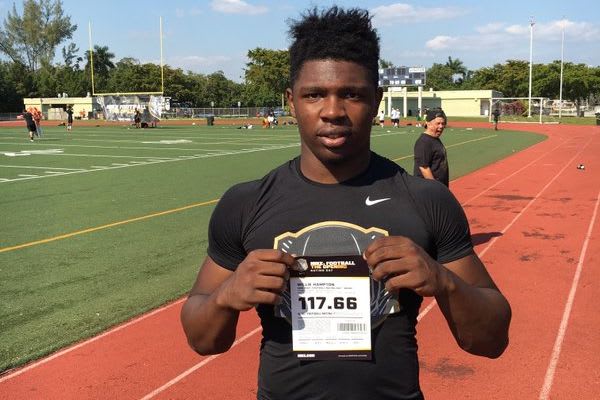 The first commitment for Nebraska in the 2017 class is West Palm Beach (Fla.) Oxbridge Academy's Willie Hampton.
Hampton, a 6-foot-2 and 220-pound linebacker, picked up an offer from the Huskers just last week, but said that his conversations with his recruiting coach convinced him early that Nebraska was right for him.
"I was talking with Coach Trent Bray and I had researched Nebraska," Hampton said. "We have been talking about everything that Nebraska had to offer and I liked what he was telling me. I felt like it was the right place for me and I committed. I just got off the phone with Coach Bray and Coach Mike Riley."
Hampton has committed to Nebraska sight unseen, but this isn't the first or the last recruit to do it. Nebraska shouldn't have to wait long to host Hampton in Lincoln and show him around campus.
"I will be visiting soon. It will be some time in the spring, but I am not sure what the date is. We need to talk about it and figure out an open date and make the trip."
While the information about Hampton is relatively new to the fans of recruiting, for Nebraska fans have taken notice of a picture floating around on the Internet of Hampton. He's holding up his SPARQ scorecard of 117.66 at 6-foot-2 and 220-pounds. Hampton has 4.5/40 speed to go along with that impressive size.
"Nebraska likes me at linebacker," Hampton said. "They told me that I could move around in their defense and play both spots. I like man coverage and I like to blitz the quarterback, so I would say that I like to play outside. I like playing inside though too because that is where the contact is at and I love to take on the lead blocker."