York DT Mapieu follows his heart and commits to Nebraska
Earlier this week during an event in Beatrice, Nebraska head coach Mike Riley discussed in-state recruiting with a local area coach for over an hour.
It's clear the second-year head man at NU wants to make recruiting at home even a bigger priority going forward, and he proved his point on Friday.
The Huskers started the afternoon by landing a verbal commitment from Lincoln native and current Bradenton (Fla.) IMG Academy 2017 offensive lineman Broc Bando. Then the Big Red closed the day by picking up a commitment from 2018 York (Neb.) defensive tackle Masry Mapieu.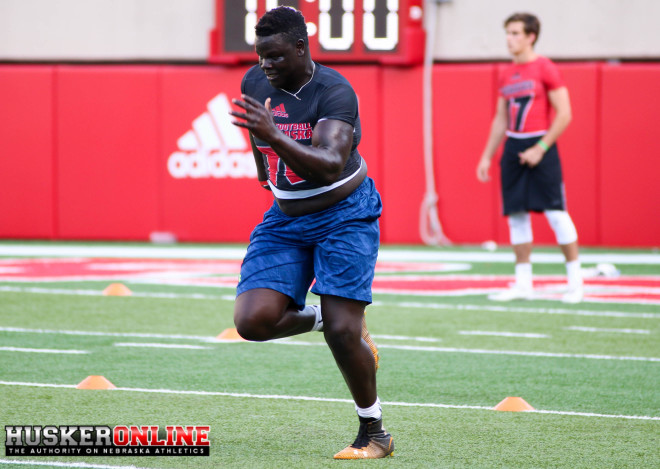 The 6-foot-5, 290 pound Mapieu took part in the Huskers Friday Night Light's camp and came to Lincoln without an offer. He was offered by Riley and defensive line coach John Parrella shorty after the camp, and it didn't take long to make up his mind.
"I thought about it for about 30 seconds and I said yes," Mapieu said following his decision.
Coming into Friday's camp, Mapieu picked up offers this month from Iowa, Iowa State and UCLA. He also picked up an offer earlier this spring from Central Florida.
He came to the camp on Friday not knowing what to expect, but was hoping things would work out like they did.
"I was waiting for a little bit for Nebraska to offer," Mapieu said. "A long time ago I was pretty sure I was going to commit here. It's been crazy."
Dukes head coach Glen Snodgrass accompanied Mapieu on his visit Friday. Going into the event he wasn't sure if Mapieu would commit right away if offered, but had a feeling there was a chance that could happen.
"We had this conversation coming back from one of the Iowa camps, you know just about committing somewhere and whether he wanted to commit or whether he wanted to wait," Snodgrass said. "I advised him to wait until he gets an offer that he really likes. So I asked him, 'Is there a school out there that really feel you would jump on it right away?' He goes, 'The only school I can think of is Nebraska.'
"So he had told me a couple of weeks ago that if Nebraska offers he would probably commit. I think Coach (John) Parrella did a great job of just kind of selling the whole Husker experience to him and obviously he committed right off the bat there after getting that offer."
When you look at the last two months for the 16-year old Sundanese refugee, it amazing how fast things have moved. As a freshman he was playing Eight Man Football at McCool-Junction, and after one year of 11-man football he's now a Nebraska Cornhusker with two years of high school still ahead of him.
It still hasn't sunk in for Mapieu that he's no longer a secret around the state of Nebraska.
"It's awesome to get that feeling that everyone knows me around here," Mapieu said. "People are like 'hey Masery' and I don't really know them. People know me from football. It's awesome to get my name out there and it's pretty exciting."